Winner of Alla J. Wheeler Award Announced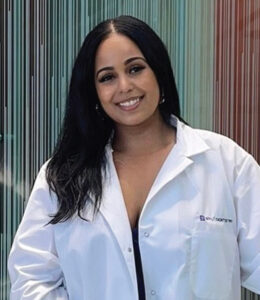 Amelbi Tejada, AAS, a May graduate of New York University (NYU) College of Dentistry's Associate in Applied Science Degree Program in Dental Hygiene, is the recipient of the Alla J. Wheeler Ethics and Professionalism Award sponsored by Dimensions of Dental Hygiene. Voted on by members of the dental hygiene class, Tejada was chosen for her selflessness and dedication to teamwork during her time at NYU. Her classmates described her as caring, compassionate, determined, solution-oriented, respectful, and honest. With a strong work ethic and supportive demeanor, her fellow classmates looked up to her during their dental hygiene training.
Tejada's future looks bright and will include a combination of clinical work in a private office, educating those in need, and volunteering. "Oral health is a critical topic, and I look forward to educating underserved populations about how to improve and maintain their oral health. Along with volunteer work, I am also excited about working in private practice to expand my skill set as a dental hygienist," Tejada noted.
Supported by Dimensions of Dental Hygiene, this award is presented to a graduating dental hygiene student who has demonstrated high levels of professionalism and ethics. This peer-nominated award commemorates Alla J. Wheeler, RDH, MPA, a clinical assistant professor of dental hygiene at NYU and a Dimensions' Peer Review Panel member and contributor, who passed away from cancer in June 2010.
From Dimensions of Dental Hygiene. July 2022; 20(7)9.