Twenty Years and Counting
You've heard it said that "time flies when you're having fun." That certainly is the case with me as we celebrate 20 years of Dimensions of Dental Hygiene! As you've been reading throughout the year, Belmont Business Media is thrilled to share this milestone with you. We've highlighted several steps that have brought us to two decades of publication in our 2022 issues:
How our publisher, Lorene Kent, RDH, BA, started Dimensions because she realized there was a need for cutting edge, evidence-based information that dental hygienists could readily use in practice (January).
Why Anna Pattison, RDH, MS, was chosen as Dimensions' first editor in chief and the invaluable skills she provided the young publication (February).
How Kristen Pratt Machado, executive editor, has been on board since Dimensions' inception and is continually inspired by the passion of our authors (May).
My own journey toward becoming Dimensions' editor in chief (June).
And on page 9 of this issue, we detail Kimberly Farrell's path to becoming Dimensions' digital media manager.
Thinking back over the past 20 years, we have certainly seen changes in our world and in our profession. However, our focus of bringing you high-quality content remains steadfast. As I re-read the first issue from February/March 2003, the lead topics were genetics, biofilms, and instrumentation—subjects that are still relevant today.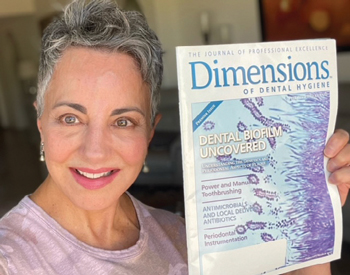 We've adapted and changed as the times demanded. When readers became more internet savvy, we expanded our digital offerings. Online continuing education became available so that our readers could conveniently learn at home. It's hard to believe that when we first started, none of this was the norm! 
As our profession continued to grow and expand in function, we implemented our annual Perspectives on the Midlevel Practitioner supplement. In conjunction with experts and many key leaders in the American Dental Hygienists' Association (ADHA), Perspectives provides an update on current dental hygiene workforce models. 
We've strived to recognize YOU and the many roles you play in dental hygiene. Our "Six Dental Hygienists You Want To Know" feature highlights various dental hygienists who are experts in their roles. The Corporate Council involves industry colleagues and solicits input from them on products and more. Dimensions' Brand Ambassadors play a key role in promoting the publication and provide feedback on many topics and ideas. We also appreciate all of you who post, share, and express your opinions on our social media platforms like Facebook and Instagram. We continually learn from you!
It's fitting that as a I write this, I'm getting ready to travel to Louisville for the ADHA Annual Conference.  Since its inception, Dimensions has exhibited at every Annual Conference, including virtually during the COVID-19 pandemic. A very special event during this meeting is our Esther Wilkins Lifetime Achievement Award reception. The award began in 2010 with Dr Wilkins herself as the first recipient. We've had many stellar awardees since then including the 2022 winner, Winnie Furnari, MS, RDH, FAADH, FAAFS, FADE. For the Dimensions team, honoring our outstanding colleagues is the high point of our year. So "cheers" as we celebrate together—here's to 20 more!
Jill Rethman, RDH, BA, Editor in Chief
[email protected]
From Dimensions of Dental Hygiene. July 2022; 20(7)6.