New Baccalaureate Program Celebrates Three Graduates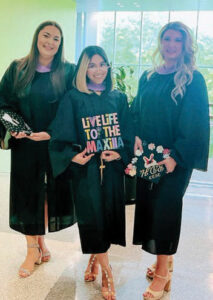 Eastern International College (EIC), a private, for-profit college in Jersey City, New Jersey, opened a 3-year Bachelor of Science in Dental Hygiene (BSDH) Program in 2019. Recently the school celebrated its first graduating class compoed of Kristina Carter, BS; Kaitlin Carmoega, BS; and Danielly Caldas, BS.
The curriculum encompasses 45 semester credits of general education and 78 semester credits of technical courses over the 3-year program, which culminates in a baccalaureate degree. The BSDH Program is fully accredited by the Commission on Dental Accreditation.
The Dental Hygiene Department also offers a traditional 2-year Associate of Applied Science in Dental Hygiene.
From Dimensions of Dental Hygiene. September 2023;21(8):13