NYU's Alla J. Wheeler Award Revealed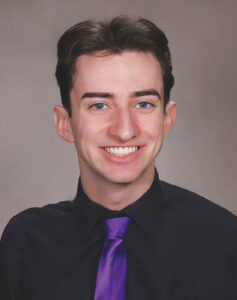 The Alla J. Wheeler Ethics and Professionalism Award, which is sponsored by Dimensions of Dental Hygiene, was given to Liam Fomin, AAS, a May graduate of New York University (NYU) College of Dentistry's Associate in Applied Science Degree Program in Dental Hygiene.
Voted on by members of the dental hygiene class, Fomin exemplified a high level of ethics and professionalism in all aspects of the dental hygiene program at NYU. His classmates noted his adaptability, willingness to learn, and his integrity by treating his patients, fellow classmate,s and faculty with respect and courtesy.
Fomin's future looks bright and includes moving back to his hometown of Warwick, New York, where he plans to bring smiles to the faces of the community he grew up in.
"It was such an privilege to receive this award commemorating Alla J. Wheeler and her ethics and professionalism. It means the world to me that my peers acknowledged my efforts and passion for dental hygiene and I look forward to honoring her legacy," Fomin noted.
Supported by Dimensions of Dental Hygiene, this award is presented to a graduating dental hygiene student who has demonstrated high levels of professionalism and ethics. This peer-nominated award commemorates Alla J. Wheeler, RDH, MPA, a clinical assistant professor of dental hygiene at NYU and a Dimensions' Peer Review Panel member and contributor, who passed away from cancer in June 2010.
From Dimensions of Dental Hygiene. September 2023;21(8):13