The 2023 Esther Wilkins Lifetime Achievement Award Recipient Is Celebrated
Dimensions of Dental Hygiene and premier sponsor Colgate, featured sponsors Kettenbach USA and Pulpdent, and supporting sponsor Pac-Dent, are pleased to announce Ann Eshenaur Spolarich, RDH, PhD, FSCDH, as the recipient of the 2023 The Esther Wilkins Lifetime Achievement Award.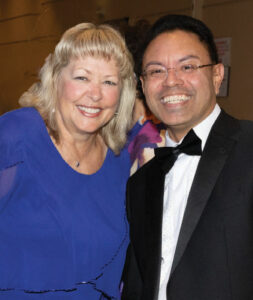 Spolarich was honored with a lovely cocktail reception on the evening of July 7 in the Grant Park Ballroom of the Hyatt Regency McCormick Place in Chicago during the American Dental Hygienists' Association Annual Meeting.
Her longtime friend, colleague, and mentee Harold Henson, RDH, MEd, PhD — distinguished teaching professor; director, Center for Teaching and Learning; and Master of Science in Dental Hygiene program coordinator at the UTHealth Houston School of Dentistry — nominated her and introduced her as the winner during the reception.
Spolarich is a professor and assistant dean for research at the Arizona School of Dentistry & Oral Health, A.T. Still University in Mesa. An internationally recognized author and speaker on pharmacology and the care of medically complex patients, she has presented more than 1,000 invited lectures and has over 125 professional publications.
However, dental hygiene was not Spolarich's first choice as a profession. She talked about finding her way to dental hygiene through a complete gaffe by her high school counselor.
"I had originally wanted to become a physician, but my high school counselor told me I wasn't smart enough to go that route. He told me that I could become a nurse, teacher or dental assistant. I didn't want to do any of those things! My own dental hygienist suggested that I might give this profession a try as a stepping stone into a healthcare career, so I applied and started hygiene school at the University of Pennsylvania School of Dental Medicine right out of high school."
She grew to love dental hygiene after practicing in an institutional setting. "I worked in hospital dental hygiene, which confirmed that I loved working in the medical setting with patients who presented with all types of systemic conditions."
While Spolarich's contributions to dental hygiene are ongoing, the impact of what she has achieved thus far is tremendous. She has widened the field of dental hygiene to encompass scientific research and encourage collaboration with other disciplines. Her leadership has elevated the profession and secured its scientific basis. Congratulations, Ann Eshenaur Spolarich, RDH, PhD, FSCDH!
From Dimensions of Dental Hygiene. July/August 2023; 21(7):10.