Surface Disinfection Solutions You Can Trust
The newest addition to the CaviWipes family, CaviWipes HP provides peace of mind with its compatibility, efficacy, and reliability.
The newest member of the trusted CaviWipes family, CaviWipes HP brings significant benefits to a brand that has been providing trusted solutions for decades. 
Chemistry of Disinfection
CaviWipes HP provides a fast 1-minute universal contact time from an alcohol-free hydrogen peroxide formulation that fully qualifies for the Environmental Protection Agency's (EPA) rigorous Emerging Viral Pathogen Claim.* An effective alternative for those who prefer to avoid the use of alcohol-based wipes, CaviWipes HP's formula is mild and offers exceptional material compatibility. CaviWipes HP offers an eco-friendly solution that is fast-acting with broad efficacy.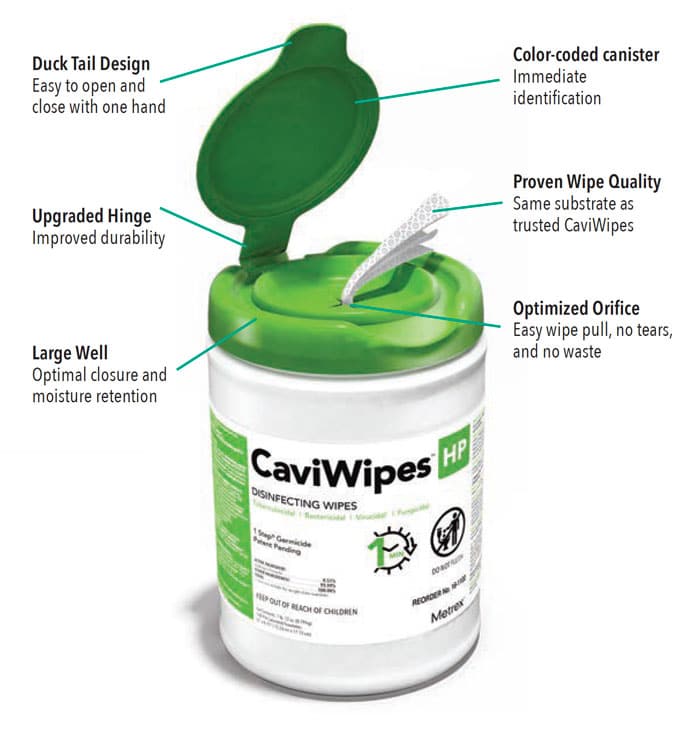 Safety is Key
The high performance disinfection protocol offered by CaviWipes HP helps protect both patients and staff:
Simple: Universal contact time on all pathogens listed on product label. Offers simplicity and peace of mind.
Alcohol-free: Suitable alternative and better cleaning efficacy than alcohol-based wipes.
Fast: 1-step** cleaner/disinfectant effective in just 1 minute.
Effective: Offers efficacy against 50 pathogens listed on product label. Helps protect against future viral threats by qualifying for the EPA's rigorous Emerging Viral Pathogen claim.*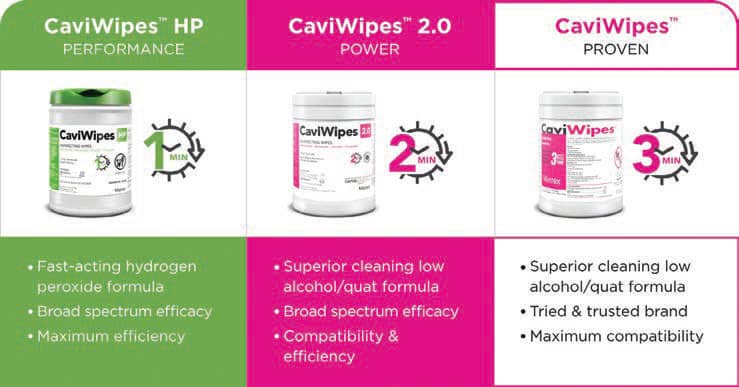 Inspired Design
CaviWipes HP's new green top (coming soon) opens and closes more easily and securely, and dispenses wipes with precision, helping to reduce waste.
The CaviWipes family offers a full portfolio of surface disinfecting wipe solutions for every need. n
*CaviWipes HP qualifies for the EPA Emerging Viral Pathogen claim against enveloped and small and large non-enveloped viruses. Available at:
 

epa.gov/coronavirus/what-emerging-viral-pathogen-claim. Accessed August 15, 2022.

 
**Follow product label for special precleaning instructions.
Kerr TotalCare
800-KERR-123
From Dimensions of Dental Hygiene. September 2022; 20(9)27.