No Pain and All the Gain with GINGICaine
This benzocaine gel by Gingi-Pak reduces pain and increases comfort without a needle.
As a public health dental hygienist who works in a portable dental setting in Texas, local anesthesia is not an option for me, as dental hygienists are not allowed to perform local anesthesia. This barrier is not exclusive to Texas, but rather affects hygienists working in portable and mobile dentistry settings without direct supervision of an on-site dentist across the United States.
According to the American Dental Hygienists' Association, most dental hygienists must work under direct supervision while administering local anesthesia. For these hygienists and for clinicians who want to provide a more comfortable dental appointment without the need to inject a patient, I recommend GINGICaine by Gingi-Pak. We all know and love the original GINGICaine topical gel, and now we have the 20% benzocaine gel in syringe form. It is my go-to for decreasing patient pain and increasing patient comfort during dental care.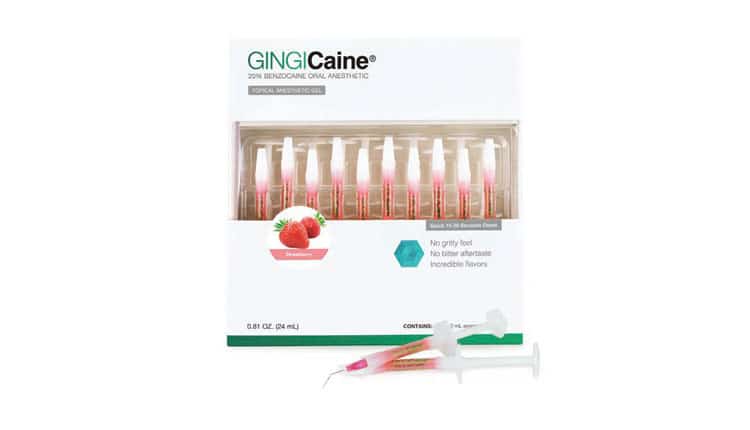 Actions Speak Louder Than Words
I could tell you all day that I love GINGICaine, but what sold me was this product's holistic approach. When determining my anesthetic of choice, I consider onset, taste, cost, and effectiveness. GINGICaine meets all of my requirements while still maintaining an affordable price point. 
Each syringe kit contains 20 GINGICaine syringes with 1.2 ml of pink-tinted anesthetic gel. The pink tint of GINGICaine reduces waste and eliminates the guesswork, so providers know exactly where they are applying the product. Additionally, the visibility of the gel allows providers to know how much anesthetic is being applied to each site. 
I can confidently say that this pleasantly tasting anesthetic eliminates the medicinal taste of anesthetics and does not leave an aftertaste. The enjoyable taste of GINGICaine allows for a more effortless appointment and helps patients be more receptive to the anesthetic at follow-up visits. 
Another major factor when selecting a topical anesthetic is the onset time. As dental hygienists, we are notoriously on a time crunch. GINGICaine responds to this need by providing fast and effective pain relief with a 15-second to 20-second rapid onset while maintaining a 30-minute numbing effect. 
In public health dentistry, we treat patients who traditionally have limited access to dental care and often present with periodontal disease. For this reason, my favorite GINGICaine feature is the 7 mm gauge mark on the tip of the syringe. The black gauge marker lets me know how deep I am applying the topical anesthetic in the periodontal pocket. The ability to administer anesthetic directly into the sulcus without guessing the depth to which I am using the anesthetic is a game changer. 
GINGICaine can be used for various procedures, including injections, scaling and root planing, subgingival scalings, and for patients with sensitive gingiva. GINGICaine's proprietary microneedle tip also features a rounded end that reduces trauma to the sulcus and increases patient comfort. 
If you are looking for a new topical anesthetic, give GINGICaine a try and experience the pain and hassle-free solution to the topical anesthetic. n
GINGI-PAK
 800-437-1514
From Dimensions of Dental Hygiene. September 2022; 20(9)26.