ProGuard™ Fluoride Varnish by Crosstex
Big Benefits for Both Clinicians and Patients
Designed with both the patient and professional in mind, ProGuard is the ideal fluoride varnish for a simple, hassle-free procedure that can be performed in a few minutes. ProGuard can be used as a treatment for hypersensitive teeth, a dentinal tubule seal for cavity preparations or sensitive root surfaces, and a cavity liner under amalgam restorations.
For the oral health professional, ProGuard's convenient single-dose packaging, smooth consistency, and excellent flow characteristics make application a breeze.
For the patient, ProGuard offers pleasant flavors, a clear-setting formula, a very quick application process, and efficient, highly effective desensitization.

PROGUARD
Prolonged fluoride release
Problem-free single dose packaging
Proven patient satisfaction
Procedurally quick and efficient
Promotes remineralization
FEATURES AND BENEFITS

Available in mint and melon
Fast setting
Quick and easy application
Convenient, easy-to-use single-dose packs
Smooth consistency with good flow characteristics
Dries to a clear finish
Fluoride release with high substantivity
Sweetened with Xylitol
Gluten-free
CONTACT
For more information about ProGuard or to request a free sample, please visit crosstex.com. To order, contact your preferred dental distributor.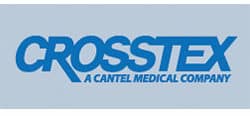 From Dimensions of Dental Hygiene. September 2019;17(8):49.