Product Profile Optimize Patient Outcomes With Simplified Aligner Care
EverSmile® WhiteFoam™, AlignerFresh™, and OrthoChews™
Dentists and patients face a unique set of challenges when it comes to aligner treatment—from maintaining oral hygiene to properly seating new trays. To address these unmet needs among a growing population of aligner wearers, EverSmile created a line of products designed with busy patient lifestyles in mind. 
Successful aligner treatment depends largely on patient compliance. While patients strive to wear aligners for the recommended 22 hours per day, they may become discouraged by unwanted plaque in both their teeth and their aligner trays. Without proper care, aligners can become a breeding ground for bacteria, leaving patients prone to dental caries and oral malodor.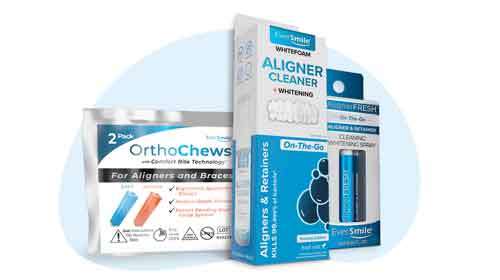 EverSmile WhiteFoam easily solves this common concern, killing 99.999% of bacteria fast. The unique foaming formula with Enhanced Hydrogen Peroxide™ is applied to aligner trays and placed directly in the mouth, with no need to rinse, brush, or soak. This means patients can clean aligners while they wear them, so they can stay on track with their treatment goals.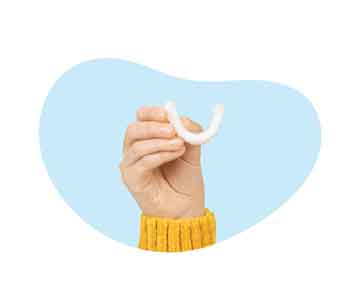 A major benefit of clear aligners is that they're mostly undetectable, but poor aligner care can make the appearance of trays more apparent. Harsh brushing can be abrasive to aligners, causing cloudy trays—WhiteFoam prevents this issue and keeps trays undetectable when patients smile. The formula prevents aligners from yellowing and simultaneously whitens teeth (as well as above and below aligner attachments) with virtually no tooth sensitivity. It's safe and effective for use with all clear aligners, whether they're from an online retailer or an orthodontist. 
WhiteFoam gives patients the freedom to clean their aligners on their own schedule—at work, at school, or between meals—without the need to carry a toothbrush. And for an even faster, lighter spray application, patients can keep AlignerFresh on hand. It's pocket-sized for fresher breath and cleaner aligners, anytime. 
To complete your patient's aligner care routine, EverSmile developed OrthoChews. OrthoChews help seat new aligners faster with Comfort Bite Technology to ensure treatment progresses immediately—all while relieving discomfort associated with tight trays. Each pack includes a soft and medium density chew made of medical grade silicon, with a unique quatrefoil shape that fits comfortably in the grooves of the teeth. 
The EverSmile family of products is an orthodontist recommended solution to keep the aligner treatment process efficient, simple, and hygienic. Once patients complete treatment, they can continue using EverSmile products on their clear retainer to maintain their smile and device over time.
866-363-1138
From Dimensions of Dental Hygiene. August 2021;19(8):25.