Preprocedural Mouthrinse Reduces Viral Load
EverSmile PreOp Pre-Treatment Rinse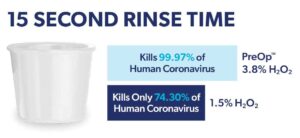 Dental practices have begun to incorporate new protocols for patient and staff safety to mitigate the transmission of viruses and bacteria during treatment. These new protocols involve the use of additional patient screening procedures, extra personal protective equipment, and preprocedural rinses. For preprocedural rinses, many new options are on the market, with a variety of active ingredients and a range of recommended rinse times. EverSmile PreOp was formulated to provide maximum antiviral and antibacterial efficacy with a minimum amount of rinse time: 15 seconds. EverSmile commissioned an independent laboratory study, testing EverSmile PreOpPretreatment Rinse against the human coronavirus, and the results were clear: EverSmile PreOp provided a 99.968% reduction of human coronavirus in 15 seconds. For the complete study, visit: eversmilewhite.com/studies.

Ensuring that patients rinse for a full 60 seconds can be difficult, so full efficacy at 15 seconds means greater compliance and a more comfortable patient experience, which offers peace of mind for clinicians. EverSmile PreOp comes in mint and bubblegum flavors, to ensure that patients of all ages enjoy the rinsing experience and are able to fully comply with directions. A shorter rinse time also saves chairside time with each patient. Additionally, oral health professionals and patients both understand the safety and efficacy of hydrogen peroxide, and this familiarity with the active ingredient makes PreOp an easy addition to the dental routine.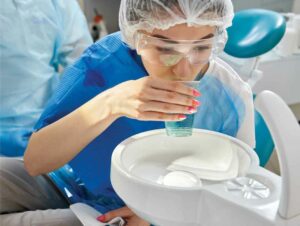 EverSmile PreOp expands into foam while rinsing, so less product is dispensed while still achieving full coverage. For use, rinse 4 ml to 5 ml around the mouth for 15 seconds, and then spit. One dose of PreOp is 5 ml. Each 500 ml bottle treats 100 patients. 

866-363-1138
Special offer available at:  
Full study available at:         
From Dimensions of Dental Hygiene. February 2021;19(2):45.