September 2019 Marketplace for Dental Hygienists
A listing of featured products.
LOUPE CLARITY
Orascoptic, Madison, Wisconsin, has introduced 90-color rendering index (CRI) illumination to its loupe-mounted LED headlight, TruColor. A CRI score greater than 90 across the company's full range of loupe headlights yields more vivid and truer colors, enabling oral health professionals to more accurately visualize the work they perform. TruColor headlights provide advanced color rendering with no degradation in light output, spot uniformity or battery run time, according to the company. 800-369-3698; orascoptic.com
SYSTEM CLEANER
Premier Dental, Plymouth Meeting, Pennsylvania, offers dental offices Vac Attak™ GREEN. This high-performance evacuation system cleaner is safe, effective, and compliant with the Environmental Protection Agency's new 2020 regulations in support of the United States Clean Water Act. Vac Attak GREEN uses a combination of powerful enzymes with innovative surfactant chemistry to effectively clean evacuation systems, and features a neutral pH, nonfoaming and noncorrosive formula, to make it safe for everyday use with all amalgam separators. Its environmentally friendly formula also meets the American Dental Association's best management practices. This cleaner is absent of chlorine and oxidizing agents. Dental offices will appreciate its fresh citrus scent and easy-to-use powder. Vac Attak is sold in a case of six 800 g jars. 888-670-6100; premierdentalco.com
WHITENING LINE LAUNCHED IN US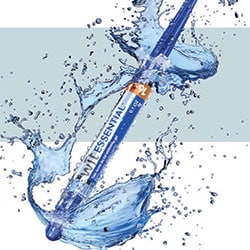 FGM, Carlsbad, California—a global 25-year-old manufacturer that specializes in whitening, composites, bonding, cements, posts, and implants—is introducing its products to oral health professionals in the United States. The WiT line, the company's group of whitening products, offers a whitening material that comes in both take-home and in-office systems. Differentiated by its easy-to-place hydrogen- or carbamide-peroxide materials, WiT products also help to prevent whitening-associated dentinal hypersensitivity due to the inclusion of calcium, fluoride, and potassium nitrate in the whitening material. 888-827-7478; fgm-usa.com
SYRINGE SLEEVE
Pac-Dent, Brea, California, offers Armor™ Air/Water Syringe Tip + Sleeve Combo. These sleeves minimize preparation time by combining air/water syringe tip and sleeve placements into a one-step process. Armor Air/Water Syringe Tip + Sleeve Combo features the disposable syringe tip design with a six air-core design, and a nonslip sleeve made with a special copolymer film that provides superior infection control. The sleeves are easy to insert and remove. 866-989-2614; pac-dent.com
STORAGE CARTS
Practicon, Greenville, North Carolina, has added six new cart designs to its Four-Drawer Locking Cart product line. The addition of six new colorful dental designs means dental offices can pick from a total of 21 different styles and colors to coordinate with any office décor. Designed to fit under counters, tables, and desks, the locking carts feature large casters to make it easy to transport, and four full-extension, lockable drawers with heavy-duty steel drawer glides to organize, store and secure supplies. A single key locks all four drawers at once, and the high-density polyethylene cabinets are stain and scratch resistant. 800-959-9505; practicon.com
CURING LIGHT

Ultradent, South Jordan, Utah, has introduced another addition to its VALO™ curing light family, the VALO Grand Corded curing light. This light features all of the benefits of its counterpart, the VALO Grand cordless curing light, with the addition of a cord for a lighter weight, more affordable option that features consistent and constant power output without the use of batteries. The VALO Grand Corded curing light also features a 12-mm lens,  handy back activation button for ease of use, and highly efficient broadband LEDs that keep the wand body cool to the touch while the unique unibody construction and ergonomic shape allow for extreme durability and unprecedented access to all restoration sites. 800-552-5512; ultradent.com
From Dimensions of Dental Hygiene. September 2019;17(8):48.