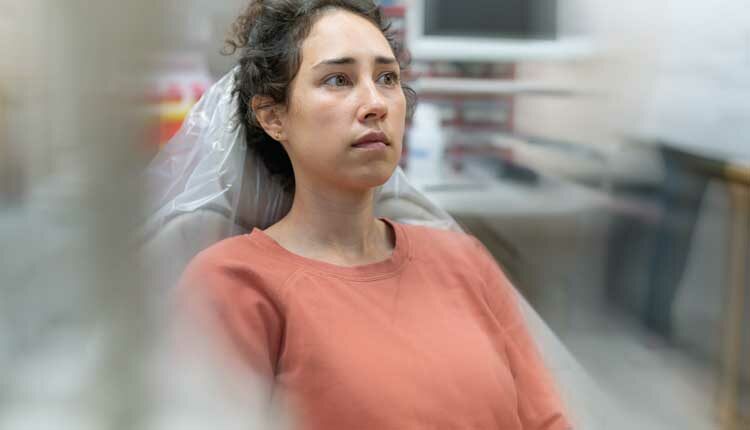 FLY VIEW PRODUCTIONS/E+/GETTY IMAGES PLUS
Managing Dental Anxiety
Dental hygienists play a key role in identifying patients with dental anxiety and implementing effective treatment strategies.
PURCHASE COURSE
This course was published in the June 2021 issue and expires June 2024. The authors have no commercial conflicts of interest to disclose. This 2 credit hour self-study activity is electronically mediated.
EDUCATIONAL OBJECTIVES
After reading this course, the participant should be able to:
Identify patients with dental anxiety.
Discuss the impact of dental anxiety on oral health.
Define effective strategies to manage anxious patients in the dental office.
Recognize the personal stress dental hygienists experience while managing anxious patients.
---
Dental anxiety is the fifth most common cause of anxiety that can impact oral health.1,2 Nearly 80% of adults feel anxiety before dental treatment, 20% of adults fear dental treatment, and 5% of adults fully evade dental treatment.3 Patients may experience physical, cognitive, emotional, and behavioral responses as a result of dental anxiety.1 Anxious patients can cry without warning, become aggressive, or frequently cancel, delay, or reschedule appointments. When patients are afraid, they avoid environments and tasks that stimulate those negative feelings, increasing the propensity for missed dental appointments. Anxiety-related reasons for avoiding dental care include fear of dental treatment, previous negative dental experience, cost of treatment, gag reflex, and fear of bad news.2,4,5 Patients with dental anxiety avoid routine dental care until emergency dental procedures are required (Figure 1).6,7 
In the evolving world of the COVID-19 pandemic, anxiety and fear have increased. Rapid changes in lifestyle—from quarantine to job loss to fear of contracting SARS-CoV-2—have significantly impacted people's psychological health. The pandemic has also heightened dental anxiety as the main transmission of the virus is via airborne droplets from the nose and mouth expelled when an infected person speaks, coughs, or sneezes.6,8,9 A recent study found that the novel coronavirus remained viable in aerosols for up to 3 hours and can also be detected in blood and saliva.9,10 Dental hygiene procedures create an abundance of aerosols, putting the dental office environment at increased risk.9 
Research has found a significant correlation between patients' anxiety levels regarding the pandemic and their willingness to attend a dental appointment.6,8 Patients willing to visit the dental office during the global pandemic presented with significantly less anxiety than those who avoided the dentist or would only go in the event of a dental emergency.6,8 In a survey of 595 participants conducted in June 2020, 44% indicated they would only go to the dentist in the case of an emergency during the pandemic and 18% stated they would not go to a dentist for any reason during the pandemic.8 Interestingly, while adult and caregiver anxiety levels were elevated during the pandemic, a study on dental anxiety among children during the pandemic did not reveal significantly higher levels.11 
In response to possibly heightened levels of dental anxiety, dental hygienists need to effectively communicate the changes made to safely treat patients during the pandemic and the guidelines established by the United States Centers for Disease Control and Prevention (CDC) and the American Dental Association (ADA). Explain the changes patients may notice, such as the need for patients to sanitize their hands and have their temperatures taken upon entry into the dental office; removal of shared items, such as toys and magazines, from the waiting area; possible requirement for patients to use preprocedural mouthrinse prior to treatment; improved suction techniques to reduce aerosol dispersion; and clinicians donning extra personal protective equipment.12
EFFECT OF DENTAL ANXIETY ON ORAL HEALTH
The COVID-19 pandemic has not only triggered an increase in dental anxiety and fear but may also be negatively impacting oral health. Since the pandemic, dental professionals are treating an abundance of stress-related oral health conditions.10,13 The ADA Health Policy Institute's COVID-19 Impact Poll found 71% of dentists surveyed reported an increase in the prevalence of bruxism, 63% noted higher rates of chipped and cracked teeth, and 62% saw a rise in temporomandibular disorders (TMD), including headaches and jaw pain.13 In addition, 26.4% experienced an increase in dental caries and 29.7% reported an in­crease in periodontal diseases. The need for emergency treatment was also noted with dentists citing an increase in the treatment of toothaches, dental trauma, broken restorations, and TMDs, possibly due to the closure of most dental practices for elective procedures at the start of the pandemic.10
Dental anxiety significantly impacts oral health. A correlation between dental anxiety and a high number of decayed, missing, and filled tooth surfaces has been suggested.3,7 This may be due to a causal relationship between dental anxiety and missed dental appointments. If dental conditions are left untreated, individuals are at an increased risk for tooth loss. Unfortunately, people with dental anxiety are 2.7 times more likely to experience edentulism.14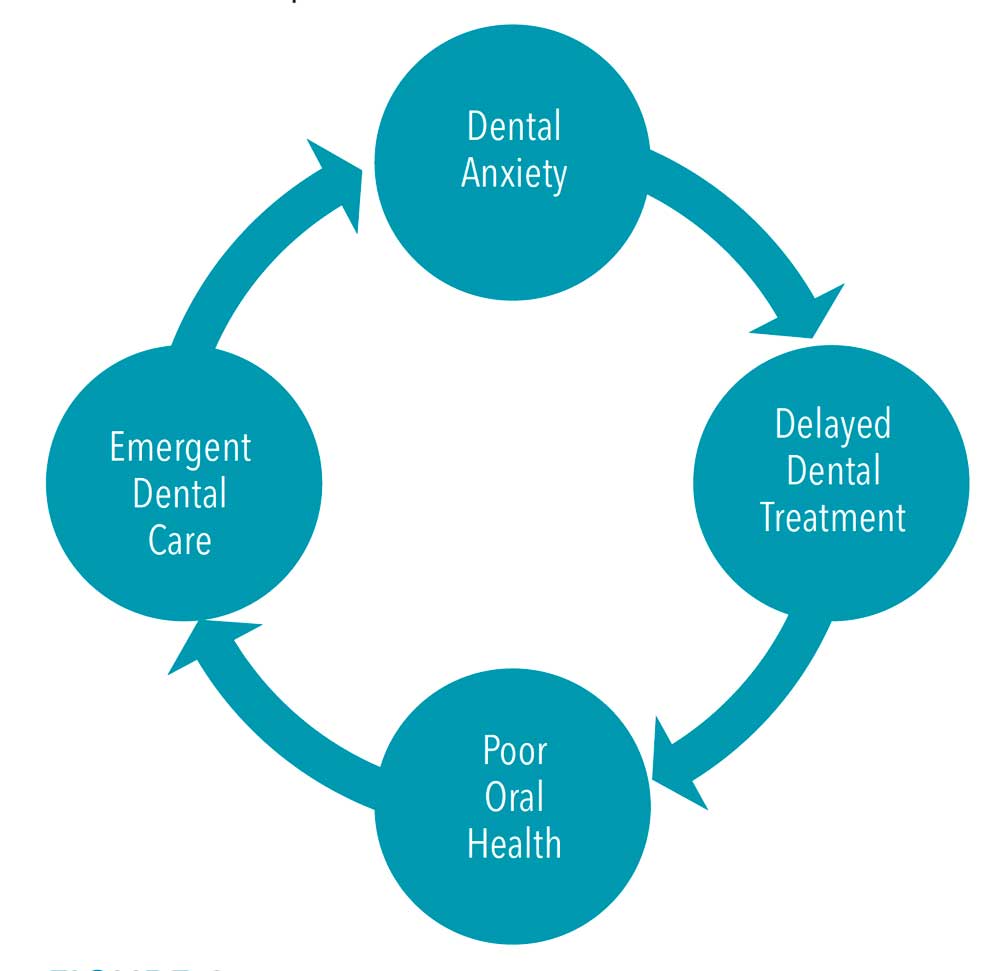 ORAL HEALTH LITERACY AND ANXIETY
There seems to be a correlation between low oral health literacy, poor oral health, and increased risk for dental anxiety. Poor oral health and low oral health literacy result in the need for emergency dental care and decreased use of preventive services. Interestingly, a study investigating oral health literacy and its effect on oral health found that patients with a low oral health literacy score had higher decayed, missing, and filled tooth surfaces and higher plaque index scores than those with higher oral health literacy scores.15 Patients with a low oral health literacy level are more likely to miss dental appointments because of increased dental anxiety and fear.15 
MANAGING DENTAL ANXIETY
Patients with dental anxiety require careful and considerate management by the dental hygienist, especially during the pandemic. Dental anxiety affects patients' behavior, clinicians' reaction to their behaviors, and patients' overall oral health. Techniques to manage dental anxiety include early identification of dental anxiety, good communication and listening skills, and establishing a trusting relationship. 
There are four types of dental anxiety:16,17
Anxious of a specific dental stimulus
Anxious about the possibility of a dental catastrophe
Generalized dental anxiety
Distrust of dental personnel
Identifying a patient's type of dental anxiety is key to successfully managing his/her dental appointment. Patients who are anxious about a specific dental stimuli may be triggered by the sight of needles, sound of drills, smell of the dental environment, or sensation of vibrations within the oral cavity. These individuals can be treated with gradual exposure to the feared stimuli, creating a slow, systematic desensitization.16,17 Ideally, once the individual has multiple positive experiences with the stimuli, the fear will decrease.16
Patients who are afraid of a dental catastrophe may be worried about an allergic response to dental materials, mercury poisoning, radiation exposure, claustrophobia especially during the use of a rubber dam, choking and/or gagging, or allergic reaction to the epinephrine in local anesthetic.16,17 Completing a detailed medical history with patients at each visit may help calm anxiety. This provides a sense of reassurance, knowing the dental professional understands his/her current condition.16,17 In addition, clinicians could gradually expose individuals to feared stimuli. 
Patients with generalized dental anxiety typically experience the greatest upset just prior to their dental appointment in anticipation of the procedures to be performed. These individuals worry about the treatments and judgment of their behavior and poor oral health. They require frequent reassurance, redirection to the present vs the past, gradual exposure, and positive feedback.16 Early appointments are also smart, so they do not think about their upcoming dental appointment all day. 
Patients who don't trust dental personnel may come off as suspicious of dental professionals' motives or may be argumentative. These patients may feel the dentist focuses on financial production and that he/she is overdiagnosing to maximize profits. These individuals typically worry that dental staff are perceiving them in a negative manner, thus resulting in the patient using sarcasm or small insults to mask their insecurity. Patients in this final category respond best to information and requests for permission.16 For example, the clinician can ask the patient if he or she can be tilted back in the dental chair before doing so. These patients will also respond best to being provided the option for second opinions. The patient may want to speak to the dentist or request a referral to a specialist prior to signing a treatment plan.
All patients should be assessed for dental anxiety early to identify specific concerns. The presence and severity of dental anxiety can be assessed using standardized questionnaires, such as Corah's Dental Anxiety Scale, Modified Dental Anxiety Scale, and Spielberger State–Trait Anxiety Inventory.1 To help mitigate anxiety during the pandemic, it may be beneficial to ask patients about their feelings specific to COVID-19, such as: How are you feeling about the pandemic? On a scale of 0 to 10, how anxious are you about today's dental appointment during COVID-19? What is your greatest concern about how the pandemic has affected your oral health? What do you consider most important in reducing the spread of the novel coronavirus in the dental setting? 
Clinicians should always reassure anxious patients by listening, responding with empathy, explaining procedures in detail, and describing infection control measures. Throughout each dental visit, a patient's psychophysiological response to dental treatment should be evaluated by assessing for tight muscles; unsteady hands; restlessness; clearing of the throat; sweating of the palms, forehead, or upper lip; depth and speed of respiration; or stiff posture.1 Behavioral and emotional responses, such as hyperactivity, walking or talking fast, irritation with delays, sitting on the edge of the dental chair, pacing, or outburst of emotions, should be monitored closely, too.1 
Pharmacological management, nitrous oxide sedation, or psychotherapeutic interventions may be useful in the treatment of anxious patients.1 However, nitrous oxide sedation should be avoided in individuals who may be carriers of SARS-CoV-2, those who have tested positive for COVID-19, and patients with signs of an upper respiratory tract infection.9 Early identification of dental anxiety, monitoring individual's nonverbal communication, and establishing a good relationship with patients are fundamental to managing dental anxiety (Figure 2).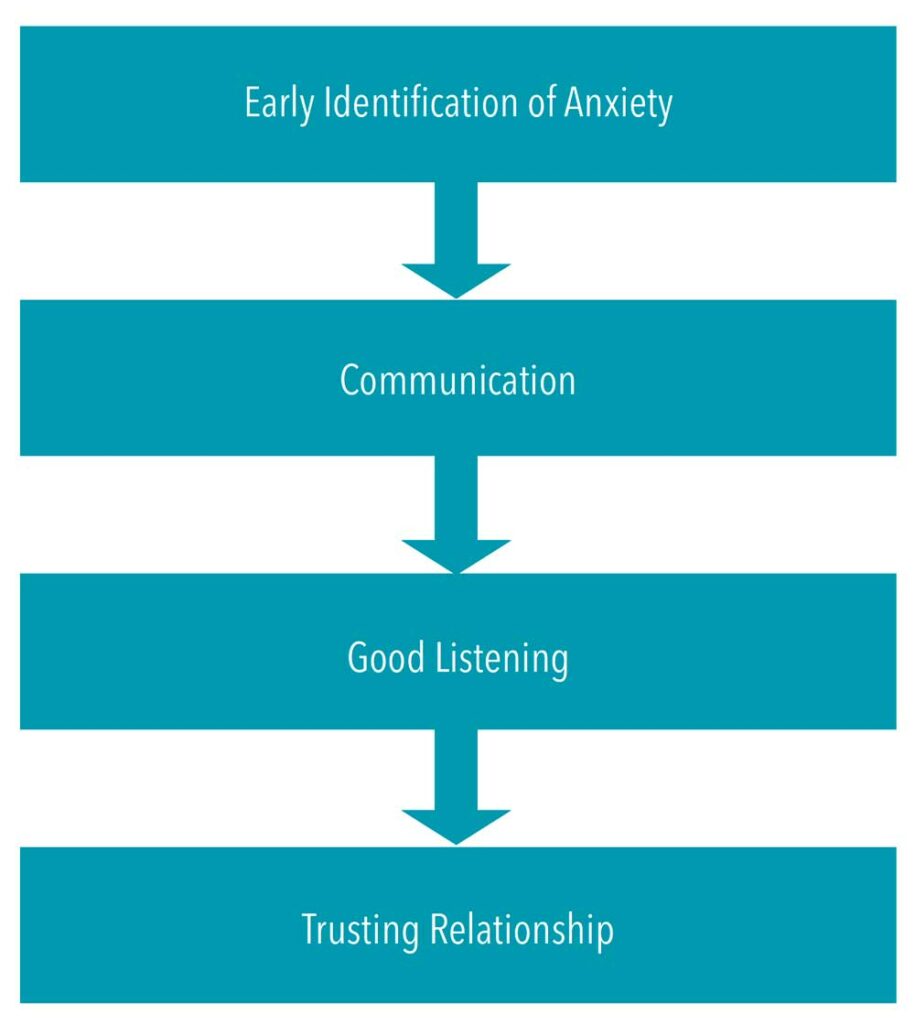 IMPACT ON THE DENTAL HYGIENIST
Treating patients with high levels of anxiety may affect dental team members. Depending on the dental hygienist's experience and education in managing anxious patients, personal anxiety may also be triggered. A survey of dental hygienists who treated patients with dental anxiety found that 57% experienced personal anxiety and 38% did not feel experienced enough to treat patients with dental anxiety.18 Similarly, another survey noted that 70% of oral health professionals treating patients with dental anxiety found it challenging and stressful.19 
Dental hygienists play an essential role in screening for, identifying, and managing dental anxiety. While dental hygiene curricula and continuing education programs are equipping dental hygienists with the knowledge to manage patients exhibiting all levels of dental anxiety, treating such patients may exert negative health effects on clinicians. To offset this stress, dental hygienists may want to participate in stress-reducing activities, such as yoga.20
The risks posed by practicing during a global pandemic are also stress triggers for oral health professionals. In an assessment of dental professionals' psychological well-being during the pandemic, 84% feared getting infected with COVID-19 from a patient or co-worker, and 90% were anxious about providing treatment to a patient who is coughing or suspected of having COVID-19.21 Younger dental professionals have typically expressed less pandemic-related fear than those between the ages of 41 and 60.10,21 Overall, oral health professionals should consider their psychological well-being and that of their colleagues and meticulously follow the guidelines established by the CDC and ADA. 
CONCLUSION
Dental anxiety and fear can negatively impact patients' oral health and overall health. Most patients feel anxious prior to their dental visits, and the presence of the coronavirus pandemic has heightened these fears. Dental hygienists play a key role in identifying patients with dental anxiety and implementing effective treatment approaches for the management of anxious patients. Dental hygienists may also experience heightened fear and anxiety during the pandemic. Closely adhering to guidelines and safety protocols designed to keep patients and dental professionals safe will, ultimately, reduce the psychological burden created by the pandemic. 
REFERENCES
Appukuttan DP. Strategies to manage patients with dental anxiety and dental phobia: Literature review. Clin Cosmet Investig Dent. 2016;8:35-50.
Murad MH, Ingle NA., Assery MK. Evaluating factors associated with fear and anxiety to dental treatment—a systematic review. J Family Med Prim Care. 2020;9:4530–4535.

 

Zinke A, Hannig C, Berth H. Comparing oral health in patients with different levels of dental anxiety. Head Face Med. 2018;14:1–5.

 

White AM, Giblin L, Boyd LD. The prevalence of dental anxiety in dental practice settings. J Dent Hyg. 2017;91:30–34.

 

Beaudette JR, Fritz PC, Sullivan PJ, Ward WE. Oral health, nutritional choices, and dental fear and anxiety. Dent J. 2017;5:1–11.
Cotrin P, Peloso RM, Oliveira RC, Oliveira RC, Pini NIP, Valarelli

 

FP, Freitas KMS. Impact of coronavirus pandemic in appointments and anxiety/​concerns of patients regarding orthodontic treatment. Orthod Craniofac Res. 2020;23:455-461.

 

Yildirim TT. Evaluating the relationship of dental fear with

 

dental health status and awareness. J Clin Diag Res. 2016;10:105–109.

 

Peloso RM, Pini NIP, Sunfeld Neto D, et al. How does the quarantine resulting from Covid-19 impact dental appointments and patient anxiety levels? Braz Oral Res. 2020;34:e084–e095.

 

Abramovitz I, Palmon A, Levy D, Karabucak B, et al. Dental care during the coronavirus disease 2019 (COVID-19) outbreak: operatory considerations and clinical aspects. Quint Int. 2020;51:418–429.

 

Faccini M, Ferruzzi F, Mori AA, et al. Dental care during COVID-19 outbreak: A web-based survey. Eur J Dent. 2020;14(Suppl S1):S14–S19.

 

Olszewska A, Rzymski P. Children's dental anxiety during the COVID-19 pandemic: Polish experience. J Clin Med. 2020;9:2751–2763.

 

Ather A, Patel B, Ruparel NB, Diogenes A, Hargreaves KM. Coronavirus disease 19 (COVID-19): implications for clinical dental care. J Endod. 2020;46:584–595.

 

American Dental Association. Dentists See Increased Prevalence of Stress-Related Oral Health Conditions. Available at:

 

ada.org/​en/​publications/​ada-news/​2021-archive/​march/​hpi-poll-dentists-see-increased-prevalence-of-stress-related-oral-health-conditions. Accessed May 12, 2021.
Kisely S. No mental health without oral health. Can J Psychiatry. 2016;61:277–282.

 

Holtzman JS, Atchison KA, Macek MD, Markovic D. Oral health literacy and measures of periodontal disease. J Periodontol. 2017;88:78-88.
Armfield JM, Heaton LJ. Management of fear and anxiety in the dental clinic: a review. Aust Dent J. 2013;58:390–407.
Appukuttan DP. Strategies to manage patients with dental anxiety and dental phobia: literature review. Clin Cosmet Investig Dent. 2016:8:35–50.

 

Drown DA, Giblin-Scanlon LJ, Vineyard J, Smallidge D, Dominick C. Dental hygienists' knowledge, attitudes, and practice for patients with dental anxiety. J Dent Hyg. 2018;92:35-42.
Kanzigg L, Phillips CL, Stein MB, Hunt LC, Wilder RS. Dental hygienists' knowledge, attitudes, and comfort level in treating patients with dental anxiety. J Dent Hyg. 2018;92:30–37.

 

Alire E, Brems C, Bell K, Chiswell A. The role of yoga in treating stress-related symptoms in dental hygiene students. Int J Yoga. 2020;13:213–222.

 

Suryakumari VBP, Reddy YP, Yadav SS, Doshi D, Reddy S. Assessing fear and anxiety of corona virus among dental practitioners. Disaster Med Public Health Prep. 2020:1–6.

 
From Dimensions of Dental Hygiene. June 2021;19(6):36-39.