Product Profile: Sonic™ Nitrile Powder Free Examination Gloves by Aurelia®
Innovative Hand Protection Improves Clinician Efficiency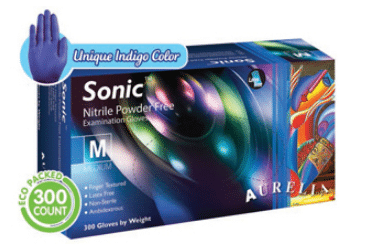 Personal protective equipment, such as gowns, masks, and gloves, shouldn't be cumbersome or hinder tactile sensitivity. That's why Aurelia Gloves—a division of Supermax Healthcare Inc—created Sonic Nitrile Gloves, an ultra-thin formulation that contours seamlessly to clinicians' hands. Sonic gloves not only promote efficiency, but they also offer users the comfort they desire for all-day wear.
KEY FEATURES AND BENEFITS
Measure just 2.2 mils thin for high tactile sensitivity
Formulation provides comfortable fit
Seamless comfort provides feeling of"gloveless" dentistry
Ambidextrous and finger textured
Beaded cuff keeps unwanted germs out
Thin yet strong and durable
Designed to be thinner and more flexible than standard nitrile
Ergonomic, space-saving box packs 300 gloves
Available in sizes extra small through extra large
Indigo glove color is easily recognizable
ABOUT THE COMPANY
Founded in 2000, Aurelia Gloves manufactures both latex and nitrile exam gloves. Its parent company, Supermax Corp, is headquartered in Malaysia—which is ripe with latex trees that produce high-quality rubber protein. Supermax Healthcare Inc is proud to be one of the few brands that source directly from its manufacturing facilities. The company also has 10 manufacturing plants and a dedicated research and development team, highlighting its dedication to innovation for the benefit of the profession.

From Dimensions of Dental Hygiene. May 2016;14(05):68.