Product Profile: Crystal HD Mouth Mirrors and Mirror Magic® Anti-Fog Solution by Zirc Dental Products Co 
Dynamic Duo Delivers Effective Combo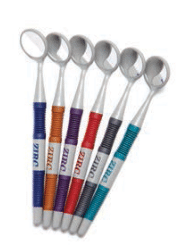 Clinicians don't need to let ineffective mouth mirrors slow them down, thanks to Zirc Dental Products Co's mouth mirror enhancing system. Crystal HD Mouth Mirrors combine superior visual acuity and a bright lens to provide shadow-free images with true-color reflection. This brilliance paired with mirror magic—the company's quick debris removal and anti-fog solution—provide effective results.
FEATURES OF CRYSTAL HD MOUTH MIRRORS
Brighter than rhodium mirrors, which helps reduce eye strain and fatigue
Scratch resistant
Lens is flush with mirror frame, eliminating the possibility of corrosion buildup
Contains antimicrobial protection
FEATURES OF MIRROR MAGIC
Prevents fogging on any mouth mirror
Helps remove debris during procedures
Eliminates fuzz left on mirror lens fromcotton pads
Oral health professionals will appreciate the increased chairside efficiency when utilizing this product duo, in addition to improved ergonomics and vision.

From Dimensions of Dental Hygiene. May 2016;14(05):69.