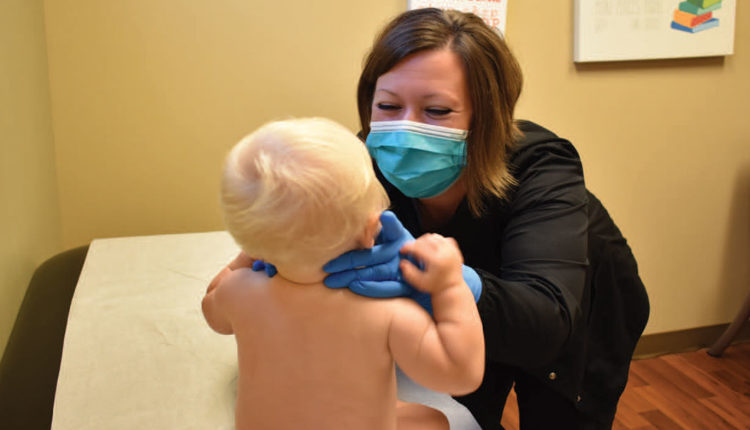 Promoting Oral Health Access for Pregnant Women
Michigan is improving the oral health of pregnant women and their children through Public Dental Prevention Programs.
Since 1991, Michigan has allowed dental hygienists direct access to patients, and, in 2005, the state initiated the Public Dental Prevention Programs (PA 161), under the administration of the Michigan Department of Health and Human Services' (MDHHS) Oral Health Program. The Public Dental Prevention Programs aim to improve access to care, address the needs of underserved populations, allow for the practice of dental hygienists in nontraditional settings, and help to grow community-based dental public health programs. The Public Dental Prevention Programs enable dental hygienists to perform preventive dental hygiene services under the remote supervision of a dentist in order to better reach dentally underserved populations. The Public Dental Prevention Programs must apply for reapproval every 2 years. As of June 2019, 52 programs are operating in Michigan. Public Dental Prevention Programs are possible because of the ability of dental hygienists who are associated with a program administered by a public health department, community clinic, federally qualified health center (FQHC), or other nonprofit organization to go into the community to provide oral health education and preventive services to underserved populations.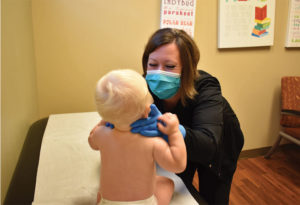 DENTAL HYGIENISTS ARE KEY
Within the Public Dental Prevention Programs, more than 275 dental hygienists deliver dental hygiene services. Prevention and oral health promotion are the primary roles of the programs, while the secondary goal is to collaborate with other health care providers and refer for dental treatment to establish a dental home. One such example is the Michigan Initiative for Maternal and Infant Oral Health (MIMIOH).
The MIMIOH project began with funding from the Michigan Department of Health and Human Services (MDHHS) in 2017 and places a dental hygienist directly within an obstetric-gynecology (OB-GYN) clinic within participating FQHCs. This dental hygienist provides on-site preventive care, education, and referrals for restorative needs for participating pregnant women as a member of the health care team. The MIMIOH Project is a true collaboration with management provided by the University of Detroit Mercy School of Dentistry, project coordination provided by the Michigan Primary Care Association, and technical assistance provided by MDHHS. This team also employs the consulting services of Grace Health, an FQHC in Battle Creek, Michigan, and developers of the first iteration of this project.
SUPPORTING PREGNANT WOMEN
In 2014, Grace Health tasked two dental hygienists with developing a medical-dental project to improve the oral health of pregnant women and their children. The MIMIOH project built on that program to develop a comprehensive model with electronic health record integration, data collection, evaluation, communication materials, and other project needs to help develop a fiscally sustainable, replicable model.
The MIMIOH heavily relies on the leadership of the embedded dental hygienist within each site. That dental hygienist works in a clinical capacity to see each pregnant woman within the OB-GYN clinic. These dental services are simply presented as part of the standard of prenatal care, although patients can "opt out" if they so choose.
A designated dental room with a full armamentarium is present at each site to help overcome the time constraints and transportation needs that many patients face. Women can simply head down to the dental room before or after their traditional OB-GYN appointments or the dental hygienist can stop by the exam room for education or a quick check-in as patients wait to be seen by the medical provider. Patients are seen every trimester as well as post-partum to ensure that not only are the women's oral health needs being met, but also that education is provided about the importance of the age-1 dental visit.
The dental hygienist also serves as a case manager, following up on referrals for comprehensive care needs and working to help schedule needed treatments. Lastly, the embedded dental hygienist becomes an educator, public health champion, and even cheerleader, encouraging hesitant patients to seek dental care and helping to find a dental home not only for that pregnant woman but her family as well. Obviously, this multifaceted role isn't for everyone! The project team has found that much of the success regarding patient volume, referrals, and education can be attributed to hiring the right dental hygienist for this setting.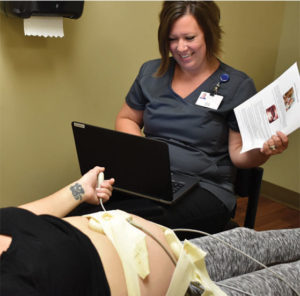 NECESSARY SKILL SET
The embedded dental hygienist needs to be confident, collaborative, and comfortable in an OB-GYN practice. Patience, the ability to use "plain language" in patient education, and an understanding of the socioeconomic barriers facing their patients are also critical. Staci Hard, RDH, project consultant from Grace Health, explains, "I love my nontraditional hygiene role! I can form relationships with my patients and assist them in ways a traditional hygienist would not have the opportunity to do. Bridging the gap between their medical and dental care and making a difference in my patients' lives are incredibly fulfilling."
Many medical providers are supportive of adding a dental hygienist to the team. Hardworking, well-educated health care clinicians who provide medical services to families often experience difficulties in dental referrals and education due to loosely organized interprofessional collaborations and time constraints. Prioritizing the environment and processes at clinics has helped to ensure better quality care and ease the medical team's burden. The dental hygienist is a critical component in identifying processes and modifying practices to align with those of the clinic.
CONCLUSION
Thus far, several thousand women and their children have received an assessment and prophylaxis, education, or a referral for dental care as a direct result of the MIMIOH project. Expansion into a total of 11 sites is ongoing, and the project is being continued into 2020 with the support of the Delta Dental Foundation. Programs like these demonstrate the effectiveness of nontraditional dental hygiene practices, as well as the efficacy of a dental hygienist not only as a provider, but as an educator and champion of oral health in all settings. For more information on the Public Dental Prevention Programs, visit: michigan.gov/​oralhealth.
From Perspectives on the Midlevel Practitioner, a supplement to Dimensions of Dental Hygiene. October 2019;6(11):30—32.