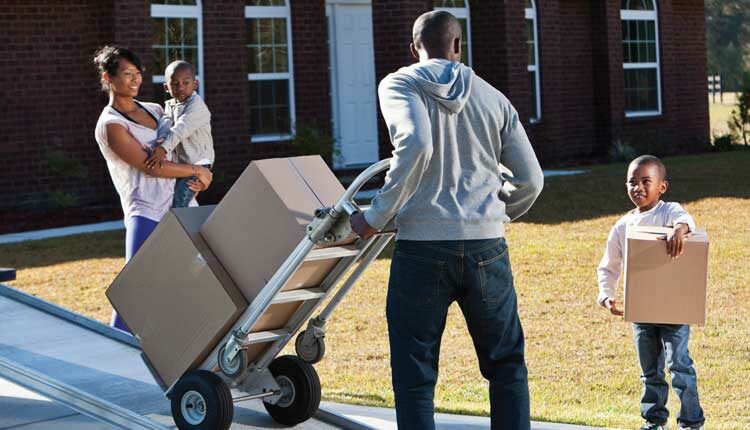 KALI9 / E+ / GETTY IMAGES PLUS
Improving License Portability
An interstate compact will help dental hygienists maximize their employment opportunities.
As a dental hygienist, if you have ever moved across state lines or tried to work in a different state than the one in which you reside, you well know the challenges this poses for clinicians and their families. The difficulty associated with moving out of state also affects military families and military spouses, as they are often required to relocate every few years. This resultant loss of income, expenses for fees, and inability to work create significant hardships for many.
Interstate compacts are contracts between two or more states that create an agreement on a particular policy issue; in this case, professional licensure and adopting a certain standard or cooperation on regional or national matters. The licensure compact is intended to improve license portability by allowing licensees from compact states to be eligible for multistate practice in other compact states. The dentist and dental hygienist compact is a mutual recognition model similar in form and function to occupational licensure compacts for nurses, physical therapists, and psychologists. Dentists and dental hygienists who are licensed in one compact member state will be able to practice in other participating states through a compact privilege. Table 1 provides a list of benefits for such a compact.
A compact privilege is the authorization for dental hygienists or dentists to practice in a compact participating state other than the state in which they are licensed. A dental hygienist or dentist must hold an active and unencumbered license and meet other eligibility criteria in a state that participates in the compact to be eligible for a compact privilege. Once a dental hygienist or dentist receives the compact privilege, he or she may begin legally working in the new state when eligibility is verified, jurisprudence requirements are met, and all fees are paid.
Interest and support for interstate licensure compacts have been increasingly included in discussions and federal reports. The United States Department of Defense—in its commitment to military spouses and families—has been unwavering in the need for licensure reform. The report "Reforming America's Healthcare System Through Choice and Competition," prepared in 2018 by the Department of Health and Human Services in collaboration with the Departments of the Treasury and Labor, Federal Trade Commission (FTC), and several offices within the White House, describes the influence of state and federal laws, regulations, guidance, and polices on choice and competition in healthcare markets and identifies actions that states, or the federal government could take to strengthen the healthcare delivery system.1 It states: "Interstate compacts and model laws can mitigate the effects of state-based licensing requirements by enhancing license portability."
In July 2021, the White House issued an executive order, "Promoting Competition in the American Economy," which encouraged the FTC to ban "unnecessary occupational licensing restrictions that impede economic mobility."2
Released in December 2021 by the National Institutes of Health, "Oral Health in America: Advances and Challenges" discussed the oral health workforce. The report noted, "Interstate licensure compacts, such as those used in nursing, medicine, and physical therapy, could expand and expedite licensure for oral health professionals such as dental hygienists. "3
Development Begins
In the fall of 2021, the US Department of Defense, in partnership with the Council of State Governments—a nonpartisan organization that serves policymakers in all 50 states to bring solutions into practice—selected the ADHA and ADA to receive technical assistance with interstate licensure compact development. This was a competitive application process and ADHA was pleased to be selected for the project.
In December 2021, the Council of State Government's National Center for Interstate Compacts (NCIC) convened a "technical assistance group" (TAG) composed of dental hygienists, dentists, ADHA and ADA staff, board examiners, board executives, and attorneys to determine consensus around key elements of developing a compact for dental hygiene and dentistry.  In May 2022, the TAG shared its recommendations with the newly formed drafting team.  The drafting team was charged with creating the model compact legislation with the support of the NCIC and TAG.
Throughout August and September 2022, the Council of State Governments hosted a series of webinars so stakeholders could learn more about the provisions of the draft legislation. A survey was developed to provide feedback on the draft text. This stakeholder review period is an important part of the compact development process. As state legislatures will need to pass nearly identical pieces of legislation to join the compact, broad participation in the review is essential to putting forth the best piece of legislation possible. The comment period was completed on September 30, 2022, and now final legislation is being prepared for state legislatures to consider. The legislation is expected to be ready for lawmakers to introduce in the 2023 legislative cycle.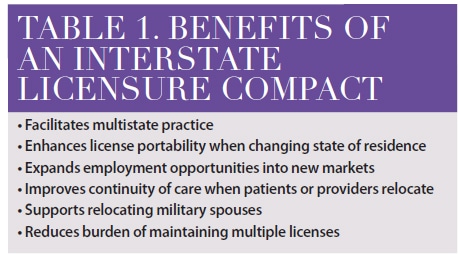 Putting the Compact Into Use
Dentists and dental hygienists use a license granted by a participating state to apply for a compact privilege in other participating states.
Dentists and dental hygienists must have:
An unencumbered license in a compact state
Graduated from an education program accredited by the Commission on Dental Accreditation
Passed the National Board Examination
Completed a clinical assessment
No disqualifying criminal history
Advocacy in Action
The ADHA will continue to provide updates on the development of the dentist and dental hygienist compact.  The Council of State Government's compact website also contains the latest information. The ADHA encourages all members of the dental hygiene community to engage in this effort as we work to modernize licensure.
References
United States Department of Health and Human Services. Reforming America's Healthcare System Through Choice and Competition.
The White House. Executive Order on Promoting Competition in the American Economy.
National Institutes of Health. Oral Health in America: Advances and Challenges.
From Perspectives on the Midlevel Practitioner, a supplement to Dimensions of Dental Hygiene. October 2022;9(10):10-11.