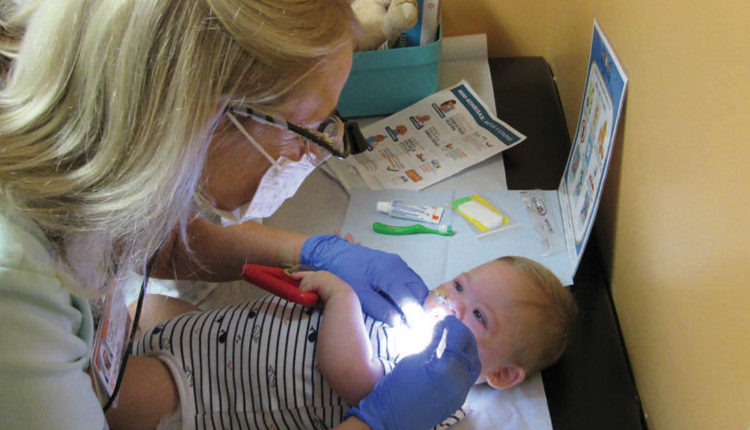 A Medical-Dental Integration Model
Arizona is making a difference in the oral health of its most vulnerable children through an innovative program.
As a practicing dental hygienist of 36 years, I am excited to witness the growth in oral health awareness around the world. Only in the past decade have I seen oral health on the forefront of the media's and public's radar. Additionally, new oral health delivery models are emerging for midlevel dental hygienists. In Arizona, direct-access dental hygienists are called affiliated practice (AP) dental hygienists. As an AP dental hygienist myself, I have been fortunate to be part of the direct access movement in Arizona, working with the state's youngest and most vulnerable children.
ARIZONA'S ORAL HEALTH STATUS
Arizona has had a grim record when it comes to children's oral health. More than half of Arizona's kindergarteners (52%) have decay experience, while the national average is 36%.1 While Arizona's Medicaid system includes dental benefits for children, one in five parents surveyed were unaware dental care was included in their coverage.2
PROGRAM IMPLEMENTATION
Arizona's lack of access to oral health care and poor oral health literacy among many of its most vulnerable citizens caught the attention of health care providers at Dignity Health Hospital Network, Chandler Regional Medical Center in Chandler, Arizona. In 2006, the medical center began offering preventive oral health activities and programs.
I have been involved with the First Teeth First Program for 9 years. Supported by a grant from First Things First—funded by tobacco revenue—the program's vision is for Arizona's children to be ready to succeed in school and life physically, emotionally, and socially. The First Teeth First Program is designed to help decrease the incidence of tooth decay in children through direct services and education for families using collaborative partnerships. All Arizona children are eligible from birth to age 6.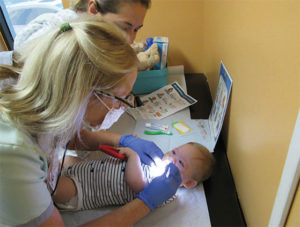 In the past, the First Teeth First Program provided oral screenings, fluoride varnish application, and classroom lessons predominantly at early care preschools, child care centers, and Head Start programs. A dental hygienist and two promotoras (bilingual health care promotors) would provide the services at the facility with the support and supervision of the employees. Goody bags, written screening results, and a dental referral list were sent home to the parents. Care coordination was only provided for children with urgent findings.
REWORKING THE DETAILS
Like most worthwhile endeavors, growth and redirection were necessary. Results of the First Things First Children's Oral Health Report 2016 revealed an increase in the number of kindergarteners who had visited a dentist. What had not changed, however, were the high rates of kindergarteners with decay.2 New standards of practice were created within the program to improve the benchmarks for children's oral health. New and innovative systems were implemented to support early screening, with an emphasis on navigation and referral to dental services. The new strategy included parents being present during the screening process to receive oral education and schedule their children's dental appointments on-site.
MEDICAL-INTEGRATION MODEL
Dignity Health's First Teeth First Program also investigated medical-dental integration models. The best fit appeared to be the integration of preventive dental services provided by dental hygienists into primary pediatric care. The medical provider and dental hygienist are located at the same facility, use separate systems, and leave most decisions about patient care to be done independently by individual providers.3
Our program was fortunate to begin the journey with a successful, forward-thinking pediatric medical practice. The practice had multiple locations and a large number of patients covered by Medicaid. To begin, the leadership from Dignity Health First Teeth First met with the administrative and clinical leadership of the medical practice. The medical administration team analyzed data to determine the locations with the highest volume of patients covered by Medicaid and children younger than 6. Short meetings were planned to discuss work space and workflow for both teams. Agreements were drawn up for both parties and a partnership was created.
To introduce the medical and dental teams, a lunch-and-learn on dental concepts was arranged. A PowerPoint presentation provided an overview of babies', toddlers', and young children's oral health. Lunch and continuing education credits were provided to the medical team.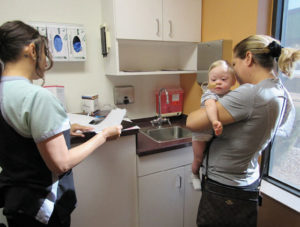 A PLAN IN ACTION
In action, the collaboration uses the best of both providers. A licensed dental hygienist and a bilingual promotora from the First Teeth First Program are sent to the pediatric location. After the medical provider completes his or her time with the patient, he or she exits the exam room and the dental team enters. The dental hygienist conducts a screening, applies fluoride varnish, and provides anticipatory guidance/​education on oral hygiene/​health habits and nutrition/​diet. When the dental hygienist finishes the assessments and education, the promotora begins the care coordination.
Care coordination is done in partnership with the parent to establish a dental home, set overdue recare appointments, or schedule incomplete treatment plans. Cell phones and laptops are used for communication to set appointments. The dental portion of the family's appointment in the exam room takes 5 minutes to 10 minutes so as not to disrupt the efficiency or workflow of the medical team. Parents leave the office with a dental appointment for their children, the promotora's business card, written results of the screening, dental etiquette on attending the dental appointment, and a goody bag with oral health aids.
CONCLUSION
This medical-dental partnership is approaching the 1-year mark and has been highly successful. As such, our program is expanding and the pediatric locations of another medical practice have joined our efforts.
There are benefits for all involved. The pediatric medical practices provide value-based care to improve health outcomes for their pediatric patients. More Arizona families are establishing and continuing care at a dental home and using their dental benefits. As for me, the dental hygienist, it has been a sheer joy to be part of the collaborative efforts and professional friendships with the medical practices. I have continued to grow in my profession and, at the same time, experience the gratitude and appreciation from the families.
I am confident the efforts of medical-dental integration models will improve the oral health statistics for Arizona's children. The Dignity Health First Thing First Program plans to mentor and share knowledge and experiences to support others to continue the momentum for new workforce models and midlevel dental practitioners.
REFERENCES
Arizona Department of Health Services. Healthy Smiles Healthy Bodies Survey 2015: The Oral Health of Arizona's Kindergarten and Third Grade Children. Available at: azdhs.gov/documents/prevention/womens-childrens-health/reports-fact-sheets/oral-health/healthy-smiles-healthy-bodies-data-brief-2015.pdf. Accessed October 9, 2019.
First Things First. Taking a Bite Out of School Absences. Available at:

 

azftf.gov/​WhoWeAre/​Board/​Documents/​F_​F_​Oral_​Health_​Report_​2016.pdf. Accessed October 9, 2019.

SAMHSA-HRSA Center for Integrated health Solutions. A Standard Framework for Levels of Integrated Healthcare and Update Throughout the Dcoument. Available at:

 

medicaldentalintegration.org/​wp-content/​uploads/​2017/​10/​A_​Standard_​Framework_​for_​Levels_​.pdf. Accessed October 9, 2019.
From Perspectives on the Midlevel Practitioner, a supplement to Dimensions of Dental Hygiene. October 2019;6(11):33—35.