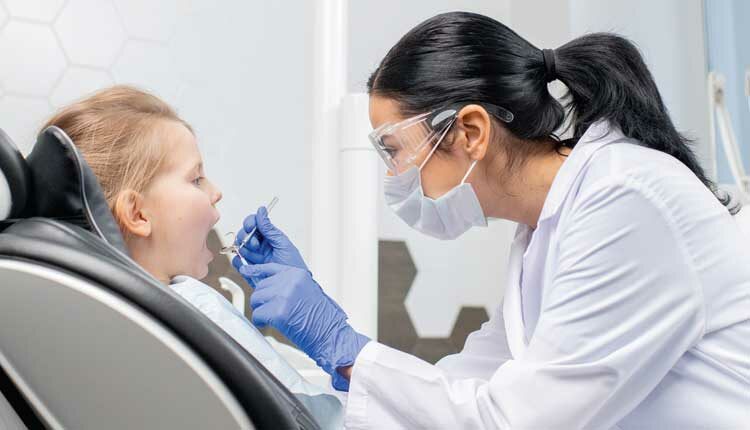 SHIRONOSOV / ISTOCK / GETTY IMAGES PLUS
National Dental Therapy Coalition Publishes Model Rule
A new tool is available to help reduce regulatory barriers for the profession.
Dental therapists have been authorized to practice in 14 states, and are currently working in about half of those, helping increase access to dental care for underserved communities. But several dental boards in the remaining states have yet to complete the lengthy, technical, and politically difficult process of issuing rules to license and regulate these providers.
To aid state regulators and dental therapy stakeholders in drafting and finalizing dental therapy licensing rules, the National Partnership for Dental Therapy released model regulations in January 2022, known as the "Model Dental Therapist Rule and Best Practices Guide," or the "Model Rule. " This resource supports implementation of dental therapy nationwide, helps states navigate a significant barrier to the establishment of the profession, and facilitates the access gains that dental therapy provides.
The goal of administrative rulemaking is to bring about the implementation of state statute consistent with law as efficiently as possible. Thus, the Model Rule is focused on the technical and administrative aspects of launching and managing state licensing and regulation of dental therapists, rather than the substantive aspects of dental therapy legislation. The publication notes that the responsibility of a dental board or other rulemaking agency is to clarify and explain the legislation only to the extent needed to license and regulate the occupation as provided by the law. The legislative process has been completed before rulemaking begins, and rulemaking should not be used to make or revise substantive policy. Unnecessary provisions risk creating new burdens on regulated parties or artificial barriers to licensure and should be minimized or avoided.
The Pew Charitable Trusts supported the creation of the Model Rule, which was written by members of the National Model Dental Therapy Rule Panel. The panel included 15 experts with extensive experience in administrative law, dental professions rulemaking, Tribal law, and dental therapy practice.
Dental therapists first entered the United States workforce in 2005 and, as a young health profession, there is a relatively small body of common, professionally vetted experience to draw from. To fill that gap, the Model Rule was developed through a consensus process by the expert panel, who drew from the knowledge base of health professions regulation and state dental therapy laws and dental therapy administrative rules adopted to date.
Among the first to make use of the Model Rule has been the Oregon Board of Dentistry, which shared the resource with the board's members and rulemaking committee. "The Model Rule gave the Oregon Board of Dentistry the opportunity to compare its work against best practices and efficiently acquire some national context," said Board Executive Director Stephen Prisby, a member of the National Model Dental Therapy Rule Expert Panel.
In Oregon, statewide dental therapy legislation was enacted in 2021 following a pilot phase focused on Tribal populations and other underserved communities. The state completed its rulemaking in 2022 and has opened dental therapist licensing. As more states pass laws allowing dental therapists to work, the Model Rule is another valuable tool for the development of state-level infrastructure for dental therapy education, practice, and implementation. It complements the National Dental Therapy Standards Consortium's 2019 model legislation and the Commission on Dental Accreditation's 2015 national dental therapy education standards for US dental therapy programs. As with the Model Act, this publication provides guidance to policymakers, state agencies, licensing boards, dental and nonprofit organizations, Tribes, dental access advocates, and other interested parties in states that enacted dental therapy legislation and have begun engaging in licensing and regulatory efforts. The model rule language is useful to those drafting the regulations and those participating in the rulemaking process.
A recent federal report, authored by the Advisory Committee on Training in Primary Care Medicine and Dentistry, concluded that dental therapy improves access to oral healthcare and offers "clear benefits" to communities that face barriers to oral healthcare. The report recommends that the US Health Resources and Services Administration provide funding to develop additional dental therapy training programs, support scholarship and loan repayment programs to incentivize candidates entering the dental therapy profession, increase the number of faculty that train dental therapists, and implement longitudinal tracking mechanisms.
The Bottom Line
In the states where they are authorized to work, dental therapists are improving oral health in communities where dental care was limited or nonexistent. Yet more than 60 million people still live in areas with a shortage of dental providers. Despite this documented need and the evidence of dental therapy's success in the US, access to these providers remains blocked for many communities due to restrictive state dental practice acts. Fortunately, there is burgeoning momentum to pass laws allowing dental therapists to practice as more Americans continue to benefit from their care. Indeed, in its landmark 2021 report on oral health, the National Institutes of Health called dental therapy "the most important change in the US dental workforce" since 2000.
The Model Rule can help guide state policymakers, dental boards, licensing agencies, Tribes, and other stakeholders as they engage in the regulatory process to establish this proven, innovative practice model to ensure that all people have access to critical oral healthcare.
To access the Model Rule, please visit the National Partnership for Dental Therapy at: dentaltherapy.org/news/experts-develop-model-dental-therapy-regulations.
References
American Dental Hygienists' Association. The Benefits of Dental Hygiene-Based Oral Health Provider Models.
Battrell A, Lynch A, Steinbach P, Bessner S, Snyder J, Majeski J. Advancing Education in Dental Hygiene. J Evid Base Dent Pract June 2014;14(S1):209-221.
From Perspectives on the Midlevel Practitioner, a supplement to Dimensions of Dental Hygiene. October 2022;9(10):16-17.