Ultrapro Tx Prophylaxis Equipment Family by Ultradent
The next generation of prophylaxis equipment.
Ultradent's next generation Ultrapro Tx prophylaxis equipment family features an ergonomic handpiece, innovative prophy angle cup designs, and splatter-free prophy pastes. This family of products offers a powerful, comfortable, and effective solution to all polishing needs.
ULTRAPRO TX AIR HANDPIECE
For the dental professional who values products that minimize the aches and pains associated with performing prophylaxis, the Ultrapro Tx Air handpiece is designed to reduce hand and arm fatigue thanks to its ergonomic, lightweight, aluminum design and 360° swivel. Its soft-start motor minimizes splatter and is vibration-free to maximize patient comfort, as well. The Ultrapro Tx Air handpiece safely performs prophylaxis by reducing friction and heat when polishing the patient's teeth, allowing it to clean effectively while still protecting the enamel. Its universal e-type motor can be used with other attachments and nose cones, and it can be used with all disposable prophy angles for convenience.
ULTRAPRO TX SKINI DISPOSABLE PROPHY ANGLE
The Ultrapro Tx Skini disposable prophy angle offers improved interproximal cleaning, internal blades to reduce splatter, and features a smooth, quiet gear design. Its ergonomic shape minimizes hand fatigue and, with a 20% shorter head and 25% slimmer neck, offers superior access and an unobstructed view for the clinician. The Skini DPA also offers optimal flare, as well as contra-angle and right-angle design options.
ULTRAPRO TX EXTRA DISPOSABLE PROPHY ANGLE
The Ultrapro Tx Extra disposable prophy angle features external ridges for improved interproximal cleaning and improved internal webbing for reduced splatter. Its ergonomic design and smooth, quiet gear function facilitate the ultimate experience in comfort for both the clinician and the patient. The Extra DPA also features optimal cup flare and is available with a tapered brush.
CONTACT
To learn more or to purchase any of the products in the Ultrapro Tx prophylaxis equipment family, please visit ultradent.com/ultraprotx or call 800-552-5512.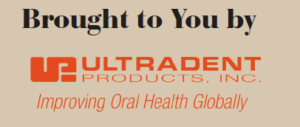 From Dimensions of Dental Hygiene. September 2018;16(9):44.