Product Profile: TheraBreath Healthy Gums Oral Rinse and TheraBreath Dry Mouth Oral Rinse
For more than 20 years, TheraBreath has made its name creating Fresh Breath products without the use of unnecessary alcohol, artificial dyes, or flavors. With increased awareness regarding additional oral health concerns, TheraBreath has developed new methods to help.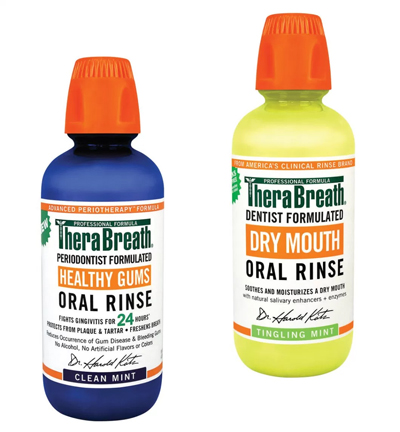 PERIODONTAL DISEASE
According to the United States Centers for Disease Control and Prevention, more than 65 million Americans are affected by periodontal disease. TheraBreath Healthy Gums Oral Rinse is formulated with a US Food and Drug Administration (FDA)-monographed active ingredient to fight periodontal disease in two ways:
By attacking the bacteria responsible for periodontal disease.
By reducing formation of biofilm that leads to plaque and tartarUsed twice a day, this oral rinse rapidly improves the health and appearance of gingiva and provides relief from the bleeding and sensitivity caused by gingivitis.
KEY FEATURES
TheraBreath Healthy Gums Oral Rinse
Fights plaque and tartar
Freshens breath
Reduces the occurrence of periodontal disease and bleeding gums
Certified for use by individuals with diabetes, pregnant women, and nursingmothers
Free of alcohol, artificial flavors, and colors
Gluten free, vegan, and kosher
DRY MOUTH
Several factors can lead to dry mouth: most pharmaceutical medications, diet, sinus problems, snoring, and even natural aging. TheraBreath Dry Mouth Oral Rinse combines enzymes to soothe and moisturize with its proprietary natural salivary ingredient, which is demonstrated to help with the flow of saliva—making this oral rinse a breakthrough in the management of dry mouth symptoms.
KEY FEATURES
TheraBreath Dry Mouth Oral Rinse:
Soothes and moisturizes dry mouth
Dentist formulated
Contains a unique blend of moisturizing enzymes
Certified for use by individuals with diabetes, pregnant women,and nursing mothers
Free of alcohol, artificial flavors, and colors
Gluten free, vegan, and kosher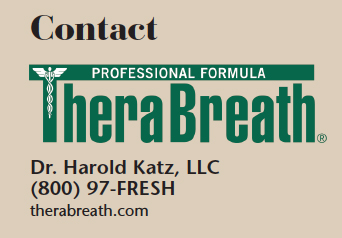 ---