Product Profile: Interproximal Cleaning Solutions by GUM® Brand
At-Home Interproximal Care Compliance.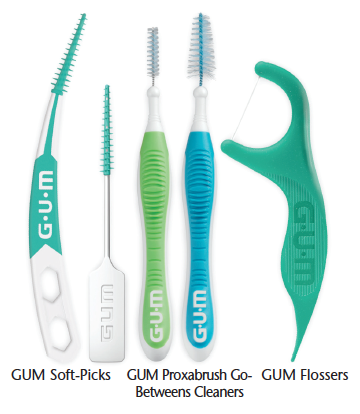 The importance of daily interproximal cleaning is widely known among patients, yet many either dislike or do not commit to daily flossing. Cleaning between teeth can be simple with GUM brand's line of easy to use, comfortable, and effective interproximal cleaning products.
INTERPROXIMAL SOLUTIONS FOR EVERY PATIENT NEED
GUM brand includes a diverse portfolio of interproximal cleaners in a range of sizes and forms. The offering of multiple products provides professionals and patients the opportunity to work together to identify the right solution for each patient's needs and preferences.
GUM Soft-Picks® Original and Advanced feature soft, comfortable bristles to gently remove plaque, dislodge food, and massage gums.
GUM Proxabrush® Go-Betweens® Cleaners deep clean interproximal spaces and under the gumline. They are available in multiple sizes to effectively clean both tight and wide spaces.
GUM flossers are new and improved with a control grip for ease of use. They are available in Professional Clean, Advanced Care, and Comfort Slide.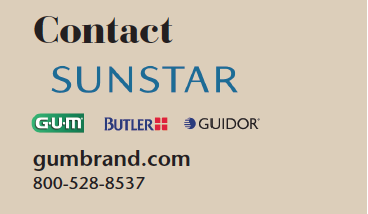 ---
From Dimensions of Dental Hygiene. July 2017;15(7):58.