Natural Support for Periodontal Health
Tooth & Gums Tonic®, Under the Gums Irrigant®, and PerioSpot® by Dental Herb Company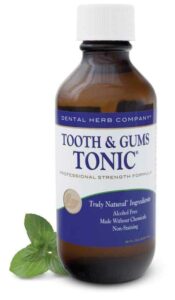 Dental Herb Company has been Improving oral care naturally since 1996. With a family of professional strength, Truly Natural® antimicrobial products, Dental Herb Company provides patients and practitioners with highly effective and all-natural gingival care solutions. Formulated with a proprietary blend of the finest herbs and essential oils, these products are designed to reduce oral bacterial and gingival inflammation for healthier teeth and gums. 
Tooth & Gums Tonic
Tooth & Gums Tonic, Dental Herb Company's flagship product, is a Truly Natural antimicrobial oral rinse designed to reduce harmful bacteria and gingival inflammation. Alcohol-free and nonstaining, this award-winning rinse provides a valuable solution for periodontal treatment and maintenance. Tooth & Gums Tonic is ideal for periodontal therapy, post-procedure care, implant maintenance, oral malodor treatment, or as an in-office preprocedural rinse.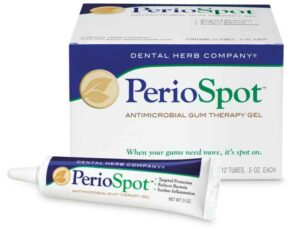 Under the Gums Irrigant
Under the Gums Irrigant is a Truly Natural antimicrobial concentrate for dilution in patients' home irrigators or in-office scalers. This therapeutic strength concentrate is formulated for daily irrigation below the gumline to help reduce harmful bacteria and gingival inflammation.
PerioSpot
PerioSpot is a soothing and powerful gingival treatment gel designed to target harmful bacteria and inflammation. This Truly Natural sticky gel provides relief and antimicrobial protection where the gingiva needs it most. PerioSpot is ideal for post-procedure gingival  care, oral sores, scaling and root planing, and implant therapy as well as periodontal maintenance with interdental brushes. The gel provides an in-office jump-start to healing chairside and for patient maintenance at home.
Where to find
Dental Herb Company products are available direct to dental offices. Visit dentalherb.com for more information on how to get started. To request free professional samples, visit gotrulynatural.com.

From Dimensions of Dental Hygiene. February 2021;19(2):44.