Marketplace
A listing of featured products.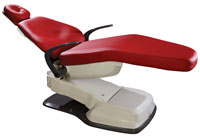 ERGONOMIC PATIENT CHAIR
DentalEZ Group, Malvern, Pa, introduces its innovative and ergonomic NuSimplicity patient chair. Designed to allow clinicians uninhibited movement during the provision of care, NuSimplicity features a narrow, tapered chair back that reclines to knee level and a base plate design that enables operator stools to be tucked close by for optimal patient access. In addition to this flexibility, the NuSimplicity chair features dual location touchpad controls, durable drop-down armrests, and a wide cantilever base to route tubes and wires, as well as 60° of rotation and height flexibility. A variety of upholsteries and color combinations are offered. (866) DTE-INFO; www.dentalez.com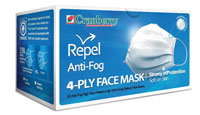 NEW QUAD-DESIGN FACE MASK
Cranberry USA, Pinole, Calif, debuts its new face protection product, the Repel 4-PLY Face Mask series. The 100% latex- and fiberglass-free face masks offer four layers of protection, including the innovative HydroGuard layer—designed to provide maximum fluid and synthetic blood resistance at 160 mmHg—and CoolSilk lint-free inner layer, which provides clinicians with a cool, long-lasting soft feeling. Available in regular, Anti-Fog, and Anti-Glare Shield, the quad-fold designed Repel 4-PLY delivers ASTM level 3 protection, with more than 99% bacterial and participle filtration at 0.1 micron. Each box contains 50 masks, which are available in gold, sapphire, and silver. (707) 553-6190; cranberryusa.com/face_masks.html.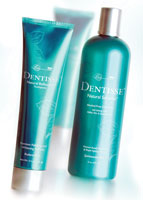 ALL-NATURAL TOOTHPASTE
Dentisse Professionals, Woodland, Wash, offers Dentisse Natural Reflection Toothpaste. Made from a proprietary blend of kaolin clay, this preservative-free, saccharin-free, and all-natural, nonabrasive toothpaste is designed to gently smooth and polish tooth enamel while preventing plaque and stain formation. In addition, Dentisse Natural Reflection Toothpaste contains antimicrobial properties, and may help decrease tooth sensitivity and aid in remineralization. All Dentisse Professional products are made in the United States. (360) 841-8426; www.dentisseprofessionals.com.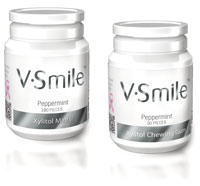 XYLITOL GUM AND MINTS
Heraeus Kulzer, South Bend, Ind, recently added V-Smile Xylitol Chewing Gum and Mints to its Venus White family of whitening and oral care products. The sugar-free, peppermint-flavored gum and mints contain the all-natural sweetening agent xylitol, which helps decrease the risk of dental caries. For use between meals and snacks, V-Smile Xylitol Chewing Gum and Mints are ideally chewed after the consumption of fermentable carbohydrates. (800) 431-1785; www.heraeusdentalusa.com.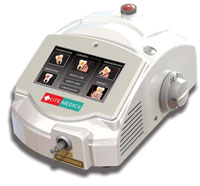 DENTAL DIODE LASER
LITEMEDICS, Milan, Italy, presents the LITEMEDICS dental diode laser, which offers clinicians access to a versatile, high-tech instrument at an affordable price. Reaching a peak power of 12 W, the laser can operate with extremely short pulses. A color touch screen enables easy, direct treatment selection. Its many applications include periodontal treatment, tooth whitening, and soft tissue surgery. +39 34 073-085-277; www.litemedics.com.
From Dimensions of Dental Hygiene. October 2013;11(10):76.