May 2023 Marketplace
A listing of featured products.
ECO-CONSCIOUS TOOTHPASTES LAUNCHED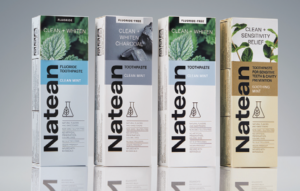 Aimed at patients looking for nature-inspired toothpastes that deliver essential oral care benefits, Natean has launched a family of four dentifrices developed by scientists and herbalists at Alacer, a subsidiary of GlaxoSmithKline Consumer Healthcare based in London. Born at the intersection of nature and science, Natean balances scientifically studied ingredients with botanicals, including orange blossom, mint, aloe vera, and coconut. The line, which includes both fluoride and fluoride-free formulas, was created with conscientiously chosen ingredients and sustainable packaging that minimize its impact to the planet. All Natean toothpastes are vegan friendly and free of sodium lauryl sulfate, artificial sweeteners, flavoring, dyes, parabens, phosphates and gluten. nateantoothpaste.com
---
ULTRASONIC SCALER ACCEPTS ALL LEADING 30-kHz INSERTS

New from Parkell, Edgewood, New York, the TurboSensor+ ultrasonic scaler combines new features with the quality and performance of its decades-trusted predecessor, the TurboSensor. The updated scaler offers improvements in infection control reprocessing thanks to its detachable, autoclavable 30K handpiece. In addition, this device is truly an open platform. Built around a new IntelliSense processor, the TurboSensor+ ensures consistent performance with all market-leading 30K inserts. It also features a new tap-on purge mode for waterline cleansing, a priming mode for preparing the handpiece to begin scaling with the first compression of the foot pedal, and a superior water flow system for improved aerosol management. The scaler is offered in vibrant pearl, midnight blue, tangerine, lilac, and electric blue shades. 800-243-7446.  parkell.com
---
STERILIZATION POUCHES AID REPROCESSING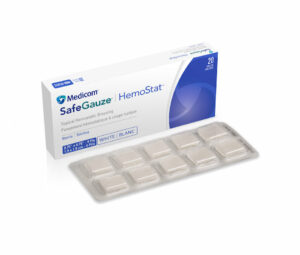 SafeSeal Quattro sterilization pouches from Medicom, Pointe-Claire, Quebec, Canada, are made from high-quality porous medical paper and mechanically sealed with TruePress technology. The perforated fold facilitates precise folding of a wide self-adhesive strip to form an airtight seal. Internal and external multiparameter process indicators respond to three variables: time, temperature, and saturated steam. Blue-tinted film makes it easy to view instruments and detect punctures or tears, while the convenient thumb notch allows team members to open the pouch without contaminating its contents. 800-361-2862. medicom.com
---
NEEDLE SYSTEM PROTECTS PATIENTS AND PROVIDERS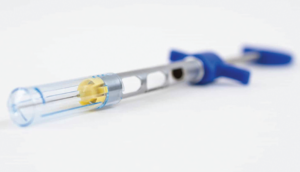 As part of efforts to reduce needlestick injuries, Verena Solutions, Chicago, introduces SafeCAP with EverSHARP technology. Billed as the "sharpest, smoothest safety needle," it features a built-in, clear, ultra-thin recapping sheath, and its patented design promotes safe handling during assembly, use, recapping, disassembly, and disposal. SafeCAP's proprietary coating provides unimpeded penetration with less tissue resistance and drag, which decreases microtrauma, bruising and pain—and it offers up to a 47% reduction in puncture hole size and insertion force.  312-248-3876. verenasolutions.com
---
NEW DEFLECTION LOUPES OPTIMIZE WORKING ANGLES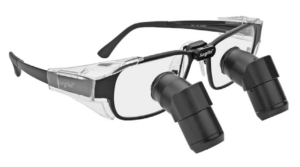 SurgiTel, Ann Arbor, Michigan, has released its next-generation ErgoDeflection loupes that address the issues with deflection loupes that are either too steep and cause clinicians to work too closely to the patient or have them leaning back in a nonergonomic posture. These loupes feature a new prism design that provides a customizable 40°- to 50°- deflection angle that allows a neutral clinical posture. Offered in 3.5x, 4.5x, 5.5x, and 6.5x magnification, they are equipped with a pantoscopic lens tilt that helps eliminate gaps between the face and bottom edges of the lenses for better eye protection and a wider direct view of the working area when looking below the loupes. ErgoDeflection loupes come with interchangeable working distance caps, as well as SurgiTel's Ergo Fit Nose Pad system that conforms to a wide variety of nose shapes for optimal comfort and support. 800-959-0153. surgitel.com
---
ORAL MOISTURIZING GEL DEBUTS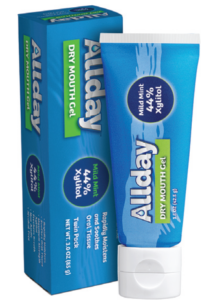 Allday Dry Mouth Gel is the newest addition to Elevate Oral Care's, West Palm Beach, Florida, oral moisturizing product line. Allday Gel combats dry mouth differently than other moisturizing oral products. Its patented formula uses a special mucoadhesive hydrogel that works in concert with its maximum xylitol concentration to relieve xerostomia symptoms and improve oral health. Since patients with xerostomia are at high risk for caries, achieving a nonacidic oral environment is crucial for disease prevention. Allday Gel features a neutral ~7.0 pH that provides continuous buffering. It is also saturated with 44% xylitol, and the unique hydrogel formula holds xylitol in the mouth for extended periods, prolonging the bacteriostatic benefits. 877-866-9113. elevateoralcare.com
---
SUPPLEMENT SUPPORTS ORAL HEALTH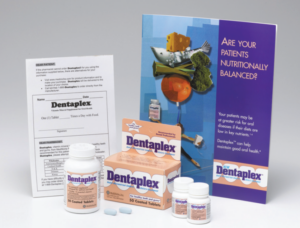 Dentaplex, Chesterfield, Missouri, a dental health supplement introduced specifically for professional recommendation, is designed to provide oral health-specific micronutrients. Formulated around a "C complex" of calcium, vitamin C, and carotenoids that helps support healthy teeth and gingiva, Dentaplex also contains vitamins A, D, E, and B complex, as well as magnesium, zinc, molybdenum, vanadium, and copper. This supplement is billed as an excellent addition to a complete self-care program for patients receiving periodontal care, dental implant therapy, or oral surgery, and can also be used for managing aphthous ulcers. Besides direct purchase through the company, Dentaplex can be professionally dispensed as part of a patient's "total care" package. 866-DENTAPLEX. mediniche.com
---
ORAL CARE PRODUCTS PROMOTE HEALING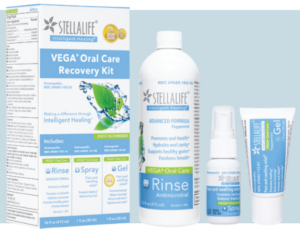 Public interest in natural products for dental care is on the rise. Many dental surgeries require patients to take opioids and steroids after surgery; however, patients are now looking for safe, effective, and natural alternatives. Designed to minimize patient discomfort and accelerate wound healing, StellaLife, Aventura, Florida, VEGA Oral Care products are natural and formulated as an adjunctive therapy for pre- and post-surgical treatment. The patented solution is proven to accelerate healing and reduce pain, bruising ,and swelling, and can significantly reduce the need for narcotic pain medications and steroids. Natural, nonstaining, sugar-free, opioid-free and gluten-free, the StellaLife VEGA Oral Care lineup includes an antimicrobial rinse, sublingual (pain-relief) spray, and topical gel—all made in the United States.  305-788-8555. stellalife.com
---
MAGNETOSTRICTIVE INSERT TIPS

Pac-Dent, Brea, California, offers 25K and 30K magnetostrictive ultrasonic universal insert tips. Compatible with all magnetostrictive handpieces, the inserts are designed to enhance workflows and clinical efficiency with the company's South East Instruments Autoscaler. Made in the United States, the Autoscaler is available in 25K and 30K models, and features a detachable handpiece assembly and precise water control. Clinicians will appreciate the new universal inserts' base flow water delivery and nonslip grip that helps optimize tactile sensitivity during ultrasonic procedures. 909-839-0888. pac-dent.com
---
MICRO APPLICATOR BRUSHES DEBUT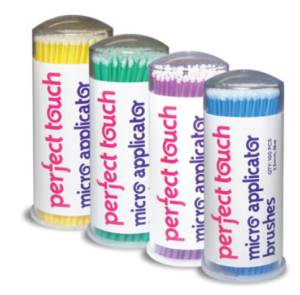 Dental Creations Ltd, Waco, Texas, makes Perfect Touch micro applicator brushes for placing etchants, sealants, and bonding agents. Perfect Touch brushes are bendable in any direction to allow precise application in hard-to-reach areas. The fibers hold solutions, so there is no spilling, dripping, or waste. Featuring a lint-free brush tip, the applicators are disposable and intended for single-use only, which eliminates cross-contamination risks. These new color-coded micro brushes are available in fine, regular, and large sizes. 254-772-4661. dentalcreationsltd.com
---
CORDLESS FLOSSER FEATURES QUAD STREAM TECHNOLOGY

Philips, Stamford, Connecticut, has unveiled its Sonicare Cordless Power Flosser, an interdental cleaning aid that provides a simple and effective way to improve gingival health by removing up to 99.9% of plaque. The device was developed for patients who need to establish a habit of flossing and are looking for an effective, consistent, and convenient self-care solution. Compared to its tabletop predecessor, the Philips Sonicare Cordless Power Flosser offers a compact format that facilitates seamless integration into a patient's oral hygiene routine. It utilizes Quad Stream technology, a unique cross-shaped nozzle that creates four wide streams that are reportedly 150% more effective than floss. The flosser, which provides a thorough clean interproximally and along the gingival margin, also features Pulse Wave technology that provides brief pauses in the cleaning pulsations to prompt patients to glide the nozzle to the next interproximal space to ensure a whole-mouth clean. 800-422-9448. philipsoralhealthcare.com
From Dimensions of Dental Hygiene. May 2023; 21(5):44-45.