Making the Most Out of Magnetostrictive Ultrasonic Tips
A variety of magnetostrictive ultrasonic tips are available to meet the entire range of patient treatment needs.
The debate between hand- and power-driven instrumentation has been ongoing since the inception of ultrasonics. Research shows that ultrasonic instrumentation is as effective as hand instrumentation in the removal of deposits.1 Ultrasonic instrumentation has many benefits including the ability to access the base of narrow and deep pockets and the fact that its use is less taxing on the clinician's body.2

However, for periodontally involved patients, the most effective approach is the combined use of ultrasonic and hand instrumentation because it enables the clinician to gain the benefits of both modalities.3 Because ultrasonic tips are not always able to adapt to depressions, contours, and concavities, hand instruments are important in their ability to cover root contours.2 And as stated by the American Academy of Periodontology's (AAP) Guidelines for Periodontal Therapy, the removal of both supragingival and subgingival calculus from the diseased pocket is necessary as is the removal of the irregularities of the root surface by root planing procedures. The AAP also states that for treatment to be viewed as successful, all calculus must be removed.4,5
Ultrasonic instrumentation continues to evolve because of the introduction of new and improved insert designs for both magnetostrictive and piezoelectric ultrasonic units. Understanding these new innovations is key to efficacious scaling and root planing. This article focuses solely on magnetostrictive ultrasonic tips.
CHOOSING THE RIGHT TIP
When used on lower power settings, ultrasonic instrumentation removes layers of calculus rather than breaking up large pieces of deposit.6 In cases where patients have moderate to heavy build-up, the ultrasonic scaler should be used on a higher setting so the pieces can be broken up first. The setting can then be reduced to remove the thinner layer underneath. It is also important to use the proper insert for the type of debridement procedure. Larger, heavier inserts are used to remove gross deposits while thinner inserts are indicated for fine scaling. Effective scaling and root planing is not possible without the use of a variety of inserts for different areas of the dentition.7 Unfortunately, many clinicians do not have access to a range of ultrasonic inserts to choose from in the operatory. In addition, while some offices may have a set of three ultrasonic curved inserts, they are often used independently as single inserts rather than in combination. Figure 1 illustrates that curved instruments are designed to be area-specific and are not meant for full-mouth use.
INSERT INNOVATION
A variety of inserts can be effective in combination to remove all of the subgingival deposits. For best results, instrumentation should begin with a standard (thicker) tip and then progress to a thin insert with universal, left, and right angles. This progression allows for larger, heavier deposits to be removed first by breaking up the deposit.7 The thin insert can then be more effective at reaching down into the deeper areas of the pocket and furcations to remove the thinner, layered calculus deposits.4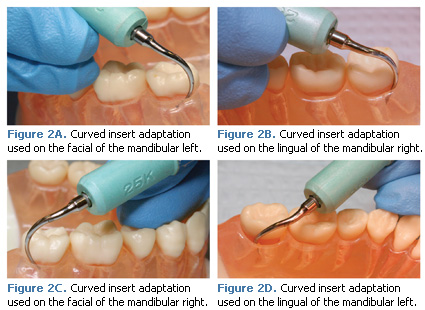 The Slimline™ tips* come in universal, left, and right angles. They are designed to be used together so that all areas of the tooth surface are accessible by ultrasonic instrumentation. When using the set of three thin inserts, the clinician should start by using the universal tip and then incorporating both curved inserts. The left curved insert is used on the facials of the maxillary right and mandibular left teeth as well as the linguals of the maxillary left and the mandibular right. The right curved insert is used in the opposite areas—facials of the maxillary left and mandibular right and linguals of the maxillary right and mandibular left. Used this way, all root surfaces and pocket depths are reached and the access to furcations is improved. Thin tips aid in the critical removal of subgingival plaque biofilm and calculus from root surfaces as well as the surrounding pocket space itself. Figures 2A through 2D demonstrate the correct adaptation for the left and right inserts on facial and lingual aspects of the mandible.
*DENTSPLY Professional
A study conducted by Dragoo8 compared the ability of left and right curved inserts with traditional ultrasonic inserts and manual curets in reaching the base of pockets, which ranged from 5 mm to 8 mm. The study found that the left and right curved ultrasonic inserts were able to reach the farthest into the depth of the pocket compared to the traditional ultrasonic insert and the curet.8
Several manufacturers make magnetostrictive ultrasonic inserts that come in many different designs ranging from large diameters to small to thin inserts for better access into root furcations (see Table 1 for a list of manufacturers). Tips to improve clinician ergonomics are available, such as the Swivel™ line of tips,* which are designed to allow for single-handed adjustment, and Big Easy® ultrasonic inserts,** which offer a wide diameter and cushioned grip to improve comfort and ergonomics. Aerosolized bacteria can be an issue when using ultrasonic instrumentation, and tips designed to reduce this risk and increase visibility by providing a fixed water flow (Infinitip Magneto Inserts***) are available.
* Hu-Friedy Mfg Co Inc
**Premier Dental Products
***American Eagle Instruments
The Insight™* line of tips includes LED lights located within each insert to improve visibility. A very thin insert design—the Cavitron THINsert ™**—is a recent addition. It is used in areas with limited access such as furcations, interproximal areas, and concavities, and areas with tight tissue.
Tips designed to scale implants are also new additions to the magnetostrictive market. Prior to their introduction, it was very difficult to remove plaque and calculus around titanium implants and abutments with ultrasonic scalers for fear of damaging the restoration. Table 2 provides information about the magnetostrictive tips that are safe to use on implants. Implant tips are typically plastic, disposable ultrasonic insert tips that deliver the same lavage as other inserts. They should be used on a low setting.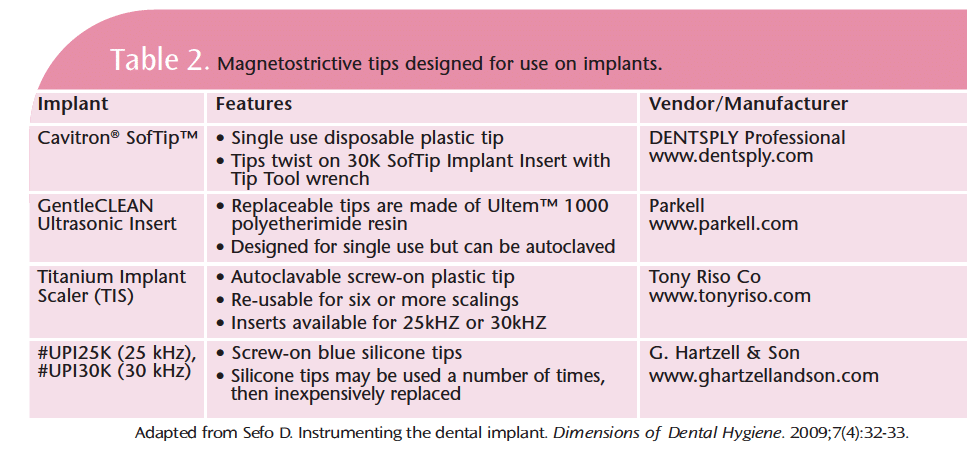 CONCLUSION
Dental hygienists need to review their office's arsenal of ultrasonic inserts and take note of what needs to be changed or added. Ultrasonic inserts are available to effectively treat a wide range of patient needs from healthy dentition with only light calculus build up to periodontally involved dentition with the need for four quadrants of scaling and root planing. Developments in design and ongoing research will continue to bring new additions to the ultrasonic armamentarium.
REFERENCES
Tunkel J, Heinecke A, Flemmig T. A systematic review of efficacy of machinedriven and manual sub gingival debridement in the treatment of chronic periodontitis. J Clin Periodontol. 2002;29(Suppl 3):72-81.
Matsuda S. A practical look at ultrasonic instrumentation. Dimensions of Dental Hygiene

. 2009;7(7):32, 34.

Drisko C. Nonsurgical periodontal therapy. Periodontol 2000

. 2001;25;77-88.

American Academy of Periodontology. Guidelines for Periodontal Therapy. Available at: www.perio.org/resources-products/pdf/33-therapy.pdf

. Accessed September 10, 2009.

Loos B, Kiger R, EngelbergJ. An evaluation of basic perio dontal therapy using sonic and ultrasonic scalers. J Clin Periodontol

. 1987;14:29-33.

Flemmig T. Ultrasonics uncovered. Dimensions of Dental Hygiene

. 2008;6(4): 26-28.

Stach D. Periodontal debridement—a case in point. Dimensions of Dental Hygiene

. 2009;7(2):30-32.

Dragoo MR. A clinical evaluation of hand instru ments and ultrasonic instruments on subgingival debride ment. I. With unmodified and modified ultrasonic inserts. Int J Periodontics Restorative Dentistry

. 1992;12:310-323.
From Dimensions of Dental Hygiene. October 2009; 7(10): 44, 46-48.