Product Profile: EverEdge® 2.0 Scaler by Hu-Friedy
Instruments offer extreme sharpness and longevity.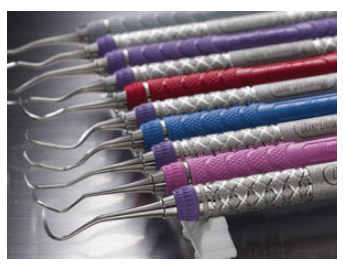 The EverEdge 2.0 scaler is extra sharp and long-lasting due to advancements in technology and metallurgy and Hu-Friedy's investment in advanced manufacturing processes. The instrument is made using proprietary heat treatment and finishing processes, which create an optimized steel for increased sharpness and edge retention.
Clinical testing by CATRA, an independent, third-party laboratory, verified the sharpness of the Hu-Friedy EverEdge 2.0 scalers straight out of the box and their edge retention after 500 strokes of use.
TESTING ENSURES SHARPNESS
Hu-Friedy has invested in a revolutionary testing system to continually assess blade sharpness directly off its factory line. This ensures that the blades created maintain the instruments' high level of sharpness.
Because EverEdge 2.0 instruments are so sharp, clinicians do not need to sharpen them as often. When clinicians feel the need to sharpen EverEdge 2.0, they can either resharpen the blades—the most economical option—or discontinue use.
ERGONOMIC OPTIONS
EverEdge 2.0 is available in ergonomic metal diamond-knurled handles, as well as the lightweight, color-coded Resin 8 Colors handles. The new scalers also feature purple comfort grips using the color of dental hygiene to celebrate dental hygienists every day. Initially, 22 scaler patterns will be offered in EverEdge 2.0. Throughout the year, more patterns will be released by product family until the full portfolio is available.

 Hu-Friedy
hu-friedy.com/EE2
(800) Hu-Friedy
---
From Dimensions of Dental Hygiene. March 2016;14(03):65.