Product Profile: Duraflor® Halo 5% Sodium Fluoride White Varnish By Medicom®
Varnish offers effortless application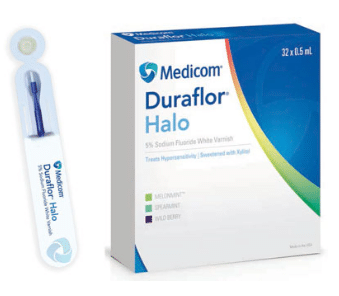 Fluoride varnish is a popular preventive option for a variety of patient populations. Medicom strives to simplify the application process for oral health professionals with Duraflor Halo. Delivering a smooth, silky consistency, Duraflor Halo will not clump. Its use is recommended for the treatment of dentinal hypersensitivity and to seal dentinal tubules for cavity preparation. Once applied, this varnish dries to a natural white color. Peel-and-apply packaging eliminates mess and reduces cross-contamination risk.
KEY BENEFITS
Duraflor Halo 5% Sodium Fluoride White Varnish is made from high-quality ingredients. It contains the highest allowable fluoride concentration for fast
action. The product offers many benefits to both clinicians and patients:
Sweetened with xylitol in patient-pleasing flavors: MelonMint, SpearMint, andWild Berry
Free of gluten, tree nuts, peanuts, sesame, corn, shellfish, penicillin, egg, soy,and dairy products
High concentration of fluoride delivers quick relief
Does not clump
Peel-and-apply packaging reduces mess and crosscontaminationrisk
Prophy paste ring included in each box
0.5 mL unit doses available in packs of 32 or 250
PRIDE IN PROTECTION
Medicom offers a complete line of high-quality professional and self-care oral health products to fit every patient need. The company has been delivering such products to health care professionals for more than 27 years.

Medicom
medicom.com
(800) 361-2862
---
From Dimensions of Dental Hygiene. March 2016;14(03):64.