How to Prevent Breaches in Instrument Reprocessing Protocol
Follow these strategies to ensure proper instrument packaging and chemical monitoring during the sterilization process.
Breaches in instrument reprocessing protocol have put dentistry in the news and emphasize the importance of thorough and consistent infection control protocol. Last month, a patient filed a lawsuit against the University of Pittsburgh School of Dentistry after he received a letter stating that he was treated with instruments that weren't properly sterilized.1 In December 2011, a Massachusetts dentist had his license suspended for failing to perform spore tests on a weekly basis.2 In April 2011, at a Veterans Affairs (VA) Hospital in Columbus, Ohio, blood testing was offered to more than 500 patients because a staff dentist failed to change gloves and sterilize equipment properly and thus far, three patients have tested positive for hepatitis.3 In December 2010, a breach in instrument sterilization reprocessing at the Zablocki VA Medical Center in Milwaukee forced the termination of all surgical procedures for almost 3 weeks.4 In 2010, a breach in sterilization protocol at the John Cochran VA Medical Center in St. Louis forced officials to notify 1,800 veterans of potential exposure to hepatitis B, hepatitis C, and human immunodeficiency virus (HIV).5 Lastly, sterilization breaches at the Mission of Mercy clinic in West Virginia put nearly 2,000 patients at risk of infectious disease in 2009.6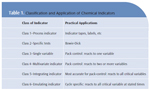 Clearly, sterilization failures do occur. Common causes of these breaches include: improper timing, wrong temperature, incorrect sterilization method for item, unit malfunction, improper packaging, overloading, inappropriate operation, incorrect maintenance of sterilizer, inadequate cleaning of instruments, and temperature exceeding temperature-pressure relationship.7,8 Effective monitoring processes are key to ensuring that instruments are successfully sterilized. The process of cleaning and sterilizing dental instruments is integral to the safe provision of care for both patients and clinicians. Dental health providers must be proactive in preventing events like these that potentially compromise patient and clinician safety and tarnish the public reputation of the profession.
STANDARDS AND GUIDELINES
The dental profession relies predominantly on the Occupational Safety and Health Administration (OSHA) standards and United States Centers for Disease Control and Prevention (CDC) guidelines to provide a safe environment for employees and patients. To achieve a high level of positive health care outcomes, however, recommendations from other important organizations should be considered. The Association for the Advancement of Medical Instrumentation's (AAMI) mission is based on the "delivery, development, management, use, and other aspects of safe and effective medical instrumentation and related technologies."9
Its Standard 79 (ST79) is a comprehensive guide to steam sterilization and sterility assurance in health care facilities that reinforces the CDC Guidelines for Infection Control in Dental Health-Care Settings.7 Although ST79 is not regulatory in nature, it is considered a best practice for instrument reprocessing.
The International Association of Healthcare Central Service Material Management manual lists the following principles of asepsis:
Know what is contaminated.
Know what is clean.
Know what is sterile.
Keep the three conditions separate.
Remedy contamination immediately.10
All dental team members should have a clear understanding of these principles. Once an instrument or instrument cassette has been cleaned, rinsed, dried, and is ready to be sterilized, there is a logical order of events that should be followed.
PACKAGING
Sterilization packages are US Food and Drug Administration (FDA)–approved medical devices, and when cleared by the FDA, they must demonstrate that they maintain sterility for at least 6 months.11 ST79 indicates that the proper sizing and application of pouches allows for adequate air removal, steam penetration, and drying.10,12 The package should provide approximately 1 inch of space between the items in the pouch and the sealed edges.10 If the pouch is too large, the instruments or cassette may slide from side to side and break the pouch's seal. A package that is too small puts excessive stress on the sides of the pouch, which could compromise the integrity of the seal. If a paper wrap is used, a double sequential envelope fold should be secured with indicator tape. The wrap should be kept snug to the instrument or cassette to prevent condensation from collecting.10
Packaging materials should be designed for the type of sterilization process used.7,10–14 Cloth is not recommended as a sterilizer wrap because it may not provide an effective barrier to microorganisms.11 If a cloth wrap is used, however, special care must be taken because it requires laundering and regular inspection to ensure that there are no tears or punctures from previous use.
RATIONALE FOR CHEMICAL INDICATORS
One of the challenges faced prior to sealing the pouch or wrap is selecting the appropriate chemical monitoring device. CDC guidelines recommend placing an internal chemical indicator (CI) in each package. Additionally, an external CI should be used when the internal CI is not visible from outside of the package.7,11,13 ST79 uses a slightly different phrasing that states, "except for packages that allow visual inspection of an internal indicator, such as those with paper-plastic packaging, an external indicator should be used on all packages."12
Where to place an internal CI sometimes causes confusion. If there are single, loose instruments in a paper-plastic pouch, the internal CI can simply be dropped in with the instruments. For the dental practice that uses cassettes, however, the internal CI should be placed inside the cassette in the package, tray, or container considered to be the least accessible to steam penetration.10,12 Dual-indicator paper-plastic pouches meet the ST79 standard and CDC guidelines for internal and external requirements as long as the instruments are loose and not in a cassette or contaviner.
TYPES OF CHEMICAL INDICATORS
CIs are used to confirm that packages have been properly exposed to the sterilization process. They also help identify reasons for potential sterilization failures.7,10,12 There are a variety of CI classes available to monitor critical sterilization parameters such as time, temperature, the presence of steam, or a combination of these. Table 1 illustrates general CI categories. Class 1 CIs react to one parameter and are referred to as external CIs. They are typically placed on the outside of a package, such as CI tape. A color change in this indicator material demonstrates that the outside of the package has been exposed to the sterilization process. These are different than class 4 CIs, which are classified as "multivariate indicators" and react to two or more critical parameters, eg, time, temperature, or the presence of steam. Class 5 CIs are even more precise in that they react to all three critical parameters and are correlated to the performance of a biological indicator.10,12 The proper use of CIs will ensure compliance to CDC guidelines and ST79, and will provide appropriately reprocessed instruments that are safe for patient care.
SEALING THE PACKAGE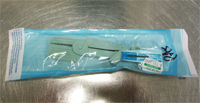 Once the appropriate package size is selected and the correct CI is determined, the package must be properly sealed. All packaging must be sealed in a way that is tamper-evident so there is no way for the package to be opened and resealed.10,12 Packages can be sealed by a variety of methods, but self-sealing pouches are the most common. Follow the manufacturer's markings to fold and seal the package properly. Never seal packages with staples or paper clips because they can puncture the materials and compromise sterility.12,13 In any case, all packages must be sealed smoothly without bubbles or creases while following the manufacturer's instructions for proper packaging technique (Figure 1).
LABELING THE PACKAGE
Paper-plastic pouches have a plastic side to allow visibility of the contents, and a paper side that may be penetrated by air, steam, or sterilant. Pouches must be labeled on the plastic side or the self-sealing tab provided by the manufacturer.10,12,13 Writing on the paper side of the package may cause unnoticeable damage and compromise the barrier protection. If a paper wrap envelope fold is used, the package should be labeled on the indicator tape.10 Packages should be labeled with a marking pen that is permanent, nonbleeding, and nontoxic; paper or cloth materials should not be written on directly.13,14 Also, packages should be labeled with the date of sterilization, and if there is more than one sterilizer, the sterilizer used should be indicated on the label to facilitate retrieval in the event of a failure (Figure 2).7,10,12,14
The "event-related" shelf life method is the most commonly used to assess how long packages will remain sterile. This method indicates that the package is sterile indefinitely unless there is an "event" causing it to be contaminated, such as a tear, brittle plastic, wet packaging, or a package that has fallen on the floor.7,12,13 Any of these compromises call for the package to be reprocessed. Prior to use, packaging should be re-inspected for tears, punctures, open seals, or improperly turned CIs.
SUMMARY
Breaches in the reprocessing of instruments have brought unwanted publicity to the dental profession and put both patients and clinicians at risk. Following the AAMI ST79 standard and CDC guidelines takes the guess work out of preparing instruments that are safe for patients and providers. Regardless of the type or size of the dental setting, a clear understanding of asepsis principles, proper packaging techniques, and use of chemical monitoring during the sterilization process will reduce the risk of cross-contamination.
All members of the dental team, especially those with primary responsibility for reprocessing instruments, should be educated on these protocols and be able to demonstrate a high level of competency.
REFERENCES
Pitt Dental School accused of negligence, using dirty equipment. HCV New Drug Research. Available at:http://hepatitiscnewdrugs .blogspot.com/ 2012/ 05/ pitt-dental-school-accused-of.html. Accessed May 16, 2012.
Supreme Judicial Court of Massachusetts, Suffolk. CHADWICK v. BOARD OF REGISTRATION IN DENTISTRY.Available at: http://caselaw.findlaw.com/ ma-supreme-judicial-court/ 1587715.html. Accessed May 16, 2012.
Department of Veterans Affairs Office of Inspector General. Healthcare Inspection Oversight Review ofDental Clinic Issues Dayton VA Medical Center Dayton, Ohio. Washington, DC: VA Office of InspectorGeneral; April 25, 2011. Report No 10-03330-148.
Walker D. Surgeries halted at VA center. Milwaukee Journal Sentinel. December 14, 2010.
OSAP. Dental clinic infection control problems serve as potent compliance reminder. Available at:www.osap.org/?page=Issues_VA&hhSearchTerms=john+and+cochran+and+VA. Accessed May 16, 2012.
OSAP. The importance of proper instrument processing. Available at: www.osap.org/?page=Issues_IPbestpractic&hhSearchTerms=john+and+cochran+and+instruments. Accessed May 16, 2012.
Kohn WG, Collins AS, Cleveland JL, et al. Guidelines for infection control in dental health-care settings—2003. MMWR Recomm Rep. 2003;52:1–61.
Tolle SL. Sterilization monitoring. Dimensions of Dental Hygiene. 2009; 7(3):18–22.
Association for the Advancement of Medical Instrumentation. AAMI's Mission Statement. 2012. Available at: www.aami.org/about/mission.html. Accessed May 16, 2012.
International Association of Healthcare Central Service Material Management. Central Service TechnicalManual. 7th ed. Chicago: International Association of Healthcare Central Service Material Management;2007: 111–316.
Miller CH, Palenik CJ. Infection Control and Management of Hazardous Materials for the Dental Team, 4thed. St. Louis: Mosby Elsevier; 2010:135–167.
American National Standards Institute. Comprehensive Guide to Steam Sterilization and Sterility Assurance in Health Care Facilities.Arlington, Va: Association for the Advancement of Medical Instrumentation; 2010.
Molinari JA, Harte JA. Cottone's Practical Infection Control in Dentistry, 3rd ed. Baltimore, Md: Wolters Kluwer/Lippincott Williams & Wilkins; 2010:22–231.
From Policy to Practice; OSAP's Guide to the Guidelines. Annapolis, Md; OSAP; 2007:45–60.
From Dimensions of Dental Hygiene. June 2012; 10(6): 28, 30, 32-34.