Emergency Preparedness
Help your family, practice, and community be better prepared for all types of catastrophic events.
PURCHASE COURSE
This course was published in the July 2012 issue and expires July 2015.
The authors have no commercial conflicts of interest to disclose.
This 2 credit hour self-study activity is electronically mediated.
EDUCATIONAL OBJECTIVES
After reading this course, the participant should be able to:
Identify the types of catastrophic events that pose significant threats to communities.

Discuss the role of dental professionals in emergency preparedness and response at personal, community, and professional levels.
List avenues for additional preparedness education.
---
Catastrophic events are unanticipated and destructive happenings that result in the total upheaval of communities and require a comprehensive recovery.1,2 The ramification of these events are extensive—reverberating with social, economic, humanitarian, and psychologic effects. These events—minor and major, natural and man-made—occur with surprising frequency and often with little or no warning. While it is difficult to prepare for every possible scenario, a general understanding of the most common catastrophic events and basic response techniques can help minimize human suffering and loss of life.
Health care professionals, including dental hygienists, play a role in emergency preparedness and response. The level of participation can be decided individually, but health care professionals have an ethical and moral obligation to contribute. Because of their education and practice experience, dental professionals are well suited to aid in the event of a catastrophic event.
THREATS
Preparing for catastrophic events can be difficult as each has its own unique characteristics, for example, a hurricane is different from a snowstorm. Dental professionals should be aware of the most common disasters faced in their local area.1 Dental professionals located in the southern Atlantic states should be well prepared for hurricanes, while those practicing in the southern plains region should be ready for tornadoes.
Man-made catastrophic events, such as war, terrorism, and accidents, are unpredictable. Governments, hospitals, universities, and other establishments use risk assessment tools to prepare for catastrophes.3 One of the most important roles of government is to protect citizens from harm, including helping people prepare for and respond to emergencies. When communities and establishments calculate their risk of catastrophes, they are better able to direct resources toward preparing for events, such as airplane crashes, train derailments, and motor vehicle and aquatic accidents. The hacking of data systems is also a threat and could create a potentially catastrophic event.
TERRORISM
Major cities have historically been terrorist targets and governments expend extensive resources to protect against such attacks through security and intelligence. The United States government has identified five major categories that an enemy may use to inflict terror: chemical, biological, radiological, nuclear, and explosive (CBRNE).4  Chemicals have a history in both deliberate and accidental incidents. There is a wide range of toxic chemicals that could be used as weapons, including cyanides, mustard agents, nerve agents, and toxic industrial chemicals. Biological agents, such as anthrax, botulinum toxin, and ricin, are also a threat. Radiological, nuclear, and explosive devices can be created to dispense radioactive or nuclear materials, commonly known as a dirty bomb.
---
Table 1. Possible items to include in disaster preparedness kits for use at home, office, at school and/or in a vehicle.5
Water—1 gallon per person, per day (3 day supply for evacuation)
Food—3 day supply for evacuation
Battery- powered or hand crank radio
Extra batteries
First aid kit
Medications (7 day supply) and medical items
Multi purpose tool
Sanitation and personal hygiene items
Copies of personal documents (medication list and pertinent medical information, proof of address, deed/lease to home, passports, birth certificates, insurance policies)
Cell phone with chargers
Family and emergency contact information
Extra cash
Emergency blanket
Map(s) of the area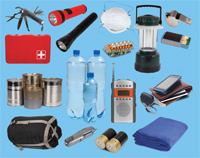 ---
EVACUATE OR SHELTER-INPLACE
There are two different approaches to preparing for catastrophic events: evacuate or shelter-in-place. Evacuation may just be from one's place of work or home, or it may be a mandate to leave the city. In order to be prepared for both, the creation of a "go pack" is vital. The pack should include all necessities needed to survive away from home, including the basics, such as food and water for at least 3 days, but specific needs should also be addressed, eg, necessary medications or diapers/formula if a baby is part of the family (Table 1).5  An order to shelter-in-place means that people should stay where they are as it is unsafe to leave. Each home should be prepared with enough basic essentials to last 2 weeks. If the sheltering-in-place directive is given due to a chemical or radiological disaster, people may need to shelter-in-place in a sealed room. The room that best serves this purpose should be chosen beforehand and additional supplies should be stored there (Table 2).5
Involving children in emergency preparation helps to alleviate fear and anxiety. Pets should also be considered in preparations. They also will need sustenance and medications for survival.
THE DENTAL PRACTICE
Dental professionals need to have a plan for their practices as well. Dental professionals, office staff, and patients may not be able to leave the office due to a catastrophic event. One person in the dental office should be put in charge of emergency preparedness. The practice should have enough supplies to function for a minimum of 3 days with no one coming or going.
There are examples of emergency plans that can be used to create one specifically for your practice (Table 3). Consider what hazards exist in your area. Are you in a zone with frequent hurricanes or floods? Are you near a nuclear facility? Are you in close proximity to a major highway or rail system where dangerous chemicals are transported? The risks most relevant to your practice's location should be considered first when planning. A plan for sheltering-in-place and a plan for evacuation should be written and practiced.
---
Table 2. Additional items that may be needed if instructed to shelter-in-place due to a chemical or radiological event.5
The following items should be kept in the room that could be sealed off in case of such an event.
A roll of duct tape and scissors
Plastic sheeting precut to fit shelter-in-place room openings
10-square-feet of floor space per person will provide sufficient air to prevent carbon dioxide buildup for up to 5 hours.
The sealed room will most likely be used only for 2 hours to 3 hours because the efficacy of this type of shelter decreases as the contaminated outside air gradually seeps into the sealed-off room.
---
FOR FAMILIES
The US Federal Emergency Management Agency (FEMA) advises Americans to be informed, create an emergency plan, assemble a kit, and continue to maintain the plan and kit.6 Plans and kit content suggestions are available from FEMA, the Red Cross, and the US Centers for Disease Control and Prevention, as well as state and local public health agencies.
Families should have their own evacuation plan and an agreed upon place to meet in the event of a catastrophic event. Important information—such as insurance information on medical, home, and vehicles, birth certificates, insurance policies, passports and deeds—should be stored together in a secure location. Telephone numbers of family, neighbors, and medical centers should be available to each family member. Children should understand that they will remain in their school building during an emergency until it is safe to go home. An assembled kit should have all the vital necessities that a family and pets would need for a minimum of 3 days. All family members need to know where the emergency kit is located. Each family will have its own special needs and the emergency plan should be made in accordance with these unique characteristics. Never assume there will be access to utilities such as electricity, water, telephone, television, or Internet.
FOR COMMUNITIES
Community agencies recruit professionals and private citizens for service during emergencies. The Medical Reserve Corps (MRC) was created in July of 2002 by President George W. Bush's administration. Since that time, the program has grown to more than 200,000 volunteers in almost 1,000 units across the country. These units are ready to respond to emergencies and build resiliency in thousands of local communities through prevention, preparedness, and public health activities.7
The program uses the skills of practicing and retired health care professionals who are willing to volunteer their services to address community public health needs and respond to large scale emergencies. These volunteers train both individually and with fellow unit members to improve their skills, knowledge, and abilities. They are tapped to provide public health services and help emergency response teams in the event of a crisis. For information on becoming a volunteer, visit https://medicalreservecorps.gov.
---
Table 3.Resources for Creating an Emergency Plan for the Dental Office
American Dental Association
www.ada.org/sections/professionalresources/pdfs/ada_disaster_manual.pdf
Florida Dental Association
www.ada.org/sections/professionalresources/pdfs/fdhf_disaster_manual.pdf
University of Southern California School of Dentistry
www.usc.edu/hsc/dental/images_media/emergency_plan_uscsd.pdf
United States Centers for Disease Control and
Prevention Emergency Preparedness and Response Site
www.bt.cdc.gov
---
WHERE DOES DENTISTRY FIT?
Dental professionals can use their education and practice experience in catastrophe preparedness, response, and mitigation. In 2003, the American Dental Hygienists' Association (ADHA) House of Delegates passed two resolutions in support of dental hygienists serving in emergency response and disaster relief.
During a major disaster, hospital systems may become overwhelmed and care provision may need to move to off-site locations, such as dental offices. This opportunity should be discussed with the practice owner. A collaboration with local public health can have a dental practice designated an assistance area. Dental offices may be used as facilities for triage, treatment, and to disseminate vaccines or antibiotics.
Dental schools, which are typically well-equipped for emergencies, could serve as major sites to compensate in times of a medical surge. In order for dentistry to contribute to emergency preparedness effectively, dental team members must be willing to perform any necessary tasks. Dental professionals can diagnose, perform triage, place sutures, deliver oxygen, expose X-rays and read or interpret radiographs, dispense medication, administer anesthesia and inoculations, and keep an aseptic environment. Dental hygienists are particularly skilled in explaining technical terms to patients, which is important in alleviating fears to calm the public. They are educated to conduct health history interviews and provide accurate documentation for epidemiological data and forensic evidence.
When resources are stretched to the maximum, dental professionals will be vital until more help can arrive. Medical health care providers may be overwhelmed with the needs at hand or become ill or injured and may not be able to perform in an emergency. In order for dental professionals to be prepared to make significant contributions during times of emergency, training is needed.
TRAINING
The US government recognizes the potential contributions that dental professionals can make in a time of disaster. House resolution H.R. 570, the Dental Emergency Responder Act of 2011, was passed on March 8,2011. It amended the Public Health Service Act to include dental facilities in the National Health Security Strategy for use during public health emergencies. It included dental entities among those organizations that may carry out education and training activities to improve responses to public health emergencies. Senate bill S.1885 was introduced to include this verbiage. The Senate Pandemic and All Hazards Preparedness Act of 2011 was passed March 7, 2012.8 It goes to the House next for consideration.
FEMA's National Incident Management System (NIMS) provides education for departments, organizations, and the private sector to work together to prevent, protect against, and reduce the effects of catastrophic events to limit loss of life, as well as property and environmental damage. NIMS offers extensive online training in preparedness available at: www.fema.gov/emergency/nims/NIMSTrainingCourses.shtm.
The National Disaster Life Support Education Consortium (NDLSEC), which is part of the American Medical Association, is another resource for emergency preparedness training. Its mission is to create a nationwide network of health professionals who are ready, willing, and able to meet the health and safety needs of all people and communities affected by disaster or other public health emergency. NDLSEC offers variety of courses which have modules from basic to advanced training (www.ama-assn.org).9
CONCLUSION
Dental professionals who are willing and able to assist their communities in disaster preparedness serve a vital role. Their fundamental training is a solid basis for participation. Resources are available to further education and training to augment the needs of society when called upon. When a disaster strikes a community, those who are prepared will endure less damage and recover more quickly. Preparedness is key for our families, for our patients, and for our communities at large.
REFERENCES
Brown LM, Hickling EJ, Frahm K. Emergencies, disasters, and catastrophic events. Rehabil Nurs. 2010;35:236–240.
US Department of Homeland Security. National Response Framework. Available at: www.fema.gov/pdf/emergency/nrf/nrf-core.pdf. Accessed May 21, 2012.
World Health Organization. Health emergency and disaster management. Available at: www.who.int/hac/techguidance/preparedness/en/index.html. Accessed May 21, 2012.
Federal Emergency Management Agency. Terrorist Hazards. Available at: www.ready.gov/terrorism. Accessed May 21, 2012.
Centers for Disease Control and Prevention. Gather emergency supplies. Available at: http://emergency.cdc.gov/preparedness/kit/disasters/. Accessed May 21, 2012.
Federal Emergency Management Agency. Make a plan. Available at: www.ready.gov/terrorism. Accessed May 21, 2012.
Medical Reserve Corps. 10th anniversary. Available at www.medicalreservecorps.gov. Accessed May 21, 2012.
Senate Pandemic and All Hazards Preparedness Act. Available at: www.govtrack.us/congress/billtext.xpd?bill=s112-1855. Accessed May 21, 2012.
American Medical Association. National disaster life support program. Available at: www.amaassn.org/ama/pub/physician-resources/public-health/center-public-health-preparedness-disasterresponse/national-disaster-life-support/ndlsec.page. Accessed May 21, 2012.
From Dimensions of Dental Hygiene. June 2012; 10(6): 62-65.