February 2022 Digital Agenda
Digital Agenda covers all that's happening under Dimensions' social media platforms.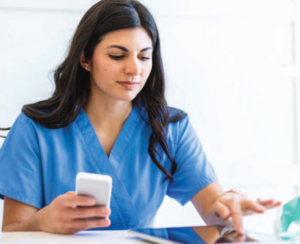 Sign Up for Unlimited Learning
Stay on top of your license renewal and join Dimensions of Dental Hygiene's new CE Study Club! Membership gives you access to our entire continuing education (CE) library for 12 months, and provides you with unlimited learning at your convenience! Club membership enables you to take as many courses as you'd like from anywhere on any device, and you'll receive instant verification of participation on completed courses and CE certificates on demand. For more details, visit: dimensionsofdentalhygiene.com/​​annual-subscription.
---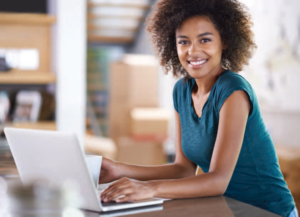 Join Our Brand Ambassador Team
Dimensions of Dental Hygiene offers a Brand Ambassador Program–a group of thought leaders who serve as the voice of Dimensions, and help clinicians be the best they can be. Brand Ambassadors are encouraged to participate in activities that earn points, which can be cashed in for rewards. Ambassadors participate as much or as little as they like. Rewards include free products and promotion across Dimensions' social platforms. If you would like to become a Brand Ambassador, visit: dimensionsof­ dentalhygiene.com/​​​​apply.
---
Let's Celebrate Dimensions' 20-Year Anniversary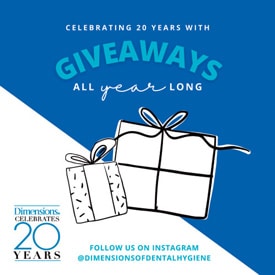 Each month, Dimensions of Dental Hygiene will commemorate its 20-year anniversary with a fun giveaway of dental hygiene swag! Congratulations to our first winner, Tetiana Vatamanitsa, RDH, who received a Crest + Oral-B iO Transformational Gum Health System and a Dimensions' tumbler. Follow us on Instagram— @dimensionsofdentalhygiene—to learn how you can win!
---
Be a Part of Our Facebook Discussion Group!
Dimensions invites you to join our private Facebook discussion group. This community provides practicing dental hygienists with a supportive environment where both new and experienced dental hygienists can ask questions about the profession. Have a question about personal protective equipment or new infection control measures? The Dimensions Facebook discussion group is the perfect place to ask these and all questions! Join us at: facebook.com/groups/dimensionsofdentalhygiene.
From Dimensions of Dental Hygiene. February 2022; 20(2)12.