Coated Glove Line Soothes Skin While Protecting Against Pathogens
FAQ presented by Cranberry.
Cranberry gloves boost moisture and lock in hydration to promote skin health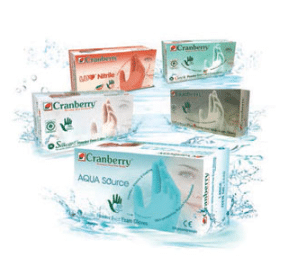 Cranberry offers an extensive glove lineup. How do your coated gloves differ from the other lines, and which glove is your latest offering?
Cranberry is continuously developing new products that are in line with the company's motto, "Strong in Protection, Soft on Skin." Exam gloves are one of the most important components of personal protective equipment, but data show that donning gloves for extended periods can be irritating—and even damaging—to clinicians' hands. To address these challenges, Cranberry launched its innovative coated gloves—each of which delivers lanolin and vitamin E to help prevent dry, irritated hands. These durable, coated gloves, like all Cranberry glove products, deliver a soft, bare-handed feel, superior tactile sensitivity, and unmatched barrier protection. The latest addition to this moisture-boosting line is powder-free Aqua Source nitrile gloves, which feature NuSoft technology. Four other powder-free coated gloves round out this line, including LUV nitrile gloves, Contour Plus nitrile gloves, Cyntek latex gloves, and Silkcare latex gloves.
What are the advantages of using gloves containing lanolin and vitamin E? And is there any research documenting their benefits?
The combination of lanolin and vitamin E creates a powerful barrier on the skin surface that locks in and boosts moisture, and guards against damage. Lanolin moisturizes and soothes skin, while also preventing dry, rough patches from forming in the first place. Vitamin E offers antioxidant properties; it penetrates the epidermal and dermal layers to provide additional protection. In fact, research has shown that compared to traditional technology, gloves coated with lanolin and vitamin E can reduce skin roughness by 41.2% and diminish dryness by 44.0%. Cranberry's new technology also decreases water loss by 31.3% after 6 hours of use—a major improvement from noncoated gloves, which reduce water loss by just 3.4%.1
What else can you tell clinicians about Cranberry's innovative coated gloves? And where can these moisture-boosting gloves be purchased?
Aqua Source gloves have received high product ratings and accolades from top industry players. In addition, Aqua Source and LUV nitrile gloves are each packaged in a 200-count box, which reduces packaging waste and saves shelf space. Oral health professionals can purchase Aqua Source, LUV, Contour Plus, Cyntek, and Silkcare coated gloves from all major dental dealers. Besides free samples, Cranberry is currently offering special pricing on these moisture-enhancing, skinprotecting, lanolin- and vitamin E-infused gloves.
Contact
Cranberry
(888) 811-6839
cranberryusa.com
REFERENCES
Shah MA. Maintaining skin integrity. Dimensions of Dental Hygiene. 2014;12(7):20–25.
From Dimensions of Dental Hygiene. November 2014;12(11):33.