Industry Info
Public health dental hygienists highlighted in new Sunstar Spotlight.
Public Health Dental Hygienists Highlighted in New Sunstar Spotlight
While all dental hygienists are trained in prevention and patient care, a special group—public health dental hygienists—is dedicated solely to improving the oral health of disadvantaged populations. In this month's Sunstar Spotlight, Katherine Lemoine Pelullo, RDH, MEd—a dental hygienist for Tufts Statewide Community Dental Program at Tufts University School of Dental Medicine in Boston—highlights how public health dental hygienists are working to solve the access-to-care crisis. The article explores the role of public health dental hygienists in direct-access states, and also describes a typical work day for a
Massachusetts-based public health dental hygienist.
Ivoclar Supports Oral Health America's Wisdom Tooth Project
Ivoclar Vivadent and Oral Health America (OHA) have announced that, now through December 31, the dental material company will match donations—up to a maximum of $50,000—made to OHA's Wisdom Tooth Project. Built on the cornerstones of oral health care education and advocacy, the Wisdom Tooth Project aims to increase access to care for older adults. The nonprofit group offers online resources at toothwisdom.org for older adults and
caregivers, as well as hands-on "Tooth Wisdom: Get Smart About Your Teeth" workshops.
Henry Schein Donates $1 Million to Prevent Spread of Ebola
With the help of its supplier partners, including Crosstex International Inc, KaVo Kerr Group, Medicom LLC, and PDI Healthcare, Henry Schein Inc is donating more than $1 million in personal protective equipment (PPE) to help combat the Ebola outbreak in West Africa. Henry Schein has been working with the Centers for Disease Control and Prevention Foundation, which will receive $500,000 in donations. The other portion of the donated PPE will be shared between the company's nongovernmental organization partners.
ERRATUM
Some of the data that appeared in Table 1 of "Reduce the Risk of Implant Failure" in the October 2014 print issue of Dimensions of Dental Hygiene was incorrect. The correct information appears below.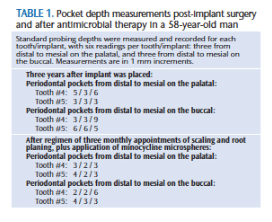 From Dimensions of Dental Hygiene. November 2014;12(11):22.