Dimensions Contributor is U-M Dental Hygiene Alumna of the Year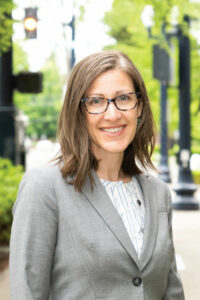 Amy Coplen, RDH, EPDH, MS, a frequent contributor to Dimensions of Dental Hygiene, received the 2022 Dental Hygiene Alumna of the Year Award from her alma mater, the University of Michigan (U-M), in recognition of her advocacy in expanding dental therapy in the state of Oregon. A professor and director of the School of Dental Hygiene Studies at Pacific University in Hillsboro, Oregon, Coplen was instrumental in lobbying legislators on the benefits of implementing dental therapists in order to improve access to basic dental care among the underserved and underinsured. Oregon licensed its first dental therapist in November. She is also board director for the American Dental Education Association's Council of Allied Dental Program Directors and a member of the Editorial Advisory Board for Perspectives on the Midlevel Practitioner, a sister journal to Dimensions.
From Dimensions of Dental Hygiene. January 2023; 21(1)9.