Product Profile: Evolve® Nitrile Powder-Free Examination Gloves by Cranberry® USA
Gloves offer silk like softness, durability.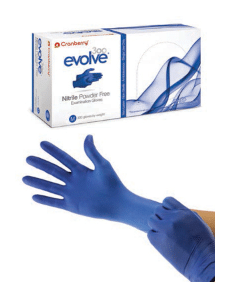 Personal protective equipment is a cornerstone of modern infection control protocol, and Cranberry USA is committed to equipping oral health professionals with the tools they need to deliver safe and effective care. Evolve nitrile powder-free examination gloves represent the company's softest yet most durable gloves to date. Packaged in a 300-glove-count box, the product not only provides protection but also reduces packaging waste and enhances cost savings.
TACTILE SENSITIVITY
Designed to precisely contour to practitioners' hands, Evolve gloves offer a custom fit and feel while delivering protection and lightweight comfort. Made with the company's proprietary EvoSoft formulation, which is designed to maximize protection, durability, and chemical resistance, Evolve exam gloves are one of the thinnest on the market and provide excellent tactile sensitivity. Textured fingertips offer superior dexterity, ensuring a secure grip in both wet and dry conditions.
Evolve is engineered with Cranberry USA's pioneering First Touch® technology, which ensures no previous skin contact exposure during manufacturing and delivery to dental offices. They're available in sizes XS through XL.

---
From Dimensions of Dental Hygiene. May 2015;13(5):72.