Product Profile: Cetacaine by Cetylite
Needle free topical anesthetic.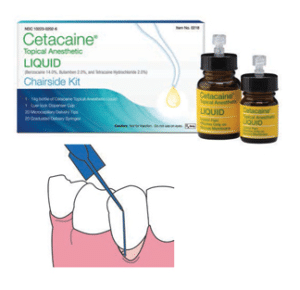 The task of quelling nervous patients is now much easier thanks to Cetacaine Topical Anesthetic by Cetylite Inc. This prescription-only, needle-free topical anesthetic contains 14% benzocaine, 2% butamben, and 2% tetracaine hydrochloride and offers a rapid, 30-second onset and up to 60-minute duration. Oral health professionals will appreciate the effectiveness of Cetacaine when addressing pain management, especially in patients who are anxious in the operatory chair. Just apply directly to the site where pain control is desired.
Available by prescription only, Cetacaine comes in gel, spray, and liquid form, and is indicated for use on all accessible mucosa, except the eyes. Cetacaine Liquid can be comfortably inserted into periodontal pockets with the pliable latex-free syringe tips and also is available with a special luer-lock cap, allowing clinicians to dispense only what is needed. This line of products is made in the United States.
Learn more about Cetacaine at cetacaine.com, and purchase through dental suppliers nationwide.

---
From Dimensions of Dental Hygiene. May 2015;13(5):72.