ADHA Emphasizes The Critical Role of Dental Hygiene Diagnosis
The American Dental Hygienists' Association (ADHA) recently released a white paper that underscores the ability of dental hygienists to perform dental hygiene diagnosis—or "the identification of an individual's health behaviors, attitudes, and oral health care needs for which a dental hygienist is educationally qualified and licensed to provide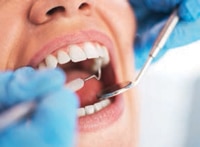 The American Dental Hygienists' Association (ADHA) recently released a white paper that underscores the ability of dental hygienists to perform dental hygiene diagnosis—or "the identification of an individual's health behaviors, attitudes, and oral health care needs for which a dental hygienist is educationally qualified and licensed to provide. The dental hygiene diagnosis requires evidence-based critical analysis and interpretation of assessments to reach conclusions about the patient's dental hygiene treatment needs."
The report, "Dental Hygiene Diagnosis White Paper," states that dental hygienists, as part of the oral care team, are trained and able to perform dental hygiene diagnosis for every patient's unique oral health needs. While dental hygiene diagnosis is part of the dental hygienist's care and scope of practice, the ADHA believes confusion on actual implementation into daily practice exists. The white paper was created to enhance understanding of dental hygiene diagnosis so that dental hygienists can implement it in their respective practice settings.
The ADHA also offers tools and resources for dental hygiene educators to help teach dental hygiene diagnosis to students. Through proper training and increased understanding of dental hygiene diagnosis, the ADHA states, dental hygienists will be better prepared to educate patients on behavior modification to decrease risk of oral infections, as well as help detect risk factors for head/neck cancer and infectious diseases.
From Dimensions of Dental Hygiene. December 2016;14(12):11.