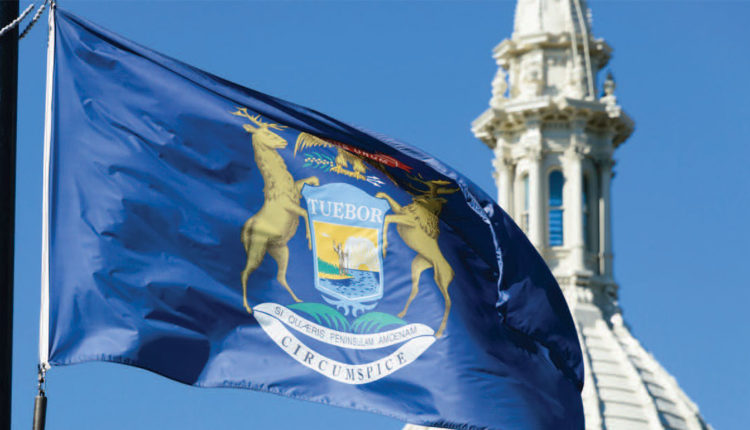 RIVERNORTHPHOTOGRAPHY/ISTOCK/GETTY IMAGES PLUS
Dental Therapy Success in Michigan
Michigan takes a step forward to increasing access to oral health care with the passage of dental therapist legislation.
Since the end of 2018, dental therapy advocates have seen a flurry of activity across the country as they work to increase access to care and add a new member to the oral health care delivery team. Michigan is a notable example of a recent success story.
Michigan Senate Majority Leader Mike Shirkey was the legislative champion. "Dental therapy is a market solution that over time is going to help many in Michigan who today do not have access to the care that they need," Senator Shirkey notes. The bill was signed into law on December 28, 2018.
MEETING ACCREDITATION STANDARDS
Michigan's dental therapy legislation was developed largely to meet the Commission on Dental Accreditation (CODA) accreditation standards for dental therapy education programs.1 CODA is the single body in the United States that accredits dental, dental hygiene, and dental therapy education programs. The CODA standards, adopted in 2015, have significantly contributed to legislative language to create dental therapy. The CODA standards guide colleges and universities as they plan to develop dental therapy programs, and, in turn, aid lawmakers as they deliberate policy related to dental therapy.
Two important measures include the requirements that education programs be a minimum of 3 academic years of study and that programs may grant credit for coursework completed prior to entry. Such prior credit is known as "advanced standing" and is a provision on which the American Dental Hygienists' Association (ADHA) led the advocacy effort, to provide advanced standing for dental hygienists pursuing dental therapy education.
"The CODA dental therapy standards put the profession on the same playing field as dentistry and dental hygiene, where all have national accreditation standards for their educational programs," Michigan Dental Hygienists' Association (MDHA) President Becky Domagalski, RDH, BSDH, explains.
Michigan's legislative language defining dental therapy is rigorous in that it both complies with the CODA standards and meets the three requirements set forth in ADHA policy: that dental therapists be graduates of an accredited dental therapy education program, that they be licensed professionals, and that they have direct access to patients.2
PROVISION OF CARE
In Michigan, a licensed dental therapist may provide the following care or services under a written collaborative agreement with a dentist:
Identifying oral and systemic changes that require evaluation or treatment by dentists, physicians, or other health care professionals, and managing referrals
Comprehensive charting of the oral cavity
Providing oral health instruction and disease prevention education, including nutritional counseling and dietary analysis
Administering and exposing radiographic images
Dental prophylaxis, including subgingival scaling or polishing procedures
Dispensing and administering, via the oral or topical route, nonnarcotic analgesics and anti-inflammatory and antibiotic medications as prescribed by a health care professional
Applying topical preventive or prophylactic agents, including fluoride varnish, silver diamine fluoride, and other fluoride treatments; antimicrobial agents; and pit and fissure sealants
Pulp vitality testing
Applying desensitizing medication or resin
Fabricating athletic mouth guards
Changing periodontal dressings
Administering local anesthesia and nitrous oxide analgesia
Simple extraction of erupted primary teeth
Emergency palliative treatment of dental pain related to a care or service described in these provisions
Preparation and placement of direct restoration in primary and permanent teeth
Fabrication and placement of single-tooth temporary crowns
Preparation and placement of preformed crowns on primary teeth
Indirect and direct pulp capping on permanent teeth
Indirect pulp capping on primary teeth
Suturing and suture removal
Minor adjustments and removal of space maintainers
Placement and removal of space maintainers
Nonsurgical extractions of periodontally diseased permanent teeth with tooth mobility +3; however, a dental therapist may not extract a tooth that is unerupted, impacted, or fractured, or that needs to be sectioned for removal
Performing related services and functions authorized by the supervising dentist and for which the dental therapist is trained
Performing any other duties of a dental therapist that are authorized by rule of the Michigan Board of Dentistry
THE PERFECT STORM OF SORTS
"A lot of pieces came together for us, as a part of a strong coalition effort and the leadership of Senator Shirkey," Sarah Hubbard, a principal at Acuitas—a legislative strategy firm in Lansing, Michigan—who represented the MDHA, explains. "These efforts require a solid, broad-based collection of stakeholders committed to the cause. Each stakeholder, each coalition partner brings a set of skills, ideas, and resources to the table. It's an example of truly better together!"
Domagalski adds, "ADHA was there with us, every step of the way!"
The work of several states that went before Michigan helped to pave the way, especially Minnesota. Colleen Brickle, RDH, BS, RF, EdD, dean of Health Sciences at Normandale Community College in Bloomington, Minnesota, and Perspectives on the Midlevel Practitioner Editorial Advisory Board member says, "It is vital that educational institutions, particularly those that include dental hygiene education programs, be engaged and a part of the coalition effort. That certainly contributed to our success in Minnesota."
The creation of national Accreditation Standards for Dental Therapy Education Programs in 2015 provides a framework for policymakers and educational institutions pursuing and adopting dental therapy legislation.1 Appropriately, the educational institutions have latitude to determine the prerequisites and degree to be conferred.
"At Normandale Community College, in partnership with Metropolitan State University, we required that applicants in the dental therapy program be licensed dental hygienists," Brickle notes.
THE WORK CONTINUES
With each passage of dental therapy legislation, there is a sense of accomplishment, to be sure. In many ways, however, the work has just begun! The rules process varies state by state. A good first step is to determine the rules process and timeline. There is often an opportunity to provide public comment on draft rules. Just like the legislative process, it is important to continue to be engaged in the conversation and provide comments as warranted. The rules process is underway in Michigan, and the work of the coalition and MDHA/ADHA continues.
REFERENCES
American Dental Association. Commission on Dental Accreditation. Accreditation Standards for Dental Therapy Education Programs. Available at:

 

ada.org/~/media/CODA/Files/dt.pdf. Accessed October 8, 2019.
American Dental Hygienists' Association. ADHA Policy Manual (4S-09). Available at: adha.org/resources-docs/7614_Policy_Manual.pdf. Accessed October 8, 2019.
From Perspectives on the Midlevel Practitioner, a supplement to Dimensions of Dental Hygiene. October 2019;6(11):27—29.