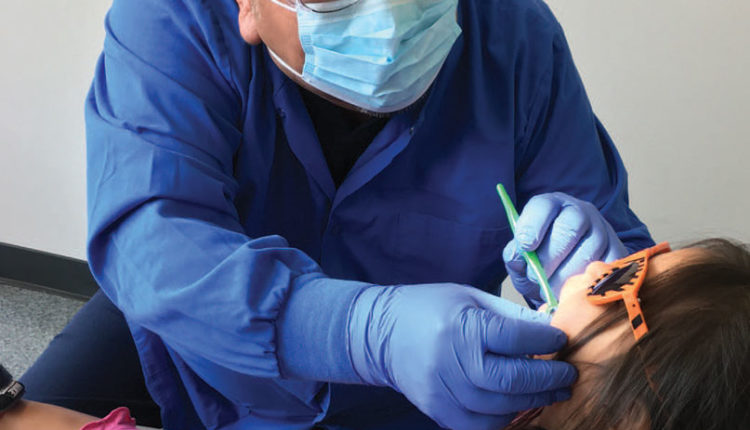 Caring for Communities
Tribal Washington State dental therapists go the extra mile to help underserved populations.
Jason Mecum, DHAT, heads out in the Kitsap County Meals on Wheels van, ready to deliver food to local elders. When this dental therapist delivers a meal, it tends to come with a casual check-in about whether it's comfortable to eat, and maybe a side of oral hygiene instruction.
Daniel Kennedy, DHAT, sits with Swinomish Tribe Head Start students at circle time, holding an oversized toothbrush and "Alvin," a stuffed alligator with a big set of teeth. He happily teaches about brushing and flossing, as he has been doing every week since 2016.
Dental therapists are known for their clinical scope of practice, which includes procedures such as sealant placement, restorative care, and extractions. Their intensive training gives them a solid background to provide preventive services and treat dental decay and infections. But they and the dental public health community know all too well that drilling, filling, and extracting teeth—while often necessary—are not enough to solve the problem of widespread dental disease.
What works to stop the spread of tooth decay in a community? Dental therapists in Washington State believe engaging the community in oral health conversations and practices is an important step. Jason Mecum, DHAT, works for the Lower Elwha Klallam Tribe in Port Angeles, Washington. He explains, "We have to get out of the clinic and meet people where they are. Many people, even elders, don't come to the clinic because they're afraid or they had a bad experience a long time ago. When I visit them in a place where they're comfortable, it's easier for them to hear my messages. Then I can start making progress."
Rochelle Ferry, DHAT, dental therapist for the Port Gamble S'Klallam Tribe (PGST) in Kingston, Washington, agrees. She regularly visits elders in their homes, along with the tribe's elder care nurse, to address oral health concerns and help elders plan visits to the dental clinic. "I have found it's easier to get them to come in when they know who they are going to see and have spent a little time with me outside of the clinic setting." Ferry finds the same is true for children: she visits local day care and Head Start centers to conduct quarterly screenings and apply fluoride varnish. She has even found value in bringing these services to local mothers' groups, where she provides information for new and expectant mothers. "I think this is an important way to introduce oral health to community members who might not otherwise think about going to the dental clinic," Ferry explains.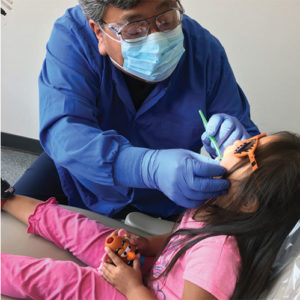 "Before Rochelle was here, our dental team had limited capacity to spend time providing these services outside of the dental clinic," says PGST Dental Director Eldon Bloch, DDS. "Rochelle's motivation, combined with her oral health knowledge and skills, is doing a lot for this community."
Rachael Hogan, DDS, dental director for the Swinomish Tribe, has seen a big improvement since Kennedy began visiting Head Start. "We notice a real difference in the kids' comfort level when they visit us in the clinic now. They see Daniel's familiar face and know our clinic is a safe place for them." The clinic also hosts a quarterly "clean and screen" day for kids to get comfortable in the clinic. Then, if follow-up care is needed, "they already know and trust Daniel, so treatment is much easier," Hogan notes.
It also helps that Kennedy is well trained in minimally invasive dentistry techniques. Children receive their care without injections or drills whenever possible, with great outcomes. "Glass ionomer and silver diamine fluoride have really changed the game in making dental care comfortable for kids," Kennedy reports, "and that makes my job a lot more fun."
ALASKA DENTAL THERAPY EDUCATION PROGRAM
The Alaska Dental Therapy Education Program (ADTEP), where Mecum, Kennedy, and Ferry were educated, teaches minimally invasive dentistry as an excellent option to care for children whose dental decay has not spread to the pulp of the teeth. Mary Williard, DDS, director of ADTEP, and Perspectives on the Midlevel Practitioner Editorial Advisory Board member explains: "The research is there and overwhelmingly supports the use of minimally invasive techniques. This meshes perfectly with dental therapists providing early preventive care and earning the community's trust."
FUTURE INITIATIVES
Another area where tribal dental therapists in Washington State hope to help is in addiction recovery programs. Recognizing the increased risk of dental disease for patients with a history of addiction, as well as the increased risk of relapse for patients who have dental pain, Mecum is working with Klallam Counseling Services to conduct oral health discussion groups with patients in recovery. He hopes this will lead to greater awareness and improved oral health for the community.
Dental therapists are specifically authorized to practice in tribal communities in Washington State, and these communities are proud to have eight dental therapists working and more in training. With their enthusiasm for outreach and prevention, their communities are sure to have healthier smiles in the days and years to come.
From Perspectives on the Midlevel Practitioner, a supplement to Dimensions of Dental Hygiene. October 2019;6(11):25—26.