TurboVue® Illuminated Ultrasonic Scaler by Parkell
Achieve uncompromised visibility during ultrasonic instrumentation.
The TurboVue Illuminated Ultrasonic Scaler by Parkell provides excellent visibility when scaling all areas of the oral cavity—helping to ensure no calculus is left behind. The unit includes a light source built into the handpiece, allowing a significant amount of light to emit through the 30K, light-transmitting ultrasonic inserts. Whether clinicians want to access the distal of a maxillary or mandibular second molar, a furcation, or a deep lingual pocket, the intense light of the TurboVue illuminates even the darkest corners of the oral cavity. This broad illumination helps assure clinicians that nothing is being overlooked due to poor visibility.
UNIQUE BENEFITS
Parkell's unique solution is also kind on the operator's eyes, and eliminates the need to squint or fuss with overhead lamps during scaling. In addition to these key benefits, the TurboVue Illuminated Ultrasonic Scaler also features auto-tuning technology, a dramatically expanded low-power range that improves comfort during debridement, and a power-boosting Turbo feature for an increase in scaling power when needed.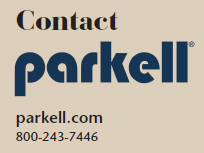 From Dimensions of Dental Hygiene. March 2017;15(3):58.