Cavitron Touch™ Ultrasonic Scaling System by Dentsply Sirona
Ultrasonic scaler delivers reimagined solution.
Dentsply Sirona's Cavitron products offer advanced solutions for every scaling procedure, are backed by a long-standing reputation for quality, and can help elevate the standard of care in any practice. The Cavitron Touch Ultrasonic Scaling System with the Steri-Mate® 360 fully rotating handpiece is the company's newest reimagined solution, and it offers comfort and control throughout every scaling procedure.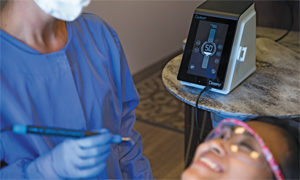 The Cavitron Touch Ultrasonic Scaling System is designed to be user-friendly, while providing features for an improved scaling experience. The digital touchscreen technology provides an easy-touse interface, and the wireless Tap-On™ Technology foot pedal is designed to reduce leg and ankle discomfort associated with continued foot pedal usage. An intuitive sliding power level control can be preset to three power levels. Its "purge" mode is used to flush water lines, while "rinse" mode is for use during ultrasonic scaling procedures when lavage with no cavitation is desired.
CAVITRON TOUCH ULTRASONIC SCALING SYSTEM
Magnetostrictive ultrasonic scaler with a fully rotating handpiece
Touchscreen technology provides a user-friendly interface
Customizable power and memory settings deliver improved efficiency
Wireless, rechargeable foot pedal features Tap-On Technology for optimum ergonomics
STERI-MATE 360 HANDPIECE
The Steri-Mate 360 handpiece, which is exclusively available with the Cavitron Touch Ultrasonic Scaling System, contains a fully rotating nose to allow free-flowing movement and access within the oral cavity. When combined with the Cavitron Touch, the Steri-Mate 360 handpiece includes a lightweight cable designed to provide ergonomic benefits by reducing cable drag. Additionally, the detachable and autoclavable handpiece provides the highest assurance of control against cross-contamination. Furthermore, the Steri-Mate 360 handpiece creates a tactile sensitivity similar to that of hand scaling.
Fully rotating nose improves access in the oral cavity
Promotes control, comfort, and predictability
Detachable and autoclavable handpiece inhibits cross contamination
For more information, to request an in-office demonstration, or to place an order, please visitcavitronsystems.com or call 800-989-8825.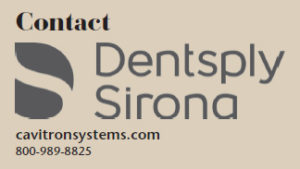 From Dimensions of Dental Hygiene. March 2017;15(3):57.