Product Profile: Shield Force® Plus by Tokuyama Dental America
Block Dentinal Hypersensitivity With Double Block Technology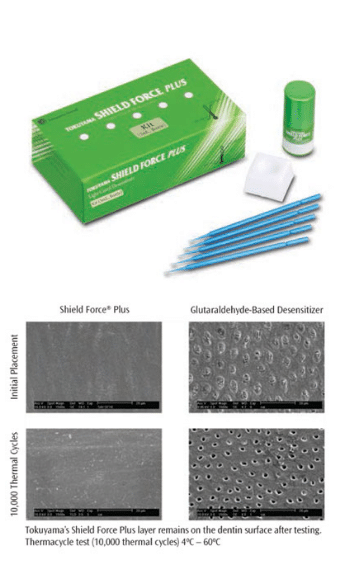 Dentinal hypersensitivity generates pain that begins in the mouth but quickly travels throughout the body. It is a common complaint of dental patients. By employing preventive measures, however, oral health professionals can reduce pain related to sensitivity during every stage of care. Shield Force Plus from Tokuyama is designed to provide instant and long-term protection from sensitivity.
Shield Force Plus light-cure desensitizer quickly and effectively seals the dentin tubules, instantly reducing sensitivity-related pain—and without the assistance of glutaraldehyde. Each application of this product is designed to last up to 3 years*, enabling patients to experience extended relief from sensitivity and prevention against dentin loss due to abrasion.
PATENTED TECHNOLOGY PACKS A PUNCH
The sensitivity-fighting compound in Shield Force Plus is its double-block technology. Upon first application, the dentin tubules are sealed with resin tags that permeate 50 ?m deep, preventing the movement of dentinal fluid. When air-dried, the self-reinforcing monomer reacts with calcium ions to form a durable 10 μm thick shield over the resin tags. Once light cured, the resin polymerizes to create a hard, even coating.
EASY APPLICATION
Shield Force Plus has an easy application process, which reduces procedure time.
Offers immediate relief of sensitivity pain
No rinsing or mixing required
Prevents and eases post-operative sensitivity
30-second procedure from start to finish
Enhanced accuracy of placement due to visible green color
Positive effect on adhesion during restorations
Single application lasts up to 3 years*
ABOUT THE COMPANY
Tokuyama draws on nearly a century of knowledge in the dental industry. Operating on a global scale, the company's mission is to listen to clinicians' needs, incorporate their voices into the development of innovative products, and ensure each product meets the highest quality standards. Tokuyama is a steward of cutting-edge technology and specialty products that improve the lives of clinicians and patients.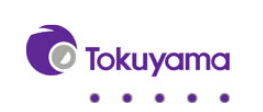 Tokuyama
shieldforceplus.com
(877) 378-3548
---
From Dimensions of Dental Hygiene. March 2016;14(03):67.