Product Profile: Eclipse LED from SurgiTel®
Touch free headlight reduces cross-contamination risk.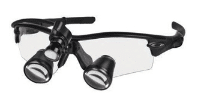 The dangers of cross-contamination threaten both clinicians and patients, with switches and knobs in the dental operatory becoming the perfect trap for bacterial pathogens. Clinicians no longer need to touch their loupes during the provision of care, however, thanks to the introduction of the Eclipse LED from SurgiTel.
MOTION SENSOR TECHNOLOGY
The Eclipse LED no-touch headlight features advanced motion sensor technology, which enables clinicians to turn the light on and off with the wave of a hand, eliminating the need to touch battery packs or switches. The motion-sensor technology improves the light's ease of use, preserves the battery life, and extends product life. The Eclipse LED is available in two models: micro and mini. Each features the same enhanced color-balanced and clear beam. Contact a local SurgiTel representative for an Eclipse LED product demonstration: surgitel.com/myrep.
ABOUT THE COMPANY
SurgiTel, a division of General Scientific Corp USA, is based in Ann Arbor, Michigan. The company is known as an innovator in the fields of optical technology and ergonomics. Its loupes, headlights, ergonomic seating, and optical accessories are designed to help clinicians see, feel, and work better.

---
From Dimensions of Dental Hygiene. March 2015;13(3):65.