Spotlight on Clinicians: A Part of the Solution
As a little girl, I have fond memories of spending time with my aunt in St. Louis who worked in a Medicaid dental office.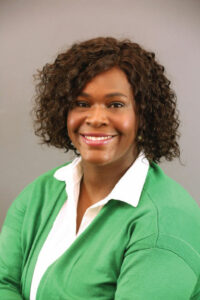 As a little girl, I have fond memories of spending time with my aunt in St. Louis who worked in a Medicaid dental office. Every day, I saw patients who were unable to get to the dentist or pay for care. Seeing patients dealing with extreme pain because of their teeth profoundly impacted me. I went on to serve in the Air Force for 10 years, working as a dental assistant and registered dental hygienist. I left the military in 2013, and my background in community health led me to public health.
In 2015, I was working with a mobile dental company in a rural community in Cuba, Missouri, when I received a phone call. I had applied for a job with a federally qualified health center (FQHC), but the dental director wanted to talk to me about another position. The director, Nathan Suter, DDS, shared about its Oral Health and Primary Care Integration Initiative, a plan to bring dental and primary care together within the FQHC. Suter wanted to remove transitional barriers and gaps in care through teledentistry. I accepted the job and began work in a pilot program where I did teledentistry in multiple clinical settings. We tested teledentistry operability, experimented with technologies, developed workflows, and honed an exceptional way of delivering teledentistry.
After the pilot, I co-founded Access Teledentistry with Suter. I've had the privilege to help implement teledentistry programs in 12 health centers across the country. I have developed teledentistry curriculum for Harvard Dental School, Arizona School of Dentistry & Oral Health St Louis, and the University of Bridgeport Dental Hygiene Program. I have also reviewed telehealth legislation and practice acts for 12 states, sometimes leading to passing legislation or advancing bills. Our program has helped deliver teledentistry education to thousands nationwide through numerous presentations, workshops, and webinars.
As a profession, we must be a part of the approach to help redefine the traditional care delivery model. We must be innovators and think of ways to serve a growing populace in dire need. Through teledentistry practice, I hope to demonstrate how dental hygienists should be allowed to work at their highest scope and how we are valuable healthcare providers. I have shown that dental hygiene is a part of the solution in advancing dental care delivery models and increasing access to care. There are demographic changes within patient populations that revolve around where, how, and when people seek dental care. This fact makes the dental hygienist a crucial entity in adjusting to these trends, and a key player in solving access to care issues.
From Dimensions of Dental Hygiene. January 2023; 21(1)8.