Spotlight on Clinicians: Serving Those Who Served Our Country
When I speak to dental hygienists, I remind them of how far our profession has come since I graduated from dental hygiene school 40 years ago.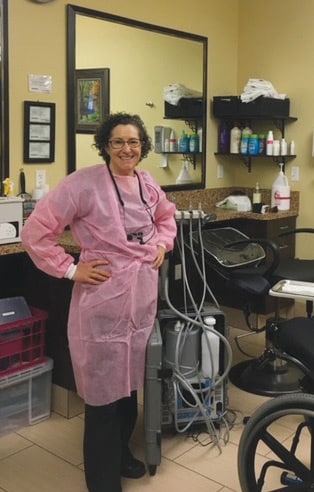 When I speak to dental hygienists, I remind them of how far our profession has come since I graduated from dental hygiene school 40 years ago. My intention is to inspire them to change the paradigm for our profession, increase access to care, and open more options for dental hygienists so that we can find joy in our careers.
For me, a move to Oregon 9 years ago was the impetus I needed to completely change what I was doing in my professional life—from working in a high-end private dental practice to finding my niche in public health. I could not find work in a dental office, so I volunteered with the county, the dental hygiene association, and at free clinics. It was a humbling experience for someone who had worked in the same practice for 26 years. It was this adversity that catapulted me into starting my mobile dental hygiene business. In hindsight, I am so glad no one was hiring, otherwise I might have taken the easy way out.
For the past 7 years, I have worked for the Community Centers of Benton and Linn Counties, providing oral health services for low-income and nonambulatory patients in the community. One of the sites I have worked at is the Lebanon Veterans' Home. Its philosophy focuses on the idea of intentional communities where each neighborhood encourages autonomy, sense of community, and high quality of life.
In 2017, I helped apply for funds for a pilot project that increased access to oral healthcare for people living in long-term care facilities. We were awarded the funds for this project and served the residents of many facilities, but then the pandemic hit. We were on hold until November 2021 when I made my first return visit to the veterans' home. I was beyond excited to get back to taking care of the veterans who had unselfishly served our country. I enjoyed getting to reconnect with several of my patients and continue to care for them as well as new ones.
The closest VA dental clinic is at least a 90-minute drive each way and wait times for appointments are long. We also added a dentist visit once a month, so our services have expanded. Until recently, we have worked out of the hair salon, treating patients in a reclining wheelchair. Now we have a designated room, the old gift shop, where we have a dental chair and can keep our supplies.
Last fall, I applied for an American Dental Hygienists' Association Institute for Oral Health (ADHA IOH) Mars Wrigley Grant to help continue services for the veterans. I was awarded the grant in April 2022; with it, we were able to purchase a sterilizer, instrument sets, a cordless prophy handpiece, and disposables. I am grateful to the ADHA IOH committee for allowing us to continue to provide these much-needed services to our veterans.
Do you have a story to share? Dimensions wants to hear about you—the clinicians who perform the daily role of caring for patients and have also found an additional way to use your knowledge and skills outside of the operatory. You may be featured in a future issue. Send your story and photo to Jill Rethman, RDH, BA, at: jrethman@belmontbusinessmedia.com.
From Dimensions of Dental Hygiene. October 2022; 20(10)8.