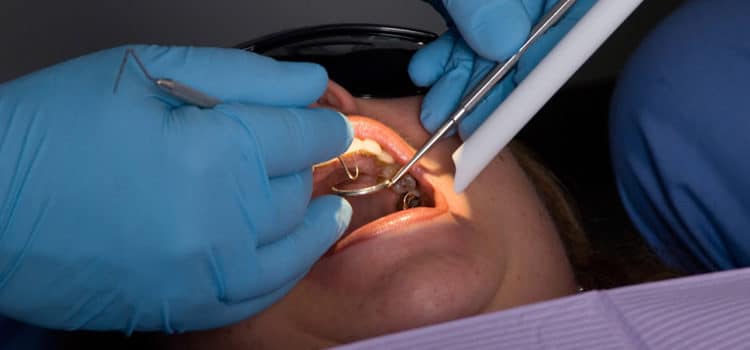 Protecting Yourself
Observe these strategies to minimize the risk of exposure to dental aerosols and splatter.
PURCHASE COURSE
This course was published in the August 2011 issue and August 31, 2014.
The author has no commercial conflicts of interest to disclose.
This 2 credit hour self-study activity is electronically mediated. 
EDUCATIONAL OBJECTIVES
After reading this course, the participant should be able to:
Define the particle size of aerosol and splatter.
Evaluate the effectiveness of high volume evacuation (HVE) in reducing aerosols.
Discover a hands-free approach to managing an HVE device.
List the benefits of preprocedural brushing and mouthrinsing.
Discuss the limitations of face masks.
---
These days, most dental hygienists use an ultrasonic scaler on a daily basis. Ultrasonic instrumentation can be a very effective treatment modality but it also produces a cloud of debris containing splatter and aerosols that floats in the dental hygienist's breathing space. Research shows thatspla tter and aerosol include blood, bacteria, and pathogens that are found in the saliva and periodontal pockets.
1
Prevention is the best method of dealing with splatter and aerosol. The number of aerosolized particles that reach the clinician's breathing space must be limited. Dental hygienists can reduce particles by using high volume evaluation (HVE), incorporating patient plaque reduction techniques, and routinely using preprocedural mouthrinses with patients. These steps protect the entire dental team. While no aerosol-reduction program will provide clinicians with complete protection, precautions can be taken to reduce the risk.
Aerosol is measured in microns, a metric unit of measure. One millimeter equals 1,000 microns. As such, if an aerosolized particle is 0.5 microns, there will be 2,000 particles in the space of 1 mm (Figure 1). Aerosols are particles that can be as small as 0.5 microns, and they are capable of remaining airborne for hours. Particles this small can pass through the filters of standard face masks and enter the clinician's airway.2  Splatter is defined as particles greater than 50 microns and is generally composed of heavy particles. Splatter is ballistic in nature and remains airborne only briefly.
Personal protective equipment including gloves, masks, eyewear, and gowns protect clinicians from these visible particles.2  Aerosols can contain components of blood, saliva, bacteria, or pathogens that are found in the oral cavity. The level of harm caused by aerosolized particles, however, has not been established.1
HIGH VOLUME EVACUATION
Historically, the United States Centers for Disease Control and Prevention (CDC) along with the American Dental Association (ADA) have proposed that aerosols could potentially be controlled with the use of a rubber dam, HVE, and preprocedural mouth rinses.3 Currently, the CDC is most concerned with controlling droplet nuclei in order to prevent the spread of Mycobacterium tuberculosis.4 The CDC advises that patients with active tuberculosis postpone elective dental care or be treated only in a hospital setting to prevent the spread of infection. Meanwhile, the ADA's Foundation Research Institute is conducting studies on aerosol management.
Research shows that using HVE prevents 90% more particles from becoming airborne than when using a standard saliva ejector alone.5-8 These studies were conducted using both magnetostrictive and piezoelectric scalers, demonstrating that the type of ultrasonic technology utilized has no effect on the amount of particles removed by HVE.9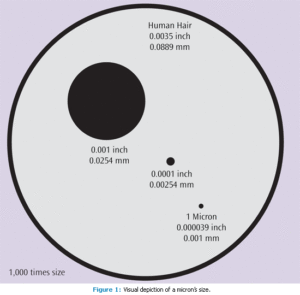 For dental hygienists who practice without an assistant, the manipulation of both an ultrasonic scaler and an HVE device may not be ergonomically sound. To improve the ergonomics of using HVE, several adaptors have been developed that attach the HVE device intraorally to an ultrasonic scaler. These adaptors generally fit around the ultrasonic handpiece and significantly reduce aerosolized particles without impeding the effectiveness of ultrasonic instrumentation.9 Other intraoral devices at tach the HVE device to a bite block.
A hands-free approach may increase the use of HVE during aerosol-generating procedures. In a study comparing the effectiveness of an extraorally positioned HVE device and an intraorally positioned saliva ejector (Figure 2), the HVE device reduced 90% of the particles reaching the clinician's breathing space when compared to the intraoral saliva ejector alone (Figure 3).5 The hands-free HVE device was held in place with a flexible adaptor attached to the dental unit (Figure 4). The adaptor allows positioning of the HVE device extraorally, but within a few inches of the oral cavity and outside of the clinician's work space.5 The test design was based on earlier studies of directional air flow.10 The assumption was that HVE would create a mini cold air return and move particles away from the clinician's breathing space.
In operatories where an equipment adaptor is not available, patients can hold the HVE device extraorally. This option may reduce potentially harmful bacteria or viruses from reaching the clinician's breathing space.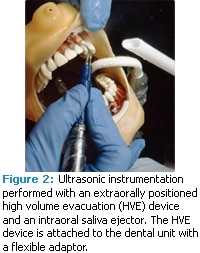 To further emphasize the importance of using the HVE device in addition to a saliva ejector, the content of the aerosolized particles should be considered. Barnes et al found blood in the aerosols produced during ultrasonic instrumentation in 38 out of 40 trials. The study found that the energy produced by the ultrasonic scaler was enough to create aerosol suspension of the liquid it encountered, regardless of whether the liquid was saliva, blood, or water.11 More recent studies have sampled air during dental procedures and found blood in nearly 90% of all samples collected.1 According to infection control experts Harrell and Molinari, potential threats posed by aerosol exposure include the spread of common cold and influenza viruses, herpes viruses, pathogenic Streptococci or Staphylococci, and the severe acute respiratory syndrome (SARS) virus.2 Although there are no reported cases of disease transmission from aerosol sources, it is important to reduce the risk by eliminating as much plaque prior to instrumentation as possible.
PLAQUE CONTROL
Basic plaque control is another method of reducing the quantity of harmful bacteria found in aerosols. Dental hygienists and other members of the dental team benefit from having patients brush their teeth before dental appointments. One study shows this practice also reduces the number of airborne pathogens created during scaling.6 In the comparative study, an ultrasonic scaler was used on two patients: one who had not brushed or flossed for 24 hours prior to treatment and one who had recently brushed and flossed. Samples collected from both patients following ultrasonic instrumentation found that the patient who had recently brushed and flossed presented significantly fewer pathogens.6 In addition to brushing, rinsing away potentially harmful bacteria is also beneficial.8,12
Earlier studies documented the benefits of using antimicrobial mouthrinse to reduce the number of bacteria in the mouth.8,12 Researchers compared the effect of using an antiseptic mouthrinse to rinsing with water and to no prerinse at all. The results indicated the use of an antiseptic mouthwash as a preprocedural rinse effectively reduced the viable microbial content of aerosol collected during dental procedures.12 A follow-up study supported these findings, and further stated that the effects of bacterial reduction were documented up to 40 minutes after rinsing.8 In 2003, the CDC reported that the use of preprocedural mouthrinses is helpful when initiated before treatment that involves a prophylaxis cup or ultrasonic scaler.4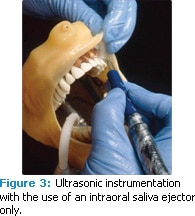 Antimicrobial mouthrinses are tested for bacterial reduction. To date, all antimicrobial mouth rinses are effective at reducing the number of pathogens. Tooth brushing or mouth rinsing prior to ultrasonic instrumentation or polishing will most likely reduce the number of pathogens in the oral cavity. The next layer of protection for the dental health care provider is to create a barrier to decrease the risk of breathing aerosolized particles.
FACE MASK PROTECTION
Face masks are part of the personal protective equipment mandated by the Occupational Safety and Health Administration (OSHA) and they do reduce the risk of cross-contamination. However, surgical face masks are not completely effective in preventing exposure to aerosols or splatter. OSHA states that aerosols are potential harbingers of infection and that face masks are not effective in protecting users because they do not seal tightly against the face, and because aerosols can be inhaled through gaps between the mask and the face during normal breathing.13 New face mask designs are available that reduce this gapping problem but none form an airtight seal.
To prevent breathing aerosol-sized particles, a respirator is required. Respirators, which filter 95% of all particles, are closely monitored by the National Institute for Occupational Safety and Heath, a subsidiary of OSHA. At this time, the CDC reports that the threat to dental health care workers from aerosols is minimal and, therefore, it does not recommend the use of respirators to protect either patients or professionals.
The US Food and Drug Administration (FDA) is responsible for establishing manufacturing standards for all medical devices, including face masks. However, the FDA does not conduct testing to qualify face masks, but rather recommends that performance be demonstrated by the manufacturer.14 Manufacturers use two methods of laboratory testing for face masks: bacterial filtration efficiency test (BFE) and filtration efficiency test (FET). Results from manufacturer's stated performances range from 95% to 99% filtration. However, the laboratory testing procedures must be considered. Whether the mask was tested in a moisture-free environment with the mask material sealed tightly around the testing tube and whether results were based on the filtering of particles larger than aerosols, which can be smaller than 1 micron, will affect results.15 This testing environment bears little resemblance to the dental office.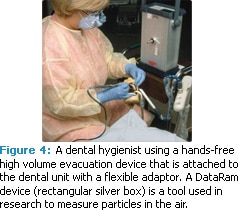 Another factor in the efficacy of face masks is the typical wearing habits of dental hygienists. Initially, face masks were developed to protect patients from body fluids dripping from the surgical team into open wounds—not the reverse. The fit of a face mask, even for dental hygienists who secure masks as tightly as possible, leaves space on most sides. This space provides easy access for aerosolized particles to reach the clinician's breathing space and enter the bronchial tree.16
The ideal routine includes donning a face mask prior to beginning patient treatment and leaving the mask untouched until the treatment is concluded and the patient is dismissed. By leaving the mask in place, the clinician is offered some protection from the particles that remain airborne for several minutes. Conversely, removing the mask during treatment or prior to the conclusion of treatment opens the pathway for exposure to potentially harmful pathogens.
BEST PRACTICES
Several layers of protection are required to prevent personal exposure to aerosols. Dental hygienists should begin by incorporating HVE into their practice, which will decrease the number of aerosolized particles floating in the breathing space. The most potentially harmful aerosolized particles are not visible to the naked eye. The next layer of protection is to decrease the number of particles in the oral cavity by asking the patient to brush, floss, and use a preprocedural mouth rinse prior to treatment.
Requesting additional appointment time and enlisting the help of another staff member so that HVE can be effectively used can improve the health of the air for both patients and practitioners. Finally, dental hygienists need to understand the actual level of protection provided by face masks. Overall, the best strategy for shielding the dental team from potentially pathogenic aerosols is to layer the available means of protection, creating a safer environment for all.
REFERENCES
Cristina ML, Spagnolo AM, Sartini M, et al. Evaluation of the risk of infection through exposure to aerosols and spatters in dentistry. Am J Infect Control. 2008;36:304-307.
Harrel SK, Molinari J. Aerosols and splatter in dentistry: a brief overview of the literature and infection control implications. J Am Dent Assoc. 2004;135:429-437.
Infection control recommendations for the dental office and the dental laboratory. ADA Council on Scientific Affairs and ADA Council on Dental Practice. J Am Dent Assoc. 1996;127:672-680.
Kohn WG, Collins AS, Cleveland JL, et al. Guidelines for infection control in dental healthcare settings—2003. MMWR Recomm Rep. 2003;52(RR-17):1-61.
Jacks M. A laboratory comparison of evacuation devices on aerosol reduction. J Dent Hyg. 2002;76:202-206.
Bentley CD, Burkhart NW, Crawford JJ. Evaluating spatter and aerosol contamination during dental procedures. J Am Dent Assoc. 1994;12:579-584.
Timmerman MF, Menso L, Steinfort J, van Winkelhoff AJ, van der Weijen GA. Atmospheric contamination during ultrasonic scaling. J Clin Periodontol. 2004;31:458-462.
Fine DH, Yip J, Furgang D, Barnett ML, Olshan AM, Vincent J. Reducing bacteria in dental aerosols: pre-procedural use of an antiseptic mouthrinse. J Am Dent Assoc. 1993;124:56-58.
Harrel SK. Clinical use of an aerosol-reduction device with an ultrasonic scaler. Compend Contin Educ Dent. 1996;17:1185-1193.
Young JM. Aerosol and splatter. J Am Dent Assoc. 1998;129:1524.
Barnes JB, Harrel SK, Rivera-Hidalgo F. Blood contamination of the aerosols produced by in vivo use of ultrasonic scalers. J Periodontol. 1998;69:434-438.
Fine DH, Mendieta C, Barnett ML, et al. Efficacy of preprocedural rinsing with an antiseptic in reducing viable bacteria in dental aerosols. J Periodontol. 1992;63:821-824.
OSHA Fact Sheet. Respiratory Infection Control: Respirators Versus Surgical Masks. Available at: www.osha.gov/Publications/respirators-vs-surgicalmasks-factsheet.html. Accessed July 15, 2011.
Grinshpun SA, Haruta H, Eninger RM, Reponen T, McKay RT, Lee SA. Performance of an N95 filtering facepiece particulate respirator and a surgical mask during human breathing: two pathways for particle penetration. J Occup Environ Hyg. 2009;6:593-603.
Bałazy A, Toivola M, Adhikari A, Sivasubramani SK, Reponen T, Grinshpun SA. Do N95 respirators provide 95% protection level against airborne viruses, and how adequate are surgical masks? Am J Infect Control. 2006;34:51-57.
Chen SK, Vesley D, Brosseau LM, Vincent JH. Evaluation of single-use masks and respirators for protection of health care workers against mycobacterial aerosols. Am J Infect Control. 1994;22:65-74.
From Dimensions of Dental Hygiene. August 2011; 9(8): 26-29.