Product Profile: BasicBites™ by Ortek Therapeutics Inc
Soft chews nourish enamel and promote healthy bacteria.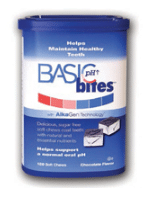 More than 40 years of research in oral biology has provided insight into saliva's protective benefits that support healthy tooth structure. This science has led to the development of BasicBites—delicious chocolate-flavored soft chews that contain a patented blend of vital nutrients that promote salivary function, coat and protect enamel, and nourish beneficial alkali-generating bacteria.
NEW PARADIGM IN THE SCIENCE OF ORAL CARE
BasicBites contain AlkaGen Technology™, which contains arginine bicarbonate and calcium carbonate. This technology was developed at Stony Brook University School of Dental Medicine in Stony Brook, New York, where researchers discovered the presence of base or alkali-generating bacteria in dental plaque. It was later found that these bacteria favor arginine. The breakdown of arginine facilitates sustained alkali production on tooth surfaces. In a healthy pH environment, calcium and bicarbonate/carbonate ions are available to coat and support tooth structure. As an added benefit, they are an excellent source of calcium.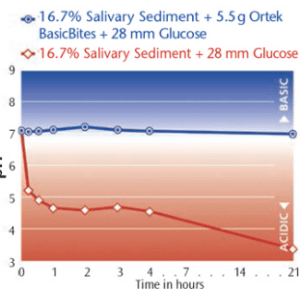 RECOMMENDED USE
The consumption of two BasicBites per day is recommended for individuals age 6 and older. The soft chews are particularly helpful for patients with xerostomia and those who consume excessive amounts of dietary sugars. BasicBites can be purchased exclusively online at basicbites.com. Volume discounts are available for dental professionals. Each carton of BasicBites contains 120 soft chews.
ABOUT THE COMPANY
Ortek Therapeutics Inc is a global leader in developing cutting-edge oral care products. Through its strategic alliance with The Research Foundation of State University of New York, the company has developed new therapies for caries prevention and treatments for dentinal hypersensitivity.

---
From Dimensions of Dental Hygiene. January 2015;13(1):70.