PRODUCT

GUIDE

|

►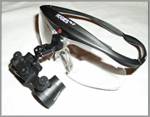 Optical System Frame Sheer Vision Inc, Rolling Hills, Calif, introduces the new ultralight Sport Frame. Using a patented magnetic triple hinge, optics can be mounted to the Sport Frame to create a lightweight optical system. The Sport Frame is available in seven colors and can be worn with optics for magnification or without optics as protective eyewear. Prescriptions can be snapped in or out. The hinge system is designed to offer flexible angles of declination for ergonomics. (877) 678-4274; www.sheervision.com.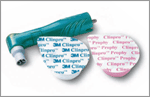 Prophy Paste and Angles 3M™ ESPE™, St Paul, Minn, makes Clinpro™ Prophy Paste, which breaks down from coarse to fine during use to provide the stain removing power of a coarse paste with less abrasion. The paste also features a neutral pH, contains fluoride, and is available in mint and bubble gum flavors. The Clinpro Prophy Angles are designed to use with Clinpro Prophy Paste and come in nonlatex soft or firm cups. (800) 634-2249; www.3mespe.com.

Diamond Furcation Files G. Hartzell & Son, Concord, Calif, provides diamond furcation files with a diamond coating on one side of the tip. Two instruments are currently available: the #DF1/2 and #DF3/4 with a large 3/8" lightweight handle. (800) 950-2206; www.ghartzellandson.com.

Irrigation Probes and Syringes

DENTSPLY Rinn, Elgin, Ill, introduces the Max-I-Probe Irrigation Probes in convenient probe and syringe packages. Max-I-Probe has a patented side window dispersal port for safer and more effective cleansing without the risk of tissue damage. The small diameter and flexibility of the 30 gauge probe facilitates the navigation of small, curved canals to ensure complete irrigation. The probes are available in 30, 28, 25, 24, 23, and 21 gauges. (800) 323-0970; www.rinncorp.com.

Infant Tooth Gel Xlear Inc, Orem, Utah, introduces Spry™ Infant Tooth Gel, an all natural gel for use on infant and toddler gums and teeth. The gel contains xylitol, the natural sweetener that fights caries. Spry Infant Tooth Gel is designed to provide long-term protection against tooth decay for infants and toddlers. The Spry Dental Defense System also offers Coolmint xylitol oral rinse, Coolmint xylitol toothpaste, and a variety of xylitol-rich mints and chewing gum. (877) 599-5327; www.xlearinc.com.

Evacuation System Cleaner

Mydent International, Hauppauge, NY, introduces DEFEND® SRG Evacuation System Cleaner, designed to keep lines running free and at maximum suction. The cleaner dissolves biofilm and helps prevent build-up. SRG is available in gallon bottles with a premeasuring pump. (800) 275-0020; www.defend.com.

Ergonomic Seating Systems Orascoptic, Middleton, Wis, offers BodyGuard® Ergonomic Seating Systems designed to help ease back, neck, and shoulder pain and fatigue resulting from normal hygiene positioning. The armrest system is designed to improve instrument stability and movement while reducing stress in shoulder and neck muscles. Adjustable lumbar support and seat tilt provide back support and help circulation in the legs. The BodyGuard is available in three heights: short, regular, and tall, ranging from 14 to 28 inches. (800) 369-3698; www.orascoptic.com.

Digital Sensor Positioning System

DENTSPLY Rinn, Elgin, Ill, introduces the XCP-DS® Digital Sensor Positioning System for Schick CDR® Sensors. The system is based on the SCP system and is designed to achieve distortion-free radiographs with paralleling technique. It includes bite blocks designed specifically for Schick CDR sensors and is color coded for easy assembly. (800) 323-0970; www.rinncorp.com.

Ultrasonic Scaler

EMS (Electro Medical Systems), Dallas, announces the Swiss Mini Master®, a portable ultrasonic scaler that does not need a water connection due to a 350 ml or 500 ml bottle. It is designed for all applications—from endodontics to cavity preparation. The Swiss Mini Master includes a handpiece cord with water control and a two-step foot pedal, one for rinsing, one for activating ultrasound. (800) 367-0367; www.emsdent.com.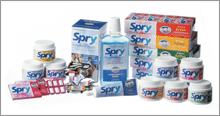 Dental Care Products with Xylitol Xlear Inc, Orem, Utah, introduces Spry, a line of dental care products containing xylitol—an all natural sweetener that is beneficial to oral health. Xylitol has been shown to reduce the risk of cavities and gum inflammation. The Spry line includes toothpaste, oral rinse, gum, and mints. (877) 332-1001; www.xlearinc.com.

Antiseptic Soap

Mydent International, Hauppauge, NY, introduces DEFEND® Omni-Care 7 Lotion Soap. The soap contains an anti-oxidant formula with antimicrobial PCMX, along with seven natural ingredients, including Bio-Structure (an all-natural herbal ingredient that cleanses without harsh chemicals), aloe, and vitamin E. Omni-Care 7 is available in 12 oz and gallon containers. (800) 275-0020; www.defend.com.
Online Continuing Education CE Space, Weston, Fla, offers online continuing education for dental professionals. The courses focus on topics related to educational, preventive, and therapeutic dental services. Founded and designed by dental hygienists, CE Space uses a secure online system to allow participants to take practical courses toward meeting state licensure requirements on their own schedule. (917) 441-1168; www.cespace.com.
6
|
►
---
From Dimensions of Dental Hygiene. December 2005;3(12):36, 38.