PRODUCT

GUIDE

|

►

Digital Sensor Holder DENTSPLY Rinn, Elgin, Ill, offers the Eezee-Grip® Digital Sensor Holder, designed to accurately position digital sensors quickly and easily. The holders offer patented flexible grips for patient comfort, can be used for anterior and posterior radiographs, including the third molar region, accommodates most popular sensor brands, and are steam autoclavable for patient protection. (800) 323-0970; www.rinncorp.com.

Oral Cancer Screening Zila Pharmaceuticals Inc, Phoenix, introduces ViziLite® Plus with TBlue630™, designed to make oral cancer screening more comprehensive. ViziLite's technology assists dental professionals in detecting oral abnormalities that the naked eye can't see. If ViziLite reveals an abnormality, TBlue630 can mark the lesion for further evaluation. ViziLite Plus includes a chemiluminescent light technology and a marking system using Zila® Tolonium Chloride (ZTC™), which is FDA-approved for use in identifying during an examination. (866) 945-2776; www.vizilite.com.

Implant Curettes G. Hartzell & Son, Concord, Calif, provides titanium-coated implant curettes with a layer of titanium on a stainless steel curette. The titanium prevents damage to implants. The curettes/scalers are sharp, thin, and rigid. Clinicians should not be overly aggressive with these curettes and once they are resharpened, they should not be used on implants, although they are fine to continue using as regular curettes/scalers. (800) 950-2206; www.ghartzellandson.com.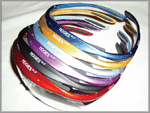 Sport Frame for Loupes

SheerVision Inc, Rolling Hills, Calif, introduces the ultra light Sport Frame, designed with a wraparound frame combined with ultra light optics, that weighs 1.8 oz. Available in seven colors, the Sport Frame can be worn with or without the loupes. Personal eye prescriptions are easily installed. Sheer Vision optical loupe systems are designed to allow optimal ergonomic posture, decrease fatigue, reduce eye strain, and provide optical clarity. (877) 678-4274; www.sheervision.com.

Cold Sore Treatment Quantum Inc, Eugene, Ore, provides Lip Clear Lysine+, an all natural ointment that helps eliminate cold sores quickly. The cream is designed to eliminate cold sores in 4 days. (800) 448-1448; www.quantumhealth.com.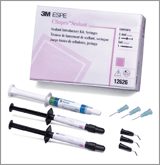 Color Changing Sealant

3M™ ESPE™, St Paul, Minn, makes Clinpro™ sealant with color-change technology. While the sealant is applied, it is pink for easy-to-see application and then it cures to a natural white. Applied with an ultra fine syringe tip, this low viscosity, fluoride-releasing sealant is designed to flow easily into pit and fissures for less waste and less need for occlusal adjustment. (800) 634-2249; www.3mespe.com.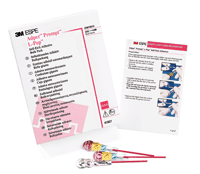 Self-etch Adhesive 3M™ ESPE™, St Paul, Minn, provides Adper™ Prompt™ L-Pop™ Self-Etch Adhesive, designed for easy activation and a more consistent, reliable mix. The adhesive is designed to provide improved dentin bond strengths, as well as improved viscosity, creating a more uniform, consistent layer to reduce post-operative sensitivity. Adper Prompt enables dental professionals to etch, prime, and bond in one step. The L-Pop delivery system offers hygienic, convenient, and consistent delivery of the adhesive material. The adhesive's acidic nature provides a high bond to both cut and uncut enamel surfaces without having to etch the enamel first. (800) 634-2249; www.3mespe.com.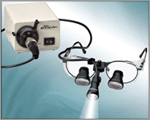 High Definition Headlights

Orascoptic, Middleton, Wis, makes the Zeon® miniature high intensity fiber-optic headlight and the new Zeon LED portable headlight, designed for optimal visual acuity and comfort. The Zeon systems—the halogen Illuminator, the metal halide LumenArc™, or the battery powered LED—are very bright and coaxial, which provides true line-of-sight illumination to remove the shadows caused by using an overhead light. (800) 369-3698;

www.orascoptic.com

.

Canker Sore Treatment

Quantum Inc, Eugene, Ore, introduces Canker Cover, a new oral bandage for aphthous ulcers, designed to shorten the healing time for canker sores. The muco-adhesive patch adheres to the sore, delivering pain-relieving menthol and drying sea salt to the ulcer. Once applied, the patch lasts for 8-12 hours before dissolving, isolating the mouth ulcer from contact with the tongue, teeth, food, and toxins. (800) 448-1448; www.quantumhealth.com.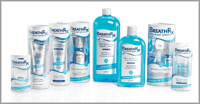 Breath Freshener for Consumers Discus Dental Inc, Culver City, Calif, announces that the BreathRx line is now available at drugstores. The BreathRx system includes toothpaste, tongue deplaquing, and mouthrinsing, designed to eliminate oral malodor-causing bacteria and actively neutralize the volatile sulfur compounds they emit. Previously, the brush-scrape-rinse products were only available in the dental office. Patients can now purchase them at their local drug store. (800) 422-9448; www.discusdental.com.
Instrument Cassette
PDT Inc/Paradise Dental, Missoula, Mont, provides the T006, a double-tiered cassette that holds up to 14 large diameter instruments. The dimensions of the cassette allow it to stack into a sterilizer crossways, allowing maximum usage of even the smallest sterilizer spaces. Cassettes are stainless steel and can be color-coded for operatory, procedure type, or user identification. (800) 240-9895; www.pdtdental.com.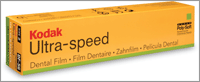 Intraoral Dental Film Eastman Kodak, Rochester, NY, announces that Kodak Ultra-Speed Intraoral Dental Film is now available in SureSoft Packets, which feature a soft, round, cushioned edge. To make SureSoft Packets easier to use with positioning devices, Kodak teamed with DENTSPLY Rinn to develop a SureSoft Packet Holder for Rinn XCP® positioning devices. (800) 933-8031; www.kodak.com/dental.
5
|
►
---
From Dimensions of Dental Hygiene. December 2005;3(12):32, 34.