PRODUCT

GUIDE

|

►

 

Scalers and Curettes Hu-Friedy, Chicago, introduces EverEdge™ Technology Scalers and Curettes. Engineered with a new stainless steel alloy, EverEdge Technology Scalers and Curettes are designed to stay sharper 50% longer. Proprietary heat treat and cryogenic processing are used to create the edge retention and wear characteristics of the scalers and curettes. EverEdge Technology Scalers and Curettes are available in a wide variety of tip designs. (800) HU-FRIEDY; www.hu-friedy.com.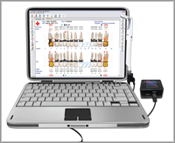 New Version of Software Florida Probe Corp, Gainesville, Fla, introduces Version 5 of the Florida Probe® Software. The new version instantly trends data (bleeding and deep sites) into graphs for easy endpoint recognition. Crowns, implants, and bridges can now be added for accurate charting. An improved footswitch design allows for quick hands-free clinical data entry and features a new undo button. The Talking Probe is designed to provide an interactive experience for patient education. (877) 357-7623; www.floridaprobe.com.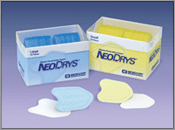 Saliva Absorbents Microcopy, Kennesaw, Ga, provides NEODRYS™, saliva absorbents designed to keep the parotid gland in check for more than 15 minutes. New Comfort Edge™ technology contains poly backing that protects the cheek. NEODRYS is available in two sizes: large (blue) and small (yellow). (800) 235-1863; www.neodrys.com.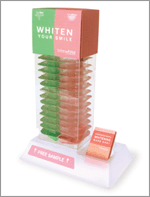 Whitening Product Dispenser

Ultradent Products Inc, South Jordan, Utah, announces a new way to introduce patients to Trèswhite—a sample dispenser for the dentist's waiting room or operatory. Patients can then take a single sample to try. Samples are provided in a customized blister pack that includes the practice name and contact information. (800) 552-5512; www.ultradent.com.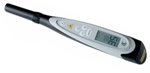 Handheld Laser Caries Detection Aid KaVo Dental Corp, Lake Zurich, Ill, introduces the DIAGNOdent pen, a handheld caries detection aid. It is cordless, lightweight, and uses laser technology to extend a clinician's vision into subsurface sites where caries can develop. The DIAGNOdent pen is designed to detect incipient pit and fissure caries that may be missed through other diagnostic means. (888) ASK-KAVO; www.kavousa.com.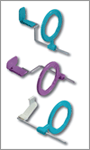 Positioning System

Flow X-Ray Corp, Deer Park, NY, offers the RAPD positioning system featuring rounded corners and made of softer, lighter plastic to improve patient comfort. The softer material is designed to give the system flexibility in order to make film loading quick and easy. (800) 356-9729; www.flowxray.com.

Uniforms Uniqueform, Toronto, Ontario, announces a new collection of uniforms that combines the art of fashion with function for demanding work environments. Careful attention has been paid to clinician needs including the use of water, stain, and soil resistant fabrics. The uniforms come in a choice of colors and have generous pockets. (866) 781-7157; www.uniqueform.com.

Ultrasonic Device

LM Instruments, Parainen, Finland, provides the LM-PowerHand Ultrasonic Device, designed on ergonomic principles and with ease-of-use in mind. The device uses high-quality and highly durable tips. The piezo power vibrates the tips more than 1.7 million times per minute. The LM-PowerHand is available in two different models with or without a light. The handpiece's detachable silicone coated LM-ERgoGrip allows for a comfortable, nonslip grip and good tactile sensitivity. (358) 02-4546-400; www.lminstruments.com.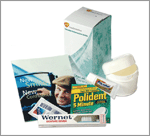 Denture Kit

GlaxoSmithKline, Parsippany, NJ, offers a newly redesigned Denture Essentials Kit, featuring Polident® Denture Cleanser and Super PoliGrip® Denture Adhesive. By educating denture patients about care and maintenance as well as providing them with the proper tools, dental professionals can help patients adapt to new dentures. The kit includes a high quality denture bath and Wernet® denture brush as well as the new addition of Os-Cal®, a calcium supplement. (800) 652-5625; www.dental-professional.com.
7
|
►
---
From Dimensions of Dental Hygiene. December 2005;3(12):39, 40.