PRODUCT

GUIDE

|

►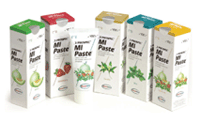 Remineralization Paste GC America, Alsip, Ill, makes MI Paste™ containing Recaldent™, a new technology that remineralizes teeth by delivering bio-available calcium and phosphate ions to the teeth. MI Paste is designed to help prevent caries, erosion, and decalcification; repair enamel; and decrease dentin hypersensitivity. It is available for both professional and home use. MI Paste comes in five flavors, is edible, and can be swallowed after application. (800) 323-7063; www.gcamerica.com.

Disposable Face Shield Palmero Health Care, Stratford, Conn, provides a disposable lightweight face shield to protect the eyes, nose, and mouth from aerosols and splashes. A soft cushioned foam backing lays against the forehead with a band that fits snugly around the head, holding the shield firmly in place. (203) 377-6424; www.palmerohealth.com.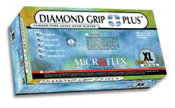 Powder-free Latex Gloves Microflex Corp, Reno, Nev, offers Diamond Grip Plus™ made from natural rubber latex. Fully textured for enhanced grip in wet and dry environments. Diamond Grip Plus gloves are designed for increased thickness in the fingers to provide durability at the areas of greatest surface contact and friction. Integrated polymer technologies are designed to aid in easy powder-free donning. (800) 876-6866; www.microflex.com.

Ultrasonic Tips Discus Dental, Culver City, Calif, introduces Protégé, a new line of ultrasonic inserts. Protégé provides an ultra-thin tip in conjunction with an ergonomic grip designed for excellent handling. Protégé inserts are designed for use in most magnetostrictive ultrasonic units. The inserts are available in 25kHz and 30kHz operating frequencies, as well as an assortment of tip configurations. (800) 422-9448; www.discusdental.com.

Flexible Probe PDT Inc/Paradise Dental, Missoula, Mont, introduces the Easy View Probe, a flexible, autoclavable probe with bright yellow and green markings, designed to make the probe easier to read. The flexibility of the probe also assists in a more accurate reading by finding the bottom of the pocket and not the edge. The probe is fully autoclavable, reusable, and affordable. (800) 240-9895; www.pdtdental.com.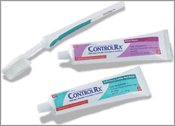 Prescription Fluoride Dentifrice

Omnii Oral Pharmaceuticals™, West Palm Beach, Fla, provides ControlRx® 5000 ppm prescription fluoride dentifrice designed to provide protection from root surface caries associated with recession, decay at the margins of restorations, and decalcification around orthodontic brackets. It provides significant remineralization with a gentle, yet effective cleaning system for daily use. ControlRx contains Microdent®, a patented ingredient for plaque control and is available in vanilla mint and berry flavors. (800) 445-3386; www.omniipharma.com.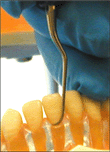 Mini Curette/Scaler PDT Inc/Paradise Dental, Missoula, Mont, introduces the new PDT H5-L5 Mini curette/scaler combination designed to provide the anterior sickle for interproximal and heavy debridement on one end and a Langer 5 mini curette on the other. The radius and size of the mini blade allow access to the narrow anatomy of anterior subgingival areas. (800) 240-9895; www.pdtdental.com.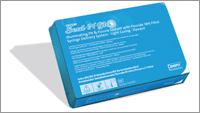 Pit and Fissure Sealant
DENTSPLY Professional, York, Pa, introduces Delton® Seal-N-Glo™ Illuminating Pit and Fissure Sealant, a 38% filled, syringe delivered, opaque sealant with fluoride. Through the use of a UV pen light, Seal-N-Glo fluoresces a blue/white color. The glow provides a visual verification of the sealant margins at the time of placement in order to verify placement during patient recall appointments. (800)989-8825; www.professional.dentsply.com.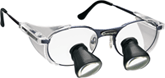 High Definition Loupes Orascoptic, Middleton, Wis, introduces HiRes™ and HiRes Plus™ Loupes, which combine high resolution, a wide viewing field, and lightweight comfort into a smaller loupe system. HiRes Galilean loupes come in two optical shapes: standard round and a new elliptical shape designed to provide more viewing area above the loupes. HiRes Plus Prismatic loupes come in four levels and have an adjustable focus. Available in both flip-up and through-the-lens, the loupes are customized to the clinician's working posture and optical prescription. (800) 369-3698; www.orascoptic.com.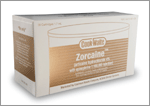 Local Anesthetic

Eastman Kodak Co, Rochester, NY, announces the availability of Cook-Waite Zorcaine (articaine hydrochloride 4% with epinephrine 1:100,00 injection), an articaine local anesthetic. Cook-Waite Zorcaine is packaged in recyclable and stackable boxes for easier storage and the packaging complies with the American Dental Association uniform color-coding standard. (800) 933-8031; www.kodak.com/dental.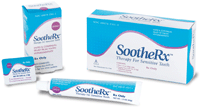 At-home Treatment for Dentin Hypersensitivity

OMNII Oral Pharmaceuticals, West Palm Beach, Fla, offers SootheRx™, a Food and Drug Administration (FDA)-approved, at-home prescription therapy for rapid and continual relief of dentin hypersensitivity. SootheRx is designed to induce the formation of hydroxy apatite, which is identical to the tooth mineral that is naturally replenished by saliva. The hydroxy apatite formed by SootheRx with NovaMin naturally occludes open dentin tubules to prevent fluid flow that causes pain. It is used twice daily for 2 weeks in place of regular toothpaste. Following this initial treatment stage, a once per week use is all that is required. (800) 445-3386; www.omniipharma.com.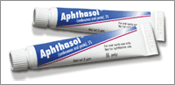 Aphthous Ulcer Treatment Discus Dental Inc, Culver City, Calif, announces that it is exclusively licensed to distribute Aphthasol®, a FDA-approved prescription drug specifically indicated for the treatment of aphthous ulcers in healthy adults. Aphthasol Amlexanox Oral Paste (5%) is a tasteless and odorless mucoadhesive paste designed to be a potent inhibitor of mast cells and allergic response. Aphthasol is believed to work by both providing a protective barrier over the ulcer(s) and inhibiting mast cells. (800) 422-9448; www.discusdental.com.
4
|
►
---
From Dimensions of Dental Hygiene. December 2005;3(12):28, 30.